5 ways to save on back to school shopping
Back to school shopping is upon us – are you ready to save some money?!
With all of the clothes, and backpacks, and lunch boxes, and pencils and crayons and everything else that comes with back to school time – there need to be some easy ways to save money, don't you think? Back to school shopping can be really expensive if you're not careful.
Here are 5ways that you can save on back to school shopping.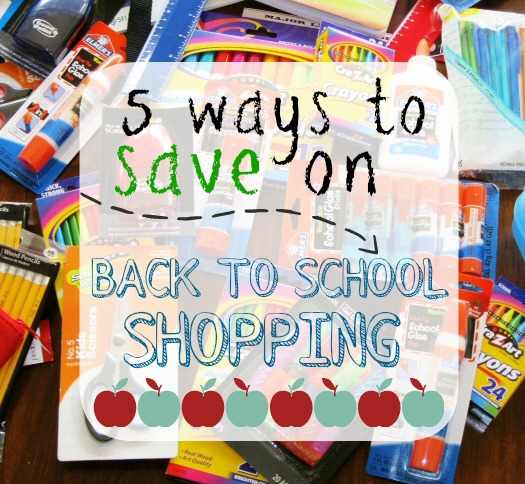 1. Use what you have
Before you head out to the store to go shopping, take an inventory of what you already have on hand. Do you really need to buy your kids new clothes? Maybe they just need a few warm sweaters and some new socks. Is a new backpack really necessary, or will last year's bag does just fine?
I'm sure that some of your kids' school supplies can be reused from the year before (and if this is the first year of school for them, they probably don't even need to bring any school supplies).
Don't spend money on things that are brand new when you have perfectly good items sitting at home to be used!
2. Make a list
Once you've decided what you can reuse from the previous school year, you can start filling in the gaps.
Make a list of everything needed for back to school. For example:
Shirts
Pants
Sweaters
Socks
Underwear
Shoes
Backpack
Lunch box
Markers
Pencil Crayons
Crayons
Pens & Pencils
Pencil Case
Notebooks
Binders
Erasers
Calculators
These are just a few examples. Ask your child what they need for school, or check the school's website to see if they have a list of items that children are required to bring with them on their first day.
3. Buy used
Clothing should always be bought used whenever you can't get brand-new items for the same price.
Check out your local thrift stores, online classifieds like Kijiji & Craigslist, Facebook buys & sell groups, and of course – ask your friends and family.
I don't suggest buying socks, shoes, or underwear used, but everything else can easily be purchased second-hand to save you money.
4. Check out dollar stores
You can find so many great deals at dollar stores these days – especially school supplies!
They even have brand name items now, and the prices are often much better than what you'd pay at an office supply or big box store.
Check out notebooks, binders, calculators, paper clips, highlighters, pens, pencils, pencil sharpeners, markers, crayons, lined paper, and much more! You can get pretty much everything you need with just one trip to the dollar store.
5. Watch for the loss leaders
Almost all stores advertise "loss leaders" in their weekly flyers – these are the items that are marked down so much, that the store doesn't make a profit on them. They are only offering them this low to get you into the store, with the hope that you'll buy other items while you're there.
You can find loss leaders on the front page of flyers, and some prices you can often expect are:
Lined Paper, 200 Packs @ $0.10-$0.15
Crayola Crayons, 24 Packs @ $0.65
Packs of Pens & Pencils & under $1
Report Covers @ $0.10
Crayola Markers & Pencil Crayons @ under $1
Glue Sticks @ $0.25
Erasers @ $0.25
Pencil Sharpeners @ $0.25
Be a smart shopper and only purchase the loss leaders – then get out of there and wait until next week, when even more loss leaders become available!
Back to school shopping doesn't have to be an expensive chore. Just remember that this is the time of year that stores are trying to get you to spend more money – you need to be very resistant to that desire, and to do that, you need to shop wisely.
Follow the tips above and you can easily save money on back to school shopping – purchasing everything you need for back to school for a fraction of the regular retail price!
How do you save money on back to school shopping?