Saving for a home – how we did it
Saving for a home.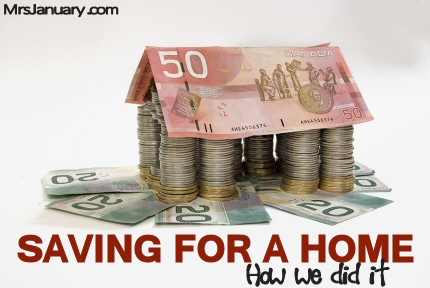 Saving for a home was a goal my family set about 3 and a half years ago. We wanted to buy a home that was our own so that we could customize it to our liking and make it the most efficient home possible. We didn't want to spend money updating and customizing a rental, because we wouldn't be able to take those customizations with us when we eventually moved.
Once we paid off all of our consumer debt, we began saving for a home. It was hard, but it was worth it.
Come up with a plan
Before we did anything, we came up with a plan for saving for a home. We wanted to make sure we had a minimum of a 20% down-payment, and we also wanted to have money for all closing costs and new furniture we may need to purchase (we didn't know if we would have to replace any appliances, so wanted to be prepared for that just in case – and if we didn't have to, we would use that money to buy other furniture such as a couch, dining set, etc.).
We decided that we wanted to save enough money for a home within 3-4 years. Our real goal was 3 years, but we wanted to be realistic and be prepared if we couldn't save up fast enough to meet that goal. We weren't big on setting huge goals back then (we are now, though!).
Create a house fund
I'm a huge fan of having multiple savings accounts for multiple goals. I find it much easier to organize my savings that way and not confuse how much money I have for certain things.
Of course, this meant that when we started saving for a home, we had to create an account for our house savings.
At that point, we had the following savings accounts:
At the end of each month, all of our extra money would go into the house fund.
Set up automatic withdrawals
Just like saving for retirement, we treated our house savings as a regular monthly bill in order to avoid not depositing money each month.
We set up an automatic withdrawal at the bank so that every month a certain amount of money would be taken from our chequing account and deposited into our house fund.
Cut back on spending
This was very obvious for us to start doing immediately. To save more money, we first needed to cut back on the money we were currently spending.
We cut our personal monthly allowances in half
We only went out to eat about once per month
We started clipping more coupons
We bought used as much as possible
We scaled back on entertainment
These are just some of the things that we did to cut back on spending. Other things we could have done was cancel cable, get rid of our home phone, borrow instead of buy, and be more mindful of electricity and water usage.
Make more money
Of course, one of the best ways to save money is to make more money to save. So, that's what we did as well. We tried many things to make extra money to put into our house fund.
We sold as much as we could (furniture, clothing, housewares)
We took on odd jobs
We bought stuff at great prices and re-sold it on eBay, Craigslist, and Kijiji
We did online surveys
I did some freelance writing
I even started baking and selling cupcakes (which was huge for me during wedding season)
If there were more hours in the day, we could have worked more and done many more things to make extra money, but we did what we could with the time we had.
All extra money into the house fund
Whenever we received extra money (birthdays, holidays, bonuses at work, tax refunds), we took a bit of that money (usually about 10%) and splurged on whatever we wanted, and the rest went right into our house fund.
We made sure to always allow ourselves to splurge a little here and there, to avoid burning out. In the past, we learned that when we cut the fun out of life in an effort to pay off debt and save money, we became very unhappy. We wanted to avoid that this time, so not only did we include entertainment in our monthly budget (even though it was just a small amount), we also splurged occasionally.
Become more frugal
We really had to change how we were living to be able to save quite a bit of money in just a few years. Although we were already frugal, we had to take frugal living to a whole new level. We had to become super frugal!
We did much more cooking from scratch
We became huge advocates for menu planning
Most of our entertainment was at home, for free
When we did go out, we would use coupons and special promotions to save money
We re-used everything possible
We did many frugal things to save for a home. Frugal things that we actually enjoyed so much that we still continue to do them today.
A few other things we did to save for a home
On top of spending less and making more money, we also did some other things to help us with our home buying adventure.
Put savings into tax-free savings accounts
My husband and I both put the maximum $5,000 into our tax-free savings account (TFSA) each year. This allowed us to save that money and not have to pay any taxes on it at all.
Borrow from retirement savings
The first time home buyer's plan allowed us to withdraw up to $50,000 tax-free from our registered retirement savings plans (spousal RRSP). We will have to pay this back in the next 15 years – which I know will not be an issue (it will likely be paid off much sooner).
After just over 3 years of saving money for a home, we made our purchase. We had our 20% down-payment, all of our closing costs and a bunch of money left over to spend on new furniture. We also had money to turn our basement from a big black hole, into an office, playroom, and storage area (we even had a bathroom built down there!).
It was because we had a goal, made a plan, and worked extremely hard, that we were able to purchase our home. Although at times it was very hard and we wanted to give up, we kept pushing forward. We knew that in the end, it would all be worth it.
And it was.
How did you save for your home purchase?