10 tips for saving money at restaurants
How to save money at restaurants.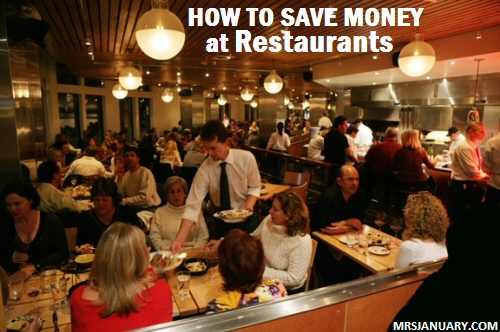 Do you find that cooking just isn't your forte and that it's easier said than done? Perhaps your working life cuts into your personal time and limits your ability to pick up ingredients for a complete meal. Or maybe you're hoping to travel and dine at famous restaurants while still being able to afford all the other tourist attractions.
Eating at restaurants can be a strain on your budget, but doesn't have to be. You can save money at restaurants. There are simple methods of ensuring that you save your hard-earned money, while still having the freedom of choosing to eat at almost any restaurant of your choice.
1. Purchase group buy coupons in advance
If you've participated in these deals, you will understand how easy it is. One of my favourite daily deal websites is OneSpout.com; it allows you to view deals from over 300 different websites all in one place.
Simply purchase a group buy coupon (be sure to check for restrictions ahead of time), bring it to the restaurant for your meal, and mention it to your server prior to your meal to ensure validity.
On average, you'll be able to save about 50-60% with these promotions. Be sure to keep tabs on the expiry date to make the most of the promotion value. You can also take advantage of these group buys while travelling, just be sure to purchase them for the city you are visiting before your trip.
2. Eat Prix frixe (summerlicious/winterlicious)
Another way to save money eating out is with "Prix frixe". Some restaurants offer in-store prix fixe promotions that are unadvertised. These are menus that will cost you a flat rate and will include an appetizer, entree, dessert and if you're lucky, a drink as well.
For example, in the summer and winter, residents in the Greater Toronto Area have Summerlicious and Winterlicious to look forward to. They're semi-annual Toronto food festivals where participating restaurants offer limited prix fixe menus for an impressive discounted price. The prices range from $15-$25 for lunch and $25-$45 for dinner.
3. Eat at buffets
If you're hungry for a meal that provides 3 courses or more, buffets are your best bet. You'll be able to have an appetizer, entree, and dessert – and go back for more if you really want to, all for one set price.
Be careful with drinks, though (ask for a drink menu before ordering, just so you are aware of the additional cost of your beverage). You will notice that beverages such as soda pop will cost a lot more than other restaurants. However, there are select (sushi) buffets that do offer beverages (pop & tea) in the all-you-can-eat price of the meal.
Tip: Beware of over-ordering. Some buffets will charge you extra for wasting food!
4. Time your buffet visits
The cheapest times to eat at a buffet are on weekdays (Monday-Friday), and the cheapest meal is lunch. Saturdays, Sundays, and holidays (does not have to be statutory holidays; Mother's day & Father's Day are considered holidays) are the most expensive at dinner time.
For example, lunch on a Friday will cost you about $15, whereas dinner on a Saturday will cost you approximately $28. However, you have to be careful because some restaurants will charge Friday dinners at the weekend rate. Be sure to check the restaurant's website or call to ask for pricing prior to visiting.
You could also go for an all-you-can-eat lunch later in the afternoon so that when dinner rolls around, you'll be a lot less hungry and require a smaller meal.
5. Prepare yourself
Save the restaurant coupons that you receive in your mailbox – these will come in handy the next time you're in a rush to grab a bite to eat. If time permits, use the internet as a research tool prior to dining somewhere for the first time.
You can check out customer ratings, reviews, and tips about a restaurant. It can save you from disappointment as well as money! If you are using a website/phone app such as Urbanspoon – you can sort local restaurants by price and find cheap and delicious eats!
6. Avoid certain menu items
To save money at restaurants, there are some things you should avoid purchasing altogether. Whether you're thirsty for an alcoholic beverage or a non-alcoholic beverage, a drink can cost you the same amount as an appetizer, or even a portion of your entree. All restaurants provide free tap water, but you may want to purchase bottled water if you're traveling.
Desserts are the perfect wrap up to a delicious meal but they can be very pricey. Unless you're a returning customer, the desserts are usually a risk anyway. You might end up with a slice of cake that just isn't what you expected, or an over-sized slice that you might end up wasting because you just can't eat it all in one sitting.
Try this – say 'no thanks' to the dessert menu and head home to your favourite dessert waiting for you in your freezer.
7. Eat value menu Items
While eating at fast-food restaurants, it's a good idea to pay attention to current promotions or "Value Pick Menus". The items that fall under these lists are usually snack-size burgers or fries.
Take a second to review the value items prior to ordering because there are times that it's a much more cost-effective way to simply "create your own" meal, rather than asking for their default combos.
8. Split your orders
When dining with family, check out the family deals that the restaurant is offering. These deals are usually plenty of food for a reasonable price – then, split all up and enjoy.
Another option is to split appetizers, entrees, and desserts when dining with friends and family.
9. Take advantage of "return customer" promotions
Some, but not all, restaurants offer some sort of loyalty program where they provide you with a card to collect stamps for every visit. These offers are not always advertised and are usually discovered by word of mouth or by simply asking your server.
The offers are usually along the lines of "purchase 10 meals and get one free" – though they are not the most amazing deals, they're worth collecting if you're a return customer.
Tip: Oftentimes, there are customer surveys that are printed on the back of your receipt; simply share your opinion and you can receive a free treat or even an appetizer on your next visit.
10. Pay with cash
There are some restaurants that will provide discounts on cash purchases. If there are ever any indicators that cash will lower the total of your bill, take advantage of the deal!
Although there are many ways to save money at restaurants, it's important to remember that your frugal methods should not affect the waiter or waitress's tip. Be sure to tip your server to thank them for their good service!
What are your favorite ways to save money at restaurants?