How to Score Cheap Craft Supplies
Cheap craft supplies are a staple in my house. And by cheap, I do not mean easily breakable and ruined. I mean that these cheap craft supplies were purchased mindfully, and in a way that will save my family money, while providing for the enriching crafts I want my children to create.
Finding cheap craft supplies is amazingly easy. I believe that any good craft is a cheap craft – and any good craft supplies are cheap craft supplies! This being said, "cheap" does not necessarily mean inexpensive. Sometimes spending more for a good quality item will save me more money in the long run.
How to Score Cheap Craft Supplies
Use What You Have
The best craft supplies are obviously the ones you already have! I don't mean simply the paint, crayons, and brushes that are lying around your craft table. The craft supplies I am talking about are the ones that take a little more creativity to see. For example:
Egg cartons
Old, torn, or stained clothing
Socks
Milk tags
Juice cartons
Juice lids
Yogurt containers
Meat trays
Styrofoam from boxes
Cardboard from boxes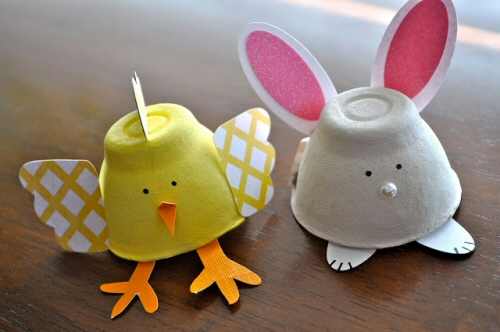 credit
This is just a very partial list of all of the wonderful craft supplies that are likely already in your home. What a great way to save the earth and your money! Re-using these items as craft supplies could spark extra creativity in your children as they have to stretch their thinking to use these materials in new and exciting ways.
Use What You Can Borrow from Nature
My very favourite cheap craft supplies are the ones that are absolutely free. We are lucky to live very close to a forest and a quick nature walk always provides us with ample material to make unique and creative crafts.
Painting stones, pinecones, tree bark, and leaves is a fun idea.
Creating rubbings of leaves and tree bark is another.
Making pretty collages and photography are other creative craft ideas that use nature.
This also provides an opportunity to talk with your children about respecting nature and living things and using only items that are already on the ground.
Make Your Own Supplies
There are many simple ways to make your own craft supplies. Often making your own supplies is much less expensive then buying pre-made craft supplies.
Mixing flour, water, sugar, and a splash of vinegar makes a great homemade glue.
Adding dish soap and water to tempra paints makes a great finger paint.
Homemade Glue
There is a recipe for just about every craft supply you may need! The internet is a wonderful place to find tried and true craft supply recipes, and there are also whole books dedicated to the subject at libraries.
Purchase in Bulk and Split
Like almost anything, buying in bulk can save you a lot of money. Consider purchasing bulk amounts of craft supplies you know you will continue using regularly. Of course, it's not a good idea to buy a bulk amount of a paint you have never used before, or markers you have yet to try.
But, if you find a bulk sale one a craft supply you have tried and like and use frequently, stock up! In Lindsay, Ontario there is an annual Crayola Sale. Here, you can fill a bag with as much as you can for a flat rate (I think it is $8).
It's a good size bag, and packed right can hold a TON of markers, crayons, paintbrushes, glitter glue, and so on. I try to buy 2 bags full. It lasts me all year and provides me with extra to add to birthday presents and give to friends.
Buy Good Quality
This one may seem a bit counter intuitive. How is purchasing good quality craft supplies considered cheap craft supplies? If you have older children that really enjoy crafting, purchasing good quality items can save you money in the long run.
Inexpensive paint brushes won't hold up for too long, can drop bristles, and can be hard to clean. But – they are absolutely perfect for toddlers and young children who are hard on paintbrushes. For older children who know how to be responsible with their supplies, these brushes may not do.
Purchasing a better quality paintbrush can save you countless trips back to the dollar store to purchase yet more paintbrushes.
Some items to consider buying good quality are:
Paintbrushes
Paints
Markers
Scissors
The right purchase at the right time can save you even more. Wait for a great sale, or a great coupon, to purchase these items at craft stores or even online.
Use the Dollar Store
If you have young children, or are new to crafting, stock up at the dollar store. The dollar store has many name brand items (such as Crayola) for a fraction of the cost that you would pay at a big box store. Young children are hard on their craft supplies, so purchasing inexpensive supplies is a good idea.
The dollar store is also a great place to stock up and create a craft bin or craft tower. After you have the basics, you can add to your supplies with things you can make, already have, get from nature, or good quality items.
You can expect to find almost any craft item at the dollar store, such as:
Markers, crayons, pencil crayons
Paints and brushes
Crayons, erasers, rulers
Regular, construction, and scrapbooking paper
Sewing items
Scissors, hole punchers, paper clips and elastics
Clay, play doh
Velcro, tapes
Almost anything you could need will be available – though the quality may not be the best. However, for little crafters, the dollar store is a great place to buy cheap craft supplies.
Organize and Clean
Once you have all of your craft supplies, save yourself a lot of money by keeping them organized and clean. We use a "craft tower" to store ours – which is a tall container with 6 pull-out drawers. Each drawer is labelled with its content (for example, "painting").
This helps us to keep everything where it is suppose to be, and saves us money, as we don't have to re-purchase misplaced items. Cleaning paintbrushes and containers when finished will also save you money, as these items can be re-used time and time again if properly cared for.
Cheap craft supplies are easily accessible with a little bit of time and thought. Arts and crafts are an important part of little ones' early years and can spark creativity that can last a lifetime.
It's nice to know that you can provide your children with enriching art activities for little to no money. It's just your creativity that matters!