Selling Gift Cards Online for Cash in Canada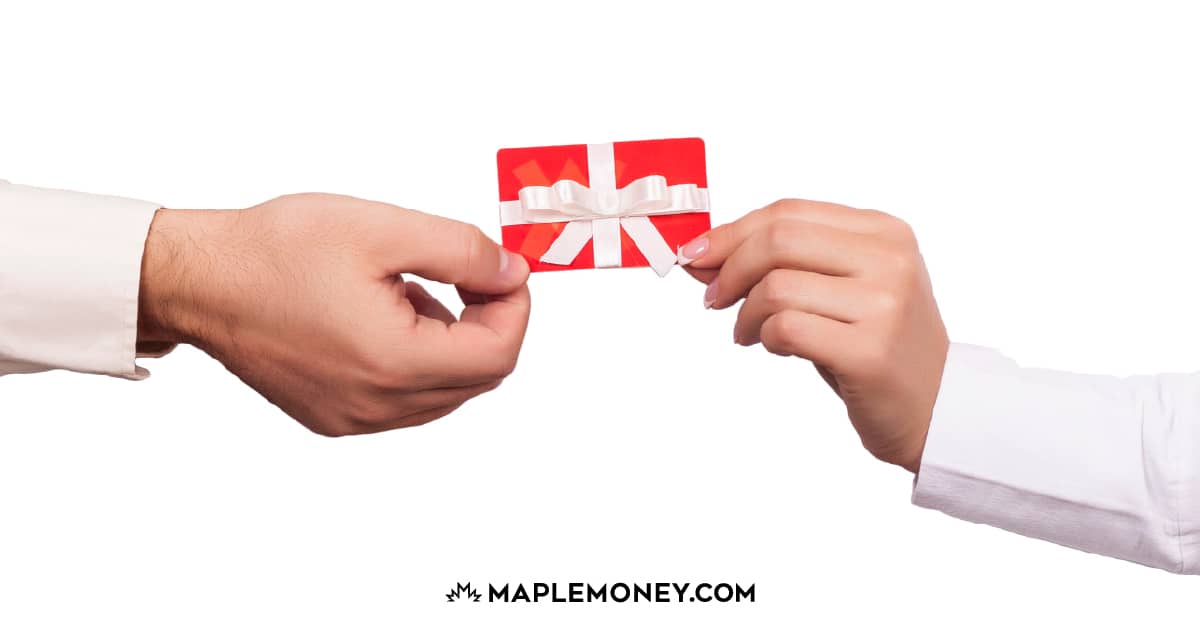 If you have unwanted gift cards lying around your house, don't let the money go to waste. There are many ways to sell gift cards that you don't plan to use. In this article, I'll tell you where you can sell your gift cards for as close to the maximum value as possible. I'll also show you where to get discounted gift cards.
How Do Gift Card Exchange Sites Work?
One of the easiest ways to sell unwanted gift cards is through gift card exchange websites like CardSwap or GiftCash. These sites buy and sell gift cards at a discounted price. You'll receive an instant offer if you want cash for unused gift cards. You won't earn face value for your gift card, but you'll get paid quickly.
CardSwap
CardSwap is a sizeable Canadian gift card marketplace where you can buy and sell gift cards from more than 450 retailers, including SportChek, Esso, Canadian Tire, and Air Canada. When you purchase gift cards through CardSwap, you receive SwapPoints, which you can collect and redeem for more gift cards or PayPal cash.
To sell your gift cards, head to CardSwap and enter your gift card details on the site. CardSwap will give you an instant offer. If you accept, you'll be provided with a prepaid shipping label to mail your gift card to CardSwap. When CardSwap receives your gift card, they'll send you an email confirmation to let you know.
If the total value of your gift cards exceeds $250, CardSwap will request that you send them via registered mail so they can be tracked. According to CardSwap, they will reimburse you up to $10 for the registered mail.
Note: You will have to provide your credit card information to CardSwap. They won't charge the card but use it to verify your identity and protect against fraud.
CardSwap Pros
No need to search for a buyer
CardSwap accepts gift cards from hundreds of Canadian brands
You can sell new or used cards
CardSwap Cons
Shipping is the responsibility of the seller
GiftCash
GiftCash launched in Canada in January 2018, expanding into the US later the same year. The company accepts more than 150 Canadian and international gift cards, and you can get paid up to 90% or more of a gift card's face value, depending on the brand. For example, at the time of this writing, GiftCash offered a 90% payout for Best Buy and Costco gift cards and 82% for Bed Bath & Beyond.
GiftCash accepts physical and digital cards. As long as GiftCash can verify your identity, you can receive payment for digital gift cards within a couple of hours. Unfortunately, the wait time is much longer for physical gift cards. Payment can take up to two weeks or longer.
GiftCash Pros
Sell gift cards from more than 150 stores
Good payouts (depending on the brand)
Accepts physical or digital cards
GiftCash Cons
Have to sell your gift cards at a discounted rate
Slow payment times for physical cards
Facebook Marketplace
Facebook Marketplace has become one of the most popular ways for people to buy and sell new and used goods of any kind. The beauty of selling gift cards through Facebook Marketplace is its simplicity. Advertise your gift card and wait for offers to come in. You can receive payment in cash or via e-Transfer as soon as you meet with the buyer to exchange the card for cash.
You may even get offers from friends in your network who live nearby. As with the gift card exchanges, you will need to sell your gift cards at a discount. But getting something is better than nothing, including wasting the card and buying items you don't need or want.
Take several pictures of your card for your Facebook Marketplace posting. Added visibility is never a bad thing.
Facebook Marketplace Pros
Listing is quick and free
You can post on your regular Facebook feed to target friends and people you know
Unlike gift exchange sites, you set your price
Facebook Marketplace Cons
Beware of lowballers and scammers
You'll need to arrange to meet your buyer in-person
You may have to wait a while before you find a buyer
Kijiji
Kijiji is another popular marketplace where you can advertise your unwanted gift card. You can post ads for free and list as many gift cards as you'd like. However, one of the dangers of using Kijiji to sell is the number of scammers on the site. You will receive offers from lowballers and other people trying to rip you off.
To avoid getting scammed, I recommend only accepting cash from the buyer. It's best to deal with someone in person. If you are mailing a gift card to someone, ensure that you have received payment in full via e-Transfer before shipping your gift card. Unless you live in a very small or rural community, you should be able to find a local buyer.
Kijiji Pros
Free to list
You control your price
You may find someone willing to do a card swap
Kijiji Cons
Beware of scammers
It might not work if you live in a rural area
You won't receive the full value of your gift card
eBay
eBay is yet another online marketplace where you can buy and sell gift cards at a discount. What's nice about eBay is that it opens you up to buyers from across Canada. You can open an eBay seller's account within minutes and list your gift cards for sale. You'll need to take high-quality pictures for your listing and clearly describe the gift card you're selling.
With eBay, you get to set your price, and you can opt for an auction listing (with a reserve bid) or a Buy Now price. The easiest way to receive payment is via PayPal, but there are fees, so factor that into your price.
eBay Pros
List items for sale in minutes
Set your price
Access to a large market
Secure payment via PayPal
eBay Cons
Competitive platform; no guarantee you'll find a buyer
The buyer may request a refund
Other Ways to Exchange Gift Cards for Cash
There are other options if you want to sell an unwanted gift card. I've seen people re-gift cards they don't plan to use, particularly during the holiday season. While you won't receive cash with this method, you'll save money not having to purchase a gift.
If you need the cash, you could always return the gift card to the store where it was purchased. Not all retailers will accept gift card returns, but some do, so it's worth a shot.
Lastly, consider asking a friend or family member. Chances are, you know what brands they love, and they'll appreciate getting a good deal if you're willing to sell your gift card for a slight discount.
FAQs
Is selling gift cards worth it?
It can be. You aren't going to receive the total value when you sell your gift cards, but if the alternative is getting nothing in return or being forced to make an unnecessary purchase, then it's worth it to sell unused gift cards.
Where can I exchange gift cards online?
One website that accepts exchanges is Gift Card Granny. Unfortunately, it's a US-based marketplace, and I haven't seen any evidence to suggest that their platform is available in Canada. If you cannot swap gift cards through a marketplace, your best bet is to try with family or friends or post an ad on Kijiji or Facebook Marketplace.
How can I determine my gift card's value?
The gift card exchanges listed in this article allow you to check your gift card balance. You'll need the exact balance to sell your card. Enter the brand name, i.e., Amazon, Sport Chek, Best Buy, and the website will provide you with a phone number to call or an online link to check the gift card's value.
Is reselling gift cards legal?
Yes, it's legal to resell gift cards in Canada. That's because gift card ownership is considered transferable.
Is there a way to get free gift cards?
There are many ways to get free gift cards. The best methods include joining a loyalty rewards program like Rakuten or applying for a rewards credit card.
Final Thoughts on Selling Gift Cards in Canada
As you can see, it's easy to sell gift cards online, and many sites that make it possible. My one caution is to be wary of scams. If you're selling gift cards on Facebook Marketplace or Kijiji and meeting a buyer in person, always meet in a public place. Scammers are known to grab gift cards, then take them without paying. Your best bet is to deal through a trusted website like CardSwap, as they verify gift cards before buying or selling.