Shopper Army Review: A Top Amazon Cash Back Website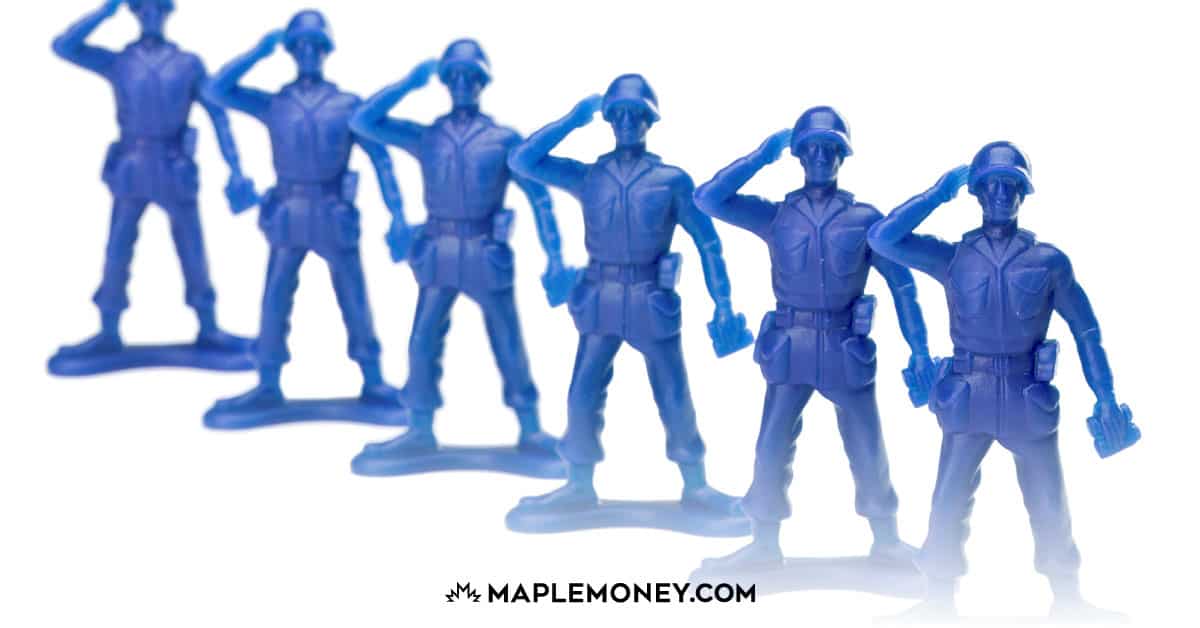 Canadians have no shortage of apps they can use to earn cash back when they shop. In the past, I've reviewed a number of leading cash back websites, like Checkout 51 and Caddle. This time around, it's Shopper Army's turn. In this review, I'll let you know what you can expect from Shopper Army, including how they stack up against the competition.
Introducing Shopper Army
Shopper Army hasn't been around as long as other cash back websites, which is why the name may not sound as familiar. They are owned by BrandSpark International, with Canadian headquarters located in Toronto. According to the Shopper Army website, they offer cash back rebates from over 100 retail stores, and have paid out over $450,000 in rebates to date.
You can open your free Shopper Army account within minutes, and be on your way to earning cash back rewards. All you need to sign up is an email address and the password you create.
How Shopper Army Works
Shopper Army is very similar to another popular site, Rakuten Rewards (formerly Ebates), in that you access your favourite stores by clicking on links directly from the Shopper Army website. This is how Shopper Army tracks your purchases and rewards you with the appropriate amount of cash back once you've finished shopping.
I should point out, although Shopper Army notifies you of your cash back earnings within 48 hours of making your purchase, there is a mandatory waiting period of up to 35 days before the funds can be redeemed. This is Shopper Army's way of avoiding a situation where a shopper returns an item after they've been paid their cash back.
Getting Paid with Shopper Army
You can redeem your Shopper Army cash rewards one of three ways – via an Amazon gift card, a PayPal transfer into your bank account, or you can choose to donate your earnings to the Cancer Society. Amazon gift cards can be paid out as you've earned $5 in cash back, while you'll need to hit $35 for a PayPal transfer. The more money you spend, the faster you'll get there. Payments do take up to 60 days to arrive in your account, which is a bit slow. This includes the holding period that I mentioned earlier.
Does Shopper Army Have a Mobile App?
Unlike some of the other cash back sites, Shopper Army does not have a mobile app. If you ask me, this isn't too big a deal, as I do most of my online shopping from my desktop computer. Also, the Shopper Army website is simple and easy to use, which makes for a seamless shopping experience. The website is mobile responsive, so if you are using your smartphone, you should still find it easy to navigate.
Other Ways to Earn with Shopper Army
In addition to the 'regular' cash rebates, there are other ways you can earn with Shopper Army, including coupons and promo codes, referral bonuses, and a unique feature called 'missions'.
Bonus Offers & Promo Codes
To check out the bonus offers, go to the Shopper Army homepage and click on 'Deals' in the top menu. You'll be taken to a page that lists bonus offers for specific items at select stores. Included are promo codes to use when you shop. In some instances, you'll earn bonus cash back on these items. As I'm writing this article, offers include a coupon for $50 off any Endy mattress (plus $15 cash back), and a 10% discount at The Gap, along with a 4% cash rebate.
Referral Bonuses
When you spend your first $50 through Shopper Army, you'll earn a $5 bonus. Rakuten offers the same $5 bonus after spending only $25, but if you're planning to use Shopper Army on a regular basis, you'll still get there pretty quick. When you refer a friend to Shopper Army and they spend $10, each of you will earn $2.50. It's a nice gesture, although Shopper Army falls a bit short of perhaps it's biggest competitor, Rakuten, which pays out a whopping $25, and $5 to the friend you've referred.
Missions
With Shopper Army, you can earn additional rewards by testing products for free, answering surveys, and watching videos. These are called missions, and they are yours only if you choose to accept them. It's pretty clever, and adds to the fun or earning cash back.
What Stores Are Available Through Shopper Army?
The list of Shopper Army partners is a long one, and includes some of the most popular online retailers in Canada, such as Amazon. In fact, you can earn a very attractive cash rebate amount of up to 8% by shopping at Amazon. Here's a list of some of the many stores you can expect to see:
Amazon
Shoppers Drug Mart
Walmart
The Gap
Staples
Sephora
Indigo
Home Depot
Old Navy
Best Buy
Roots
The Source
Rona
Marks Work Warehouse
American Eagle
Reitman's
Foot Locker
Dell
Pros and Cons of Using Shopper Army
As with any cash back site, Shopper Army has its pros and cons. Based on my experience thus far, here's a list of what I really like, as well as a few things I don't.
Shopper Army Pros
Attractive rebate levels
Small payout minimum ($5)
Handy Amazon rebate calculator
Site has a simple and clean appearance
Missions offers a unique way to earn rewards
Shopper Army Cons
Slow payout timeframe (up to 60 days)
Fewer retail partners than other sites
Lower referral bonuses
Final Thoughts on Shopper Army
Websites like Shopper Army, Great Canadian Rebates, and Rakuten offer an easy way to earn cash back. But which site is the best one for you? I think it all depends on personal preference. If you tend to shop online at a large number of retailers, you may be better off with GCR or Rakuten. Both have been around longer than Shopper Army, so they boast a longer list of retail partners. If you're like me, however, and do almost all of your online shopping through Amazon, Shopper Army might be your best bet, as they tend to have higher payouts and fewer category restrictions than the other sites. Whichever website you choose, you'll be the big winner, armed with plenty of cash back.