Simply Wall St. Review: How You Can Easily Find the Best Stocks to Invest In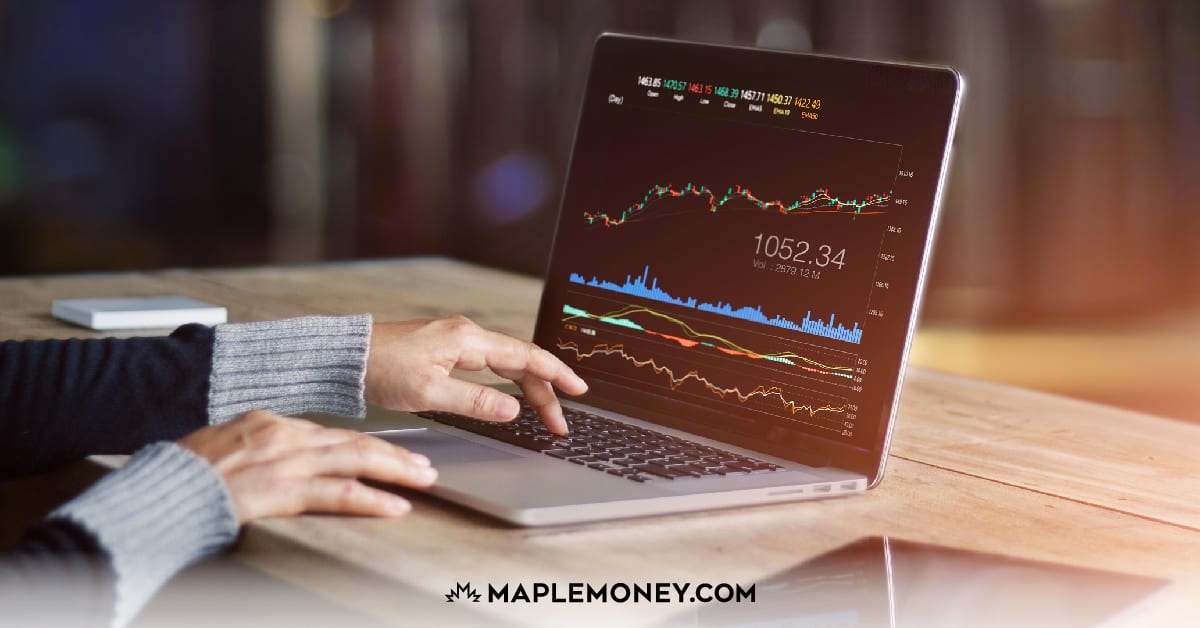 If you're looking for a tool to help you research investment ideas and find the best stocks to invest in, one of the most interesting developments is Simply Wall St.
Simply Wall St. provides tools to help you screen investments, find ideas for your next investment, and even help you analyze your investment portfolio. This Simply Wall St. review will help you figure out if this is a tool that makes sense for you.
Simply Wall St. is a freemium application. There is a free account, as well as two other plans that provide you greater access to portfolios and transactions. Depending on your situation, it might be worth it to pay for a plan.
The idea behind Simply Wall St. is to provide institutional-level research to help you make better decisions about your investment portfolio. For the most part, the tool does a good job of this, offering insights and analysis that you can use to figure out if something is a good match for you.
Snowflake
First of all, Simply Wall St. uses what is called a Snowflake. It doesn't look much like a snowflake, but it is designed to give you a quick idea of what to expect from a company.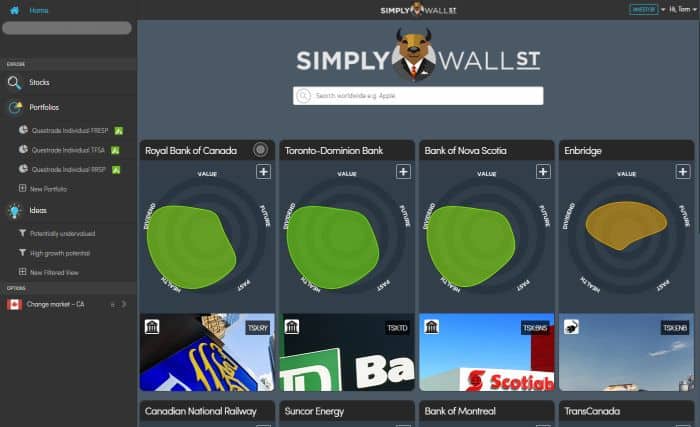 Using 30 data points, the Snowflake lets you get an idea of where a company stands right now, in comparison to how it has performed in the past. You can see from the shape and color whether or not a potential purchase is a good buy.
The shape points to different aspects of the stock, from health to income to value, while a green color indicates a "go" in terms of being an overall good value. You can use the Snowflake feature to compare competitors to see how they stand relative to each other. Once you learn to read the Snowflake, it's a great tool for an at-a-glance rundown of a company's probable value.
You can get more information about how it works by visiting GitHub.
Company Report
You can get more information about a company by going to its report page. The company report breaks down the different components of the Snowflake and dives in a little deeper.
It's possible to see whether a company is considered overvalued or undervalued, according to Simply Wall St. You can see information about earnings and earnings growth and other vital stats that might help you get a feel for the company. You can also see comparisons to major competitors to see where the company stands in the space.
The company report goes on to offer information about the companies' executives (including their compensation), histories, and more. You can even see current news about the company. It's a good way to get an in-depth feel for a company.
Investing Ideas
If you are looking for investing ideas, Simply Wall St. offers you the chance to quickly and easily see what's available. You can see popular stocks and, because of the Snowflake, it's easy to get a quick idea of where you might want to go. Other views include items like trending, biotech breakthroughs, and potentially undervalued. You can even create a customized grid view.
On top of that, you can use the advanced filtering to further narrow down your criteria. The stock screener used by Simply Wall St. can help you find companies based on factors that are most important to you. You can look at free cash flow, different ratios (PEG, P/E), and more. It's easy to adjust the screener, and receive ideas.
Investing ideas also include the ability to look for stocks that have characteristics like high growth potential or that might be undervalued.
Portfolios
If you use Questrade for your broker, you can analyze your current holdings with Simply Wall St. You can take a look at your holdings to see whether they make sense, and get in-depth information on what you already have. When you have a linked portfolio, it automatically updates when changes occur.
On top of that, you can create a portfolio manually. It's a way for you to tinker a bit or create a watchlist. You can look at how different investments might work together, and then use the analysis to move forward and trade in a way that makes sense for you.
Simply Wall St. Fees
Simply Wall St. offers three different plans. You can see the breakdown here: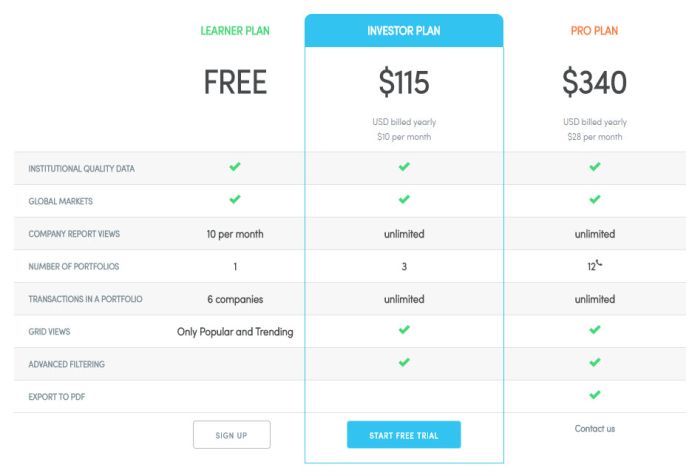 When you use the free version, you can only have six company transactions in a portfolio, and your grid view is limited. You also have a limited number of company report views and portfolios.
If you are willing to pay more, you receive more perks. You can access more company reports and grid views, as well as take advantage of advanced filtering. The Pro Plan allows you to export information to PDF for easier perusal, as well as the ability to create more portfolios.
You can get a discount by being billed for a whole year at once, rather than choosing monthly billing.
Can Simply Wall St. Help Your Investing?
Simply Wall St. offers you access to in-depth research about companies, and the ability to find good stock ideas that allow you to build a more effective portfolio. It's possible to benefit from the free information offered by Simply Wall St., but for more active traders, it might be worth it to pay for a plan. That way, you can stay on top of the latest developments, get an idea of when something becomes overvalued, and make changes to your portfolio to adjust to the situation.