Have you heard about Snap by Groupon? It's another awesome money-saving tool that you can download – very similar to Checkout 51.
Today, I'd like to explain a bit about how Snap works, and how you can use it to save money on your groceries each week.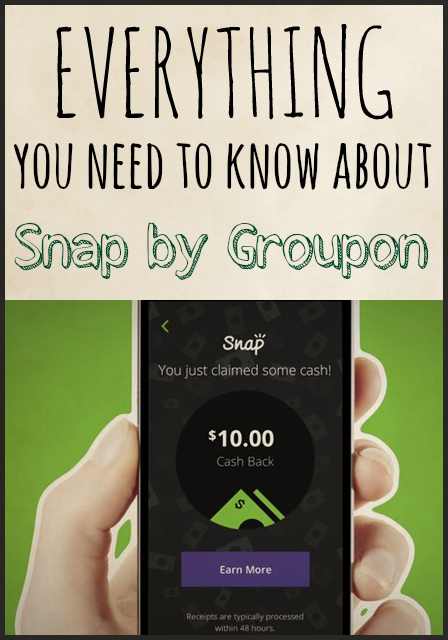 What is Snap?
Snap is a program that gives you cash back for purchases that you make each week. As you shop, you earn money, simply by taking a picture of your receipt and submitting it to SnapSaves.
That's it – it really is that easy!
How do I join?
You can sign up to Snap on their website, or you can download the app to your smartphone or tablet. Register yourself as a Snap user and you are ready to go!
Note: You do NOT need to have a smartphone to join Snap (but you get special offers for mobile users, if you join using a mobile device).
What about coupons?
You can stack manufacturer and store coupons with these rebates from Snap, making your savings even greater. In addition, you can stack these rebates with rebates offered from Checkout 51 and other cash-back sites!
How do I upload receipts?
When uploading receipts, make sure that you include a shot of the entire receipt, and that the receipt is clear and easy to read. If you have a very long receipt, there is an "add section" option, so you can take multiple photos of one long receipt.
How often are new offers available?
You can expect new rebates from Snap every week. You can claim a rebate every week that they are available.
New bonus offers are available every day, Monday through Friday. You'll want to get these deals quick, though, because they are only available in limited quantities!
A few more things about Snap…
Earn $1 for every person that you refer to Snap (they must submit at least 1 receipt before you can get your referral bonus).
There is a limit of 1 account per person (not per household).
When do I get paid?
Once you've earned $20 or more in rebates, you can request a cheque, and it will be sent out to you.
That's it!
Sign up to Snap now and start saving money!
Are you a Snap user? What do you think of it?