Stack Mastercard Review: A Prepaid Credit Card for Canadians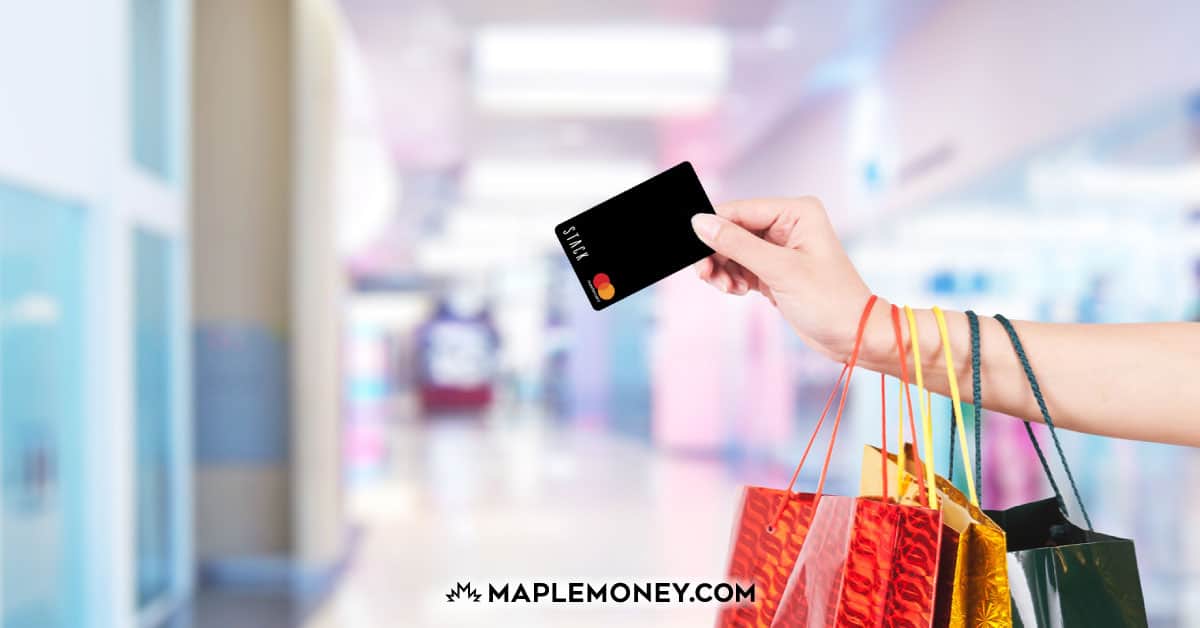 Never before have prepaid credit cards had so much to offer customers. In addition to making it convenient to spend, prepaid credit card users can save on fees, gain access to discounts and rewards, not to mention hi-tech budgeting tools to help them save their hard-earned dollars. One of the top prepaid cards available to Canadians is from Stack. In this Stack card review, I'll cover the basics, show you how the Stack app works, and let you know who the prepaid card is best suited for.
What Is Stack?
Let's start with what Stack isn't. Stack is not a bank or a financial institution in the traditional sense. Nor is Stack a credit card. Stack is a Canadian fintech company that uses mobile technology to make it easier for Canadians to manage their day-to-day finances. Through their partnership with People's Trust, they offer a no-fee prepaid Mastercard that's packed with some pretty unique features. The Stack card is not an actual credit card, because you can only spend money that has already been deposited onto the card – the cardholder is never in a credit position.
Stack Mastercard Features
Stack credit cards come packed with features. Here's a list of what you can expect to see when you open an account with Stack:
Prepaid Mastercard
Add money via e-Transfer and Direct Deposit
No annual fee
No ATM withdrawal fees
No foreign exchange fees
No-charge replacement card
Digital wallet capability via Apple Pay/Samsung Pay and more
Budgeting tool/automated savings plan
Access to the worldwide Mastercard network
$5 Sign-up bonus
$15 refer-a-friend bonus
Stack Travel Benefits
You can't earn travel points with Stack, but there are two ways to use your Stack prepaid card to save money on your next trip.
Hotel Discounts
You may be eligible for up to 20% cashback when you use Stack Travel to book your stay at a Stack partner hotel or resort. All you need to do is book with your Stack Mastercard, and your cashback will be deposited into your Stack account within 80 days.
No Fee Travel
As previously mentioned, you won't be charged for ATM withdrawal fees when you use your Stack Mastercard. Not only that, but there are no foreign exchange fees when you withdraw USD cash from an ATM or purchase US dollars. Many credit cards charge up to 2.5% on every foreign exchange transaction. This means that you can enjoy stress-free shopping when you're traveling outside the country.
Stack App
The free Stack App is available for download on the Apple App Store and Google Play. The app makes it easy to control your Stack account. This includes viewing your account balance and transactions and accessing the built-in-budgeting tools.
Stack Everyday Rewards
Stacks rewards shoppers with discounts at Stack partner retailers. The rewards vary, but there is plenty of opportunities to save at over 140 retail partners – including more than eighteen grocery stores and ten gas stations. Below is a list of just some of the Stack retail partners:
Adidas
Amazon
Door Dash
Foot Locker
HelloFresh
Indigo
Lyft
Michael Kors
Netflix
Oakley
Spotify
Other Stack Rewards
The Stack Mastercard benefits don't end at free ATM withdrawals and store discounts. Here are some other Stack perks users can take advantage of:
Automated Savings
Stack has a roundup savings feature that lets you set savings goals and then round up to the nearest $1, $2, $5, or $10 whenever you make a purchase with your card. You can access your savings balance at any point.
Early Paycheque
When you set up your payroll direct deposit to go directly into your Stack Mastercard account, you may qualify to receive a portion of your paycheque a couple of days early. This is a unique feature that makes managing cash flow a little bit easier.
Financial IQ
Financial IQ tracks your weekly and monthly spending and provides insights and advice on things like budgeting and spending.
Stack vs. Koho
This Stack Mastercard review would not be complete without a head-to-head comparison with a similar product. The closest competitor to Slack is likely Koho, another fintech company that offers a prepaid Visa card. The two cards offer many of the same features, with the most significant differentiator being how they handle interest and rewards. If you're looking for a points card, Koho offers .50% cashback on all spending. If you opt for KOHO premium ($84/year), you can choose three spending categories to earn 2%.
Stack doesn't have a points program, opting instead for partnerships with retail stores offering discounts and other bonuses when you shop. The deals often exceed the cashback offered by Koho. Koho offers 1.20% interest on deposit balances, which is a huge perk. This makes it easy to manage spending and savings from the same account. Stack doesn't pay interest on the balance in your account.
Stack's no ATM fees and no foreign exchange fees are a big perk if you frequently travel outside the country. KOHO
Stack Pros and Cons
There's a lot to like about the Stack prepaid Mastercard, but it also has some disadvantages. I've summarized the great and not-so-great features in this list of pros and cons.
Stack Pros
No annual fee
No ATM withdrawal fees
No foreign exchange fees
Digital wallet capability
Built-in savings tools
Access to the worldwide Mastercard network
Good referral bonus
CDIC coverage
Stack Cons
Cannot accumulate rewards points
It won't help you build your credit score
No insurance benefits
Who Is the Stack Mastercard Best Suited For?
There you have it, my full Stack Mastercard review. If you ask me, the Stack prepaid Mastercard is like a debit card on steroids. It's best suited for people who prefer not to use or do not qualify for a regular credit card. Of course, the latter group should understand that having a Stack prepaid Mastercard will not improve their credit score.
The absence of foreign transaction fees is a great perk for frequent travellers, as is the no-fee ATM withdrawals and no annual fee. Stay away from Stack if you want to earn regular cash back or travel points with a credit card or if your priority is to build your credit score.