Have you been building a grocery stockpile and are now struggling with how to store everything that you've stocked up on?
If so, this post is for you.
If you're having a hard time coming up with a good place to store your items, consider the stockpile storage ideas below.
Basement
If you have a basement and can spare a bit of space down there, do it. Invest in some sturdy shelving units and/or storage bins or carts to keep things organized and off the floor. Don't store certain food items in your basement if it is humid.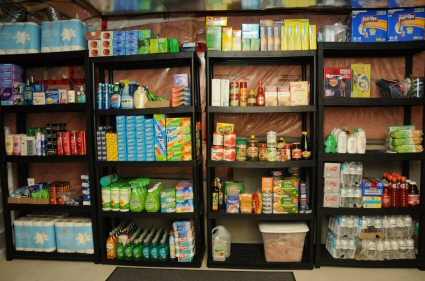 Under Your Bed
You can also store your stockpile items under your bed in some under-bed storage containers. I suggest this type of storage for things like bathroom and facial tissue. Avoid storing food under your bed, as it may go bad before you can get to it (because you don't see it).
Dressers
Do you have a dresser that's not being used? Dressers are great for more than just clothing. Try putting some of your smaller stockpile items in them.
Garage
If you have space in your garage, you can store your stockpile items here as well. Just like a basement, don't store certain food items in your garage if it is humid.
Where Items Belong
If you don't have the space to dedicate an entire area/room for your stockpile, keep your items all over the house. Store things in the places that they will be used.
Store your shampoo, body wash and toothbrushes in the bathroom. Store your bathroom and facial tissue in the hall closet. Store your food in the kitchen pantry. Store your laundry soap and fabric softener in the laundry room.
A Few More Stockpiling Tips:
– Organize your stockpile.
– Store like with like (cereal with breakfast bars, laundry soap with fabric softener).
– Always take items from the front and add new items to the back.
– Keep a stockpile inventory so you know what you have at all times.
– Write expiration dates on your items so you can quickly scan them and see when they expire.
There is no "right" place for you to store your stockpile. Everyone's space limitations are different, so keep your items where they work best for you.
Just because one person keeps their stockpile in the basement, doesn't mean you need to keep yours there as well. Maybe yours would do just fine in an unused closet.
The important thing is to keep your stockpile organized so that you always know where everything is.