Summer Strawberry Recipes.
Have you been to the strawberry patch yet? It's a favourite tradition for our family and our local Springridge Farm is just opening for strawberry season. (Be sure to check it out if you are in the Mississauga or Milton area.)
Their cafe, gift shop, animals, straw maze and huge covered sand box make this a must-see venue. Of significance is that they have created a "Royal Baby" Jam (part strawberries/part blueberries) in honour of William and Kate's little one that should be born any time now.
Here are some favourite recipes that celebrate the beloved strawberry.
1. Orange Berry Swirl
What better way to start your day than with a low-fat yogurt Orange Berry Swirl?
Tip: This is a great way to use up those berries that look – well, less than appealing.
2. Croissant French Toast with Strawberry Syrup
I recently made french toast for a friend using raisin bread and I think I saw a tear in her eye when she said she would never eat french toast any other way again. Next on my list to try is Croissant French Toast with Strawberry Syrup. C'mon now. Yum.
Tip: If you want to use regular bread instead, watch for markdowns. Many stores have 50% off bread loaves, when they're close to expiry. This type of bread works even better for french toast than very fresh bread, which becomes soggy.
3. Strawberry Parfait with Yogurt and Granola
This strawberry parfait is quick, easy and delicious. Plus, a great way to sneak in some wheat germ. Kids can help with the assembly, as the layers do not have to be perfect. Sloppy is the new tidy.
Tip: Yogurt is one item that can be very inexpensive, or terribly expensive. Watch for a sale to save money on this recipe. Be sure to check all store flyers and just price match if yogurt is on sale at a different store than where you usually shop.
4. Strawberry Muffins
I've been warned that my four boys will one day eat me out of house and home. This recipe for strawberry muffins would perfectly suit their mid-morning snack. Mini-muffins would be fun, too.
Tip: If your berries need to be used up quickly, make batches of these muffins and freeze them. Pull them out in the morning and they will be thawed for a park picnic by lunchtime. No berry wasting on our watch!
5. Strawberry Lemonade Popsicles
These strawberry lemonade popsicles only require 4 ingredients [and hours where the kids gather around the freezer asking, "are they ready yet?"]! Perhaps making them the night before would help you avoid my drama.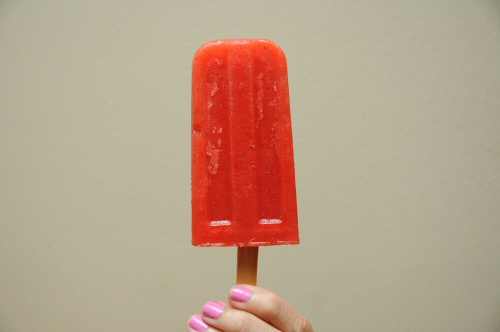 6. Strawberry Bruschetta
Looking for a new appetizer to enjoy? What about this easy recipe for strawberry bruschetta?
I could probably eat an entire loaf myself, but I digress…
Tip: If you see a baguette on sale, but aren't ready to make this recipe quite yet, tuck it into the freezer. Thaw it in the morning and you can bake this yummy appetizer by dinnertime.
7. Stawberry Mache Salad
I always enjoy mixing tastes that are opposite ends of the spectrum. I really love this strawberry salad – a combination of strawberries, papaya, avocado and red onion. You could use this mache (baby lettuce), or any other greens. This salad pairs nicely with Kraft Sweet Onion or Poppyseed dressing.
Tip: On MapleMoney.com, we often post links to salad dressing that is on sale, or can be purchased with coupons (or both!). Be sure to subscribe to our newsletter so you don't miss out on deals like these.
8. Chicken With Strawberry Avocado Salsa
Many of the toppings for the strawberry mache salad (#7), would work perfectly to make this chicken & strawberry salsa for the next night.
9. Strawberry Shortcake
Hearing the words strawberry shortcake takes me right back to the best dessert my mom ever made. If only the memory were as satisfying as this recipe, that would help my calorie count.
10. Strawberry Rhubarb Crumble
This recipe for strawberry rhubarb crumble is fabulous because of the 5 minute prep time and, the sweetness of the strawberries off-setting the rhubarb.
Wishing you had time to make many different strawberry recipes? Why not host a strawberry pot luck? Each person could bring an appetizer, main dish or dessert featuring strawberries. Don't forget to ask them to print off enough recipes for their item so that everyone can take the recipes home and enjoy for years to come.
What's your favourite strawberry recipe?