Summer fun – 50 ideas your summer bucket list
Ideas for summer fun.
It's summer – and that means summer fun ideas and summer bucket lists. Is yours ready?
Summer is a season of contrasts. We long for the lazy days of summer but realize that without a bit of a plan, the season can slip through our fingers. I notice that Summer Bucket lists are growing in popularity. People list out their "must-do" at the beginning of the season so there are no "I wish I had…" regrets going into the fall.
Whether you want to create a summer bucket list or you just want a few summer fun ideas, this list will get you started, regardless of your age and stage in life. If you have children, make sure they add their ideas as well. The goal is not to over-schedule, but to brainstorm fun options.
Savor the outdoors
Take a walk by the water.
Watch a sunrise.
Have a picnic.
Sleep under the stars.
Go puddle-jumping on a rainy day.
Have a water fight.
Float in a pool.
Drive far enough to enjoy lots of stars in the sky.
Go on a bicycle ride.
Plant some flowers.
Play croquet.
Go to a petting zoo.
Play a new sport.
Go to a Drive-In movie.
Make a sandcastle.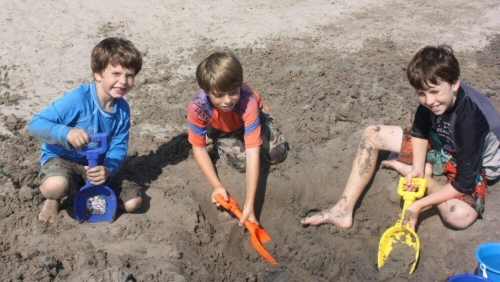 Roast marshmallows by a campfire.
Toss a Frisbee.
Photograph a sunset.
Attend an outdoor concert.
Connect
Fly a kite with a child.
Write an old-fashioned letter using paper and an envelope [gasp!].
Get back in touch with an old friend.
Treat someone to an outdoor carnival ride.
Take a cooking class with a friend.
Give a child $5 to shop at the dollar store.
Teach a new skill to someone.
Tackle a puzzle together.
Take care of yourself
Read a book.
Get a pedicure and a new pair of flip flops.
Take a nap.
Sleep in.
Watch an inspiring film. A reliable website to make sure movies are appropriate is pluggedin.ca. Our kids know that we screen their "screentime" through this source.
Refresh your palate
Go to a farmer's market and pick up extra food for someone you appreciate.
Make homemade iced tea.
Ask 3 friends for their favorite summer recipes, then make them.
Try a new ice cream flavor.
Pick strawberries and make one of these recipes.
Host a barbecue.
Make fruit kabobs.
Host pot luck.
Create a smoothie.
Buy corn from a road-side stand and share it with a neighbor.
Organize a progressive dinner. One friend serves appetizers at their house. The next friend serves the main meal. And the final destination will serve dessert. It always motivates housecleaning when a company is coming and no one has to prepare an entire meal.
Discover local attractions
A highlight in our summer is attending an outdoor Shakespearean play. Macbeth and Taming of the Shrew are both playing in High Park (Toronto, Ontario) – an impressive stage that offers PWYC. Go to canadianstage.com and click on "Save Money".
Find an outdoor film in your local area.
Attend an outdoor play.
If you do have children, subscribe to a local events site that will help you find nearby attractions. I recommend kidsaroundcanada.com. You can narrow down your search by area.
Put it all to music
While you're creating your Summer Bucket list, also compile a playlist for summertime. Include all of your favorite summer tunes. My husband does this every year and when we listen to it, it brings back memories of summers past.
One of the best things about Canada is that we get to enjoy such different seasons. Summer, fall, spring, winter. There are many great things about each season!
What will make your Summer Bucket List this year?