10 scrumptious summer salads to make
Do summer salads bring back childhood memories for you, as they do for me? I can vividly picture our family reunions with dream buffets. My mom's one-cup salad. Grandma's Jello salads – 1 in each color. And my happy plate filled with a sampling of each summer salad.
From classic to new, these are 10 scrumptious summer salad recipes to inspire you. They're perfect to bring to a barbecue or to share with your family.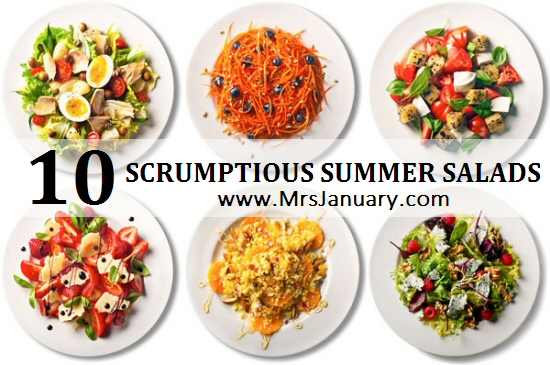 Summer salads to make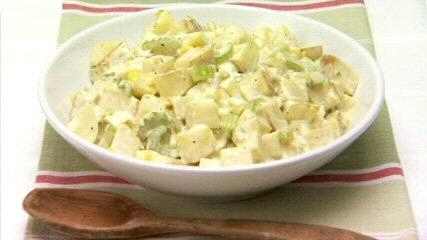 1. Low-fat potato salad
Prep time: 20 minutes
Low Fat Potato Salad – Potato salads are like snowflakes – no two are alike. The base of this low-fat potato salad is what makes the salad low fat. Then, simply add extra ingredients to give it your own flare.
Frugal Tip: Make potatoes last longer by taking them out of the bag and putting them into an open container in a dark cupboard.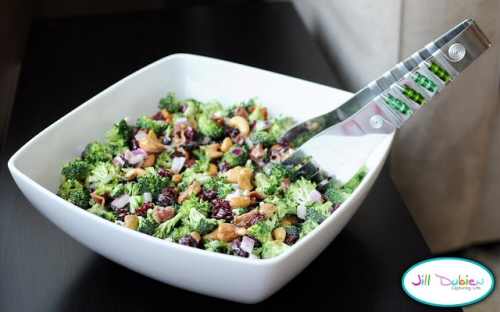 2. Favorite broccoli Salad
Prep time: 15 minutes (Chill time: 3-24 hours)
Broccoli Salad – This broccoli salad recipe is amazing. It's always the first salad to go at parties. Who knew raw broccoli could be this delicious?
Fugal Tip: Broccoli often goes on sale for 88 cents. Be sure to price match to get the best price on produce.
3. Chicken & avocado spinach salad
Prep time: 30 minutes
Chicken & Avocado Spinach Salad – This chicken & avocado spinach salad is perfect for those summer nights where you just don't feel like doing too much cooking. It's light, yet very satisfying!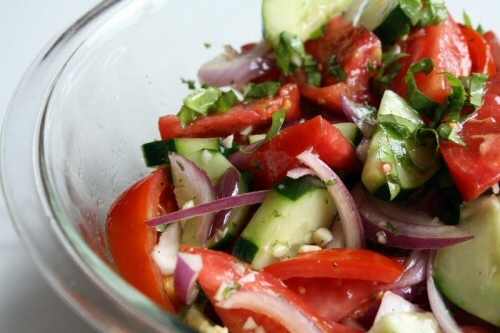 4. Tomato, cucumber and onion salad
Prep time: 5 minutes (Chill time: 20 minutes)
Tomato, Cucumber and Onion Salad – Rachael Ray gives this tomato, cucumber and onion salad a thumbs-up – and she's right! Blend her toppings with farmer's market fresh tomatoes and cucumbers. Yum!
5. Tomato mozzarella salad
Prep time: 15 minutes
Tomato Mozzarella Salad – Yummy! This tomato and mozzarella salad takes very little prep work and tastes mighty delicious! It would make for a great appetizer before your dinner.
6. Shredded chicken salad
Prep time: 35 minutes
Shredded Chicken Salad – This is one of the best summer salads – shredded chicken salad! It packs a punch with so many wonderful flavours and is very easy to make.
7. Jello salad
Prep time: 10 minutes (Chill time: 2 hours)
Jello Salad – You can't go wrong with this Jello salad, calling for only 4 ingredients. It makes a very special treat for the kids (and you, too!).
8. Fruit salad with savory dressings
Prep time: 15 minutes
Fruit Salad With Savoury Dressings – These fruit salad recipes start with basic fruit in a cup and then you can add a variety of dressings to change the taste entirely. The Vanilla Vinaigrette is next on my list to try.
Frugal Tip: Grab a variety of fruit from the clearance stand and make this salad right away. It also makes a great "clean out the fruit drawer" salad.
9. Chickpea and tomato salad
Prep time: 15 minutes (Chill time: 2 hours)
Chickpea and Tomato Salad – This chickpea and tomato salad is one of the easiest and healthiest summer salads out there! It uses inexpensive ingredients, takes very little time to prepare and can be served to a large crowd (or a small one!).
10. Watermelon and sweet tomato salad
Prep time: 15 minutes
Watermelon and Sweet Tomato Salad – This refreshing watermelon and sweet tomato salad has an interesting blend of sweet and savory. Making this salad is a great way to use up leftover watermelon and tomatoes!
There really are a ton of summer salads to make, but these are some of the salads that I thought were the best and easiest to prepare.
More recipes for summer:
Slow Cooker Loaded Baked Potato
Strawberry Banana Fruit Drink
Sweet & Spicy Pork Back Ribs
Strawberry Lemonade Popsicles
Please share your summer salad recipes in the comments!