Quinoa is one of my favourite foods. It can be used in so many different recipes, including sweet and savory dishes. There are a ton of health benefits to quinoa as well. Here are a few of them:
One of the most protein-rich foods out there.
Contains almost twice as much fiber as other grains.
Contains lysine and iron.
Great source of riboflavin.
Low in calories (only 172 for 1/4 cup dry).
Here are some tasty quinoa recipes that you can try and reap the benefits of quinoa!
15 Tasty Quinoa Recipes
1. Gluten Free Quinoa Blondies
3. Quinoa Vegetable Soup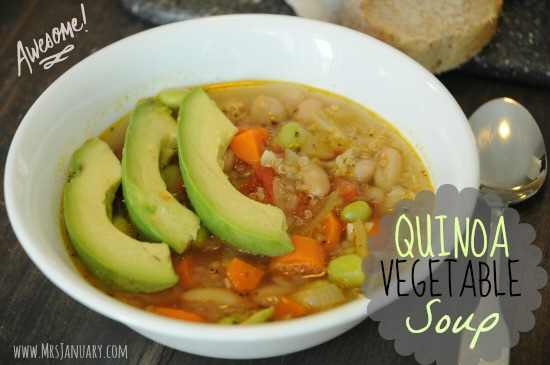 4. Quinoa Stuffed Bell Peppers
5. Crock Pot Quinoa with Vegetables
6. Quinoa Coconut Cookies
8. Coconut Almond Breakfast Quinoa
9. Black Bean, Corn & Quinoa Salad
10. Quinoa Coconut Chocolate Chunk Cookies
11. Quinoa Chicken Mac and Cheese
13. Mexican Quinoa
14. Quinoa Veggie Chili
15. Grilled chicken Salad with Quinoa, Avocado & Pomegranate