The Difference Between Wants & Needs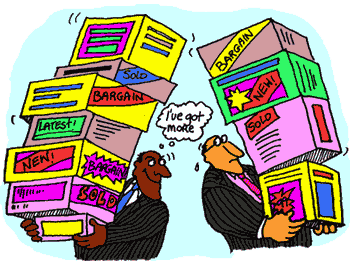 It happens to the best of us – you see something in a store window and you just have to have it. It's on sale, it looks awesome, you want it and you deserve it. Right?
I know, I've been there more times than once. As hard as it is, I often turn down many amazing purchases just because the item I wanted to buy was a WANT and not a NEED.
Now, I don't think you should deprive yourself. If you WANT something, you should be able to get it. However, you first need to save for it. Impulse purchases are bad – and you will regret them later.
The Definition of "Want"
Let's say the item in question is a new pair of shoes.
Do you already have a pair of shoes?
Do your current shoes work just fine?
Are your current shoes in good shape?
Can you wear your current shoes anywhere (work, school, out on the town)?
If you answered yes to all of those questions, those shoes are a want. You have a perfectly good pair (or two, or ten!) of shoes that work. Your feet are not bare and your shoes are not falling apart. That means you do not need any more shoes. You just want them.
The Definition of "Need"
This time, the item in question is a winter jacket.
Do you already have a winter jacket?
Does your current winter jacket keep you warm?
Is your current winter jacket in good shape?
Can you wear your current winter jacket anywhere (work, school, out on the town)
If you answered no to any of those questions, then you probably do need a new winter jacket. You still need to make sure you save for this item before you purchase it, but you can rest assured that it is something you actually need.
Distinguishing the difference between a want and a need is an important step when you're out shopping. If you are always buying your want items, you won't have enough money left for your needs.
Common Needs:

– Shelter
– Food
– Water
– Electricity
– Heat
– Clothing

Common Wants:

– Excessive Clothing
– Toys
– Vehicles
– Jewelry
– Electronics
– DVDs & CDs
– Vacations
The next time you are out shopping, before you purchase something, ask yourself the following question:
"Do I really need this item, or do I just want it?"
In most cases, the item in your hand will end up being a want and not a need.
Once you figure out how to differentiate between the two, your shopping purchases will be less costly.
Do you ask yourself the above question while out shopping?