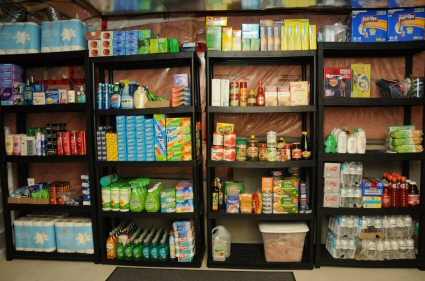 Stockpiling is a fantastic way to save money. I have been stockpiling for over 4 years now and it has saved me from running to the store and paying full price for something on more than one occasion.
Although it is nice to have an area in my home dedicated to my stockpiled items, there are some things I wish I'd considered before building my stockpile, and things I recommend you consider if you're just starting out.
What exactly should you stockpile?
Each person and each family has different preferences in terms of the items they would like to always have on hand in their stockpile.
If you don't have children, you probably won't need to stockpile diapers and wipes – however, families with little ones could benefit tremendously with such items.
Make a note of the items that your family uses on a regular basis. A few examples are toothpaste, shampoo, cereal, peanut butter, and bathroom tissue. Those are items your are likely going to be using all the time, so they should probably be included in your stockpile.
Create a list of what you would like to have on hand, and once you collect the desired amount of each particular item, you can cross it off your list.
How much should you stockpile?
Again, the answer to this question will almost always be different for everyone.
The first thing you need to decide upon, is how long you would like your stockpile to last. Many people are happy with a 6 month supply of products, but you may be okay with 3 months – or perhaps you'd like to have your stockpile last an entire year.
Whatever decision you make, ensure that it is the right one for your family. Don't compare yourself to someone else and their stockpile.
A good way to gauge how many of a certain item you should stockpile is to write the date on a brand new item. Once the item is gone, make note of the current date – this will tell you how long it took you to go through that item.
Here's an example:

Let's say you've been tracking the usage of a bottle of shampoo.

If you've decided that you would like to have a 6 month stockpile, and it took you 2 weeks to go through that bottle of shampoo, that means you need to have 12 bottles of shampoo in your stockpile.
Do you have the room to store your stockpile?
How much you are able to stockpile really depends on the amount of storage space you have available in your home.
You don't need to dedicate an entire room to your stockpile (though, that would be great if you could!). You can use a tall shelf in your kitchen, an unused closet, a corner in your basement or garage – really, anywhere you have the extra space.
If you just can't seem to find an inch of space anywhere at all, it may be time to de-clutter your home – or, perhaps, you may only be able to have a small 1-3 month stockpile.
Can you afford to stockpile?
Building a stockpile from scratch does cost a bit of extra money, but it's an investment that I think is well worth making.
You will need to buy more than one of an item at a time, and this, of course, means that you must spend a bit more money on groceries than usual.
I recommend setting aside a bit of money each month just for stocking up on great sales.
Keep your "stock-up" money separate from your regular grocery money, and only spend it on items you want to add to your stockpile.
I'm a firm believer in stockpiling and I think that the initial cost is well worth it. You will save your family quite a bit of money on your grocery bills and you will always have what you want on hand and won't ever have to pay full price for anything again.