How to Make the Most of Your Trip to Disneyland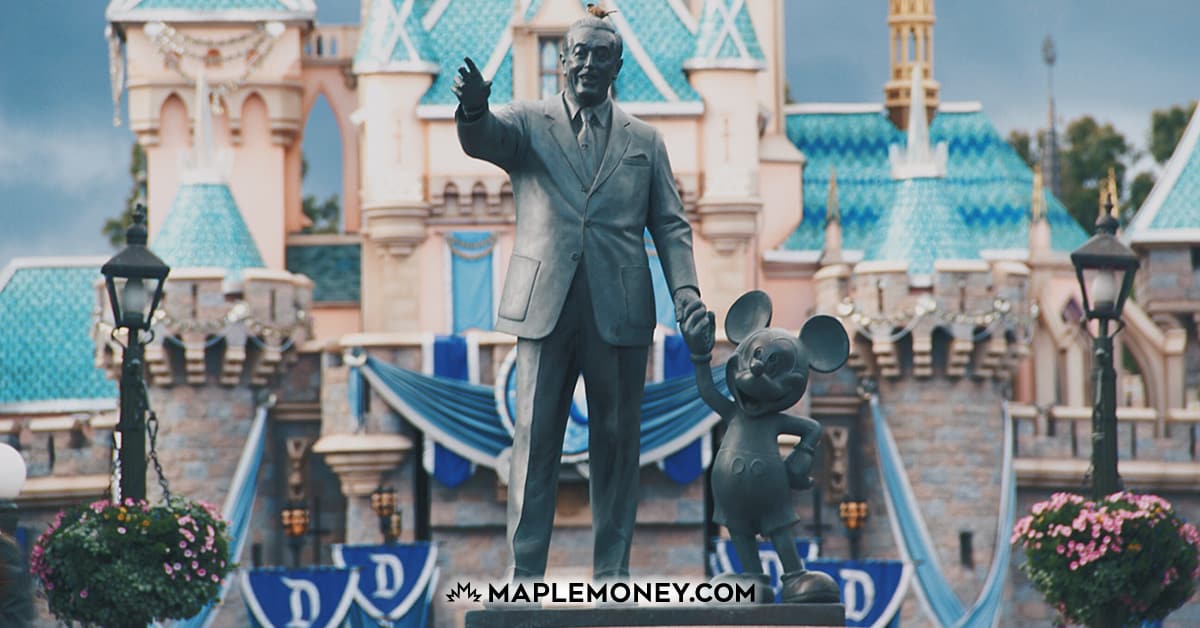 Often, when planning a trip to Disneyland, the first thing that comes to mind is how expensive it's going to be. And while the costliness of the trip is impossible to avoid altogether, there are ways your family can enjoy Disneyland on a budget.
I recently took my two kids to Southern California and spent time at the Disneyland Resort, Universal Studios, as well as a day at Huntington Beach. In this article, I'll share some of the ways we made our trip more budget-friendly, and give you lots of tips to help you make the most of your next Disneyland vacation.
Getting to Disneyland
While it's tough to find large discounts on Disneyland park tickets, you can save big in other areas, like flights and hotels, as well as food options. In our case, our flights were covered with Air Miles points. My main travel credit card is the BMO Air Miles World Elite Mastercard. Using this card also gave us 15% off our points, and I also received a companion ticket refunded back to Air Miles. If you love to travel, and you're not taking advantage of a travel credit card, you're missing out on some huge savings.
When you arrive at LAX, or John Wayne Airport, you can opt to take the Disneyland Resort Express shuttle bus to travel to the Disneyland resort, or a number of other hotels nearby. There is a cost for the shuttle, round trip for a family of 4 (two adults, two children) will set you back between $70-$100 depending on which airport you're arriving into (LAX being more expensive). The Resort Express is an authorized Disney shuttle and is certainly cheaper than taking a cab or having to rent a car.
Where to Stay
When visiting Disneyland, staying at the resort can be very attractive. You get the convenience of being on-site, the hotels have various themes the kids will love, and all of your meals are looked after if you purchase a family meal plan. But there's a price to pay for all that convenience. If your goal is visiting Disney on a budget, you're better off staying at a location off of the resort. Thankfully, there are some fabulous hotels close by, that will help make your vacation both enjoyable, and affordable.
On our recent trip to Disney, we stayed at The Anaheim Hotel. It's much cheaper than the Disney hotels, and is literally across the street, one of the closest hotels to the park. You can also find a number of "good neighbour hotels", and during past trips, we've stayed at some other great locations, including the Howard Johnson (with a great water park) and the Red Lion.
A good neighbour hotel is one that is recommended by Disney, offers a range of amenities for families, a dedicated Disney service counter, and transportation to the resort (sometimes for a fee). You'll find a full list of good neighbour hotels on the Disneyland website.
Another option is to rent an Airbnb in the area. While you might not get the same proximity to the resort, it will make for a more affordable stay. If you have multiple families travelling, you can often secure a larger property, and split the cost. If your Airbnb has a full kitchen, you can save money by buying groceries, and preparing your own meals.
Disneyland Resort Hotel Discounts
If you have your heart set on staying at a resort inside the park, you can expect to pay more money. That's not to say that you can't score discounts at a Disneyland Resort hotel, but it all depends on your timing. In other words, you can save money if you're willing to visit in the off-season.
As a general rule, Disney Resort hotels set their prices based on three seasons – Value Season, Regular Season and Peak Season. Value Season runs through January and February but also includes the first few weeks of October, November, and December. You'll find the lowest prices during Value Season, as it represents the least visited points during the year.
Regular Season at Disneyland includes March, parts of April, and all of May and June. September is generally considered Regular Season as well. This is when prices are at their mid-point, as the parks are well attended. Peak season happens at, you guessed it, all other times of the year. The holidays are included here ie. Thanksgiving, Christmas and New Year, as well as mid-April, July and most of August. Planning your trip at the right time will go a long way to determining how much you'll save.
Disneyland Resort Ticket Prices
If you want to see Disney on a budget, one of the best ways is to plan for multiple days at the park, rather than making several 1-day stops at numerous resorts in the area. That's because prices drop significantly as soon as you add multiple days to a ticket. For example, right now, one day passes (direct through Disney), start at $112. A 3-day pass drops to $100/day, $81.25 for 4 days, and a ridiculously low $68.00/day for a 5-day pass. Keep in mind, all prices listed are in USD. Per day, that's a 40% discount! Of course, you're paying for 5 days, but with so much to see and do, you'll wonder where the time went.
What is Disney MaxPass?
When our family visits Disney, we purchase a MaxPass. It's definitely the less frugal choice, as it adds $15/day to each ticket, but it will allow you to avoid lineups and move through the park far more easily. With MaxPass, you can use your smartphone to select when and where you'll ride ahead of time, and avoid the long waits when you get to the ride. MaxPass includes Disney PhotoPass, which allows you to download and share photos from numerous attractions and Character Greetings. Making selections can be a bit cumbersome, which is why I prefer the Express Pass at Universal Studios, but it definitely makes for a smoother trip through the resort.
Disneyland Ticket Discounts for Canadians
There are a few ways Canadians can find lower prices than buying directly through Disney. For starters, CAA members can purchase select Disneyland tickets at CAA locations. I mentioned Air Miles earlier in the article. While I used my Air Miles to save on flights, you can also redeem your Air Miles for Disney tickets.
Other Disneyland Money Saving Tips
Looking for more ways to save money at Disneyland? I've compiled a list of quick, yet helpful tips. I used several of these, but not all, on our recent vacation.
Off-Season Discounts for Canadians
As with any resort vacation, it's always cheaper to visit during the offseason. In fact, this is one of the best ways to do Disney on a budget. Disneyland offers discounts for Canadians on 3+day park tickets during the off-peak season (not available between May and August).
Buy Your Tickets Early
Ticket prices at Disney go up every year. The nice thing is that Disney allows you to buy them well in advance. If you're thinking of going to Disney next year, reserve your tickets today, at this year's price. It requires some advance planning but is a great way to save a few bucks.
Stay Off Property
I mentioned this earlier, but it bears repeating. You'll always pay a premium to stay on the resort at Disney. If you don't mind being a few minutes away, there's a tonne of great hotels nearby that are far less expensive than the official Disney Resort hotels.
Avoid Visiting Multiple Parks
If you try to spread your time between four different parks, you're going to pay the highest possible price for tickets (1-day passes). Instead, save some resorts for another trip. Instead, pick your one or two favourites (we're partial to Disneyland and Universal Studios) and buy additional days at a reduced cost. After all, you can spend two or three days at both Disneyland and Universal and not see everything.
Stay at a Hotel With a Free Breakfast
As I mentioned earlier, picking a hotel away from the resort is a great way to do Disneyland on a budget. You can multiply your savings by staying at a hotel that offers a continental breakfast. These days, many hotels offer a hot breakfast, free of charge. It's not uncommon to see options that include scrambled eggs, waffles, fruit, yogurt, or cereal on the menu. Imagine being able to eliminate one meal from the budget every day. It helps that kids love continental breakfasts.
Ask for Free Ice Water
During your trip, the cost of beverages will add up. When you're in the park, you can request a free cup of ice water from any food service area. This will not only save money, and come in handy on long, hot days with lots of walking.
Purchase Souvenirs Away From the Park
You'll be tempted to pick up Disney merchandise during your visit, and many items are only available onsite. But if you can, try to buy things like hats, or t-shirts, before you arrive. Department stores, as well as online retailers, often carry Disney merchandise at affordable prices.
Avoid the Rental Car
If you take a shuttle from the airport to your hotel and stay within walking distance of the park, you may not need a rental car, at least not for your entire vacation. During our trip, we booked a 2-day car rental through Turo. The car was delivered right to our hotel and picked up 2 days later. We used it for a day trip to the beach, and also for the drive to Universal Studios. Needless to say, this was a big money saver for us.
Take a Day Off
Speaking of beach days, scheduling a day or two away from the resort is a great way to make your Disney vacation more budget-friendly. There is so much to see and do in Southern California that doesn't have to cost an arm and a leg. During our trip, we spent a day at Huntington beach. The kids got in the ocean, we checked out some stores and had dinner at Ruby's Diner at the end of the pier. It made for a wonderful day.
Our Day at Universal Studios Hollywood
While we spent most of our vacation at the Disneyland Resort, we couldn't pass on a day at Universal Studios. Our visit didn't disappoint, as we had time to take in many of the top rides with our Universal Express Passes (more on that below). I actually prefer these to Disney's MaxPass, because they're easier to use. You don't have to worry about selecting a specific ride, and when. You get one use per ride, plain and simple. If you're visiting Disneyland, I highly recommend a trip to Universal Studios Hollywood. Same as you should check out my post on the Universal Resort before you head to Orlando. Here are a few of the top attractions that make this park great:
The Wizarding World Of Harry Potter
Fast and Furious – Supercharged
The World Famous Studio Tour
King Kong 360 3D
Jurassic World – The Ride
Universal Studios Hollywood Prices
One-day admission to Universal Studios is $139 per adult (10 and over), and $133 per child (between 3 and 9). Children under 3 are free. You can purchase "anytime" or "specific day" admission. Specific day admission passes are non-refundable, so only purchase if you know exactly when you'll be at the park. Specific day ticket prices vary depending on the date of your visit, so you can save money if you're willing to go during an off-peak period.
As with Disneyland Resort, you'll save money when you add additional days to your admission. For example, a two-day admission currently ranges between $149 and $169, depending on the date. Right now, Universal is offering a summer special, where you can buy a day, and get the 2nd day for free, providing you return within 7 days. While it's a limited time offer, it's a good idea to check their website on a regular basis, as similar offers do arise from time to time.
The Universal Express Pass
The Express Pass is Universal Studios version of the Disney MaxPass, in that it gives you priority access to attractions. We used Express Passes when we visited and found that they were worth the extra expense. What I like about the Express Pass, is that it's very straightforward and simple to use. You get one priority access for each attraction, as well as reserved seating for shows. Keep in mind that if you're on a budget, you can certainly do without the Express Pass. Pricing ranges between $189 and $289, depending on the time of year. If you purchase your passes more than 24 hours in advance, you'll get a $10 discount.
Southern California CityPASS
If you're a regular reader, you've probably noticed me mention CityPASS in other travel posts, as a way of getting big discounts on top attractions in several cities in the U.S. A trip to Southern California is no different. CityPASS offers up savings to some of the top resorts in the area, including the Disneyland Resort, Universal Studios, and Seaworld.
You'll never find deep discounts on anything Disney related, but saving even a few dollars here and there adds up. What I love about the SoCal CityPASS, is that they give you more flexibility, by allowing you to create your own theme park vacation. There's also the added convenience of being able to purchase all of your tickets in the same place. Here's a full list of the resorts that can be added to a SoCal CityPASS:
Disneyland Resort
Universal Studios Hollywood
Seaworld San Diego
LegoLand California Resort (CityPASS holders receive 15% off their stay at LegoLand Hotel, located just outside the park gate).
San Diego Zoo or Safari Park
When you arrive at the parks, you can gain entrance with your CityPASS tickets, or in the case of Disneyland Resort, simply trade in your tickets for Disneyland park passes when you arrive at the entrance. This allows you to skip the Will Call and ticket purchase queues.
Disneyland on a Budget: Where to Begin
We've covered a lot of ground, but as you can see, there is no shortage of ways to make the most of your next Disney vacation. With so much to consider, let's review some of the biggest money savers. For starters, always plan ahead, and save money on flights by redeeming points from a travel rewards credit card.
From there, consider staying at a hotel off of the resort, but within walking distance, to avoid having to pay for transportation. Finally, be open to the idea of visiting during an off-peak period, when ticket prices and other attractions are at their most affordable. Combine these tips with many of the others I've listed above, and you'll be well on your way to doing Disney on a budget.