VIPKid Canada Review: Make Money from Home with Online Teaching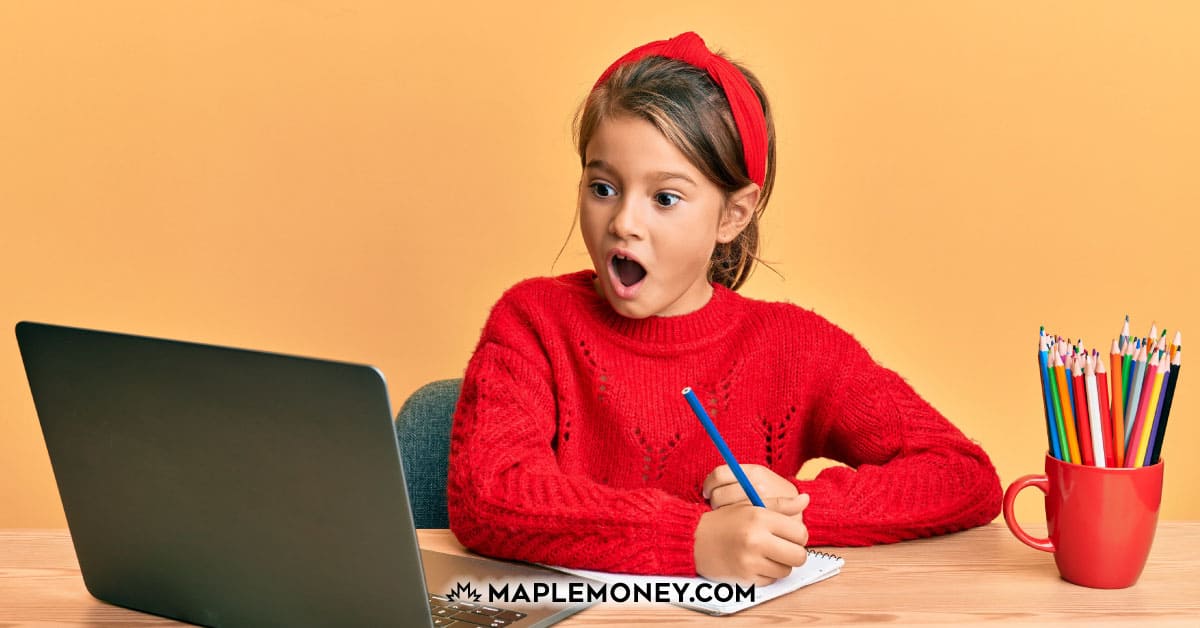 Are you looking for a way to make extra money online? If you're equipped with a BA degree and a little experience working with children, you might want to consider teaching English online through VIPKid. You can make good money working with a reputable organization from the comfort of your living room or anywhere in the world with an internet connection. But what is VIPKid, and how do you get hired? Let's take a closer look to find out if teaching online is right for you.
What Is VIPKid?
VIPKid is a Chinese-based online company that offers English lessons to Chinese children ages 4-12. The children learn from English-speaking teachers from Canada and the US. VIPKid provides teachers with the curriculum; all you have to do is teach.
There are some requirements to become a VIPKid teacher, which I'll review a bit later. However, online tutoring through VIPKid can be a good-paying side hustle for someone looking to make extra money if you qualify.
How to Get Hired
You can apply to be a VIPKid teacher by visiting their website and completing the following six steps:
1. From the homepage, select Become A Teacher. Follow the instructions to set up a user ID and password.
2. Forward your resume and other details about your educational and teaching experience. The more experienced, the better.
3. Complete a 1:1 interview with a recruiter. They will walk you through an exercise that will enable you to display your teaching skills.
4. Watch videos to find out more about VIPKid, and the lessons you'll be teaching.
5. Teach a Demo class observed by an existing VIPKid teacher.
6. If successful, sign your first 6-month contract. You can teach as much or as little as you'd like.
Before applying, review the teaching requirements listed below to make sure you qualify.
VIPKid Teaching Requirements
VIPKid teaching requirements are more strict than many other online ESL companies. To qualify, you'll need to satisfy the following criteria:
From Canada or the United States
Except for the State of California, VIPKid teachers must be from Canada or the USA. You can teach from anywhere (this is a truly remote job), but you have to be from one of these two English-speaking countries.
Experience Working with Children
While you don't have to have worked as a teacher, you must have at least one year of experience working with children. This could include babysitting or working in a daycare.
Possess a BA Degree
Not everyone looking to make money online will be able to meet this fairly strict criterion. According to my sources, VIPKid takes this requirement seriously, and prospective teachers must provide written proof of a valid Bachelor's degree. Thankfully, other ESL programs don't have this requirement. I'll cover them a little later.
Must Obtain a TEFL Certificate
If you're accepted to teach with VIPKid, you'll need to obtain your TEFL Certificate (Teach English as a Foreign Language.) If you don't already have one, you can take one during the onboarding process. A TEFL certification opens doors for anyone wanting to teach English online, whether through VIPKid or another platform.
VIPKid Technology Requirements
It should come as no surprise that you'll need to have the proper computer supplies to teach online. Here are the basic technology requirements:
A desktop, laptop, or tablet computer, i.e., iPad or Surface
Minimum operating system requirements: Windows 7 or higher (PC); Mac OS 10.8x.
At least 4GB RAM and an Intel Core 13 processor, or better.
Web camera (built-in or external)
Computer Speaker/Headset with mic
Google Chrome web browser
VIPKid Teaching Materials
VIPKid will provide the curriculum, but they expect teachers to be creative by creating an engaging learning environment as much as one can expect via an online classroom, at least. To do this, feel free to decorate your "set" and use props, like a dry-erase whiteboard. In other words, make your virtual space feel like a real classroom.
How Much Does VIPKid Pay?
Teachers can make as much as $22 USD ($30 CAD) per hour with VIPKid. This includes a base rate, plus a couple of different teaching incentives. Here's how it breaks down:
Minimum Pay
$7-9 USD per lesson (since lessons are 25 minutes each, equates to $14-$18 USD per hour)
Participation Incentive
Up to $2 USD per hour. Incentive earned for being punctual and ability to stick to the lesson plan.
Finished Class Incentive
Up to $2 USD per hour. Based upon the number of classes you finish each month. VIPKid uses this metric as a primary benchmark to assess your teaching quality. The more lessons you complete, the more money you can make.
How Are Pay Rates Determined?
VIPKid establishes a teacher's pay based on experience, teacher qualifications, and performance on the demo lesson.
When Will I Be Paid by VIPKid?
With VIPKid, teachers have the choice to be paid weekly, bi-weekly, or monthly.
How Are Income Taxes Treated with VIPKid?
Important! Because VIPKid instructors are considered independent contractors, they won't withhold taxes on your behalf as though you were an employee. That means that you're responsible for claiming your income on your annual tax return and paying the associated income tax amount.
Everybody's tax situation is different, so you should talk to a tax professional to determine how much you should set aside to cover any income tax owing.
Dealing with Different Time Zones
Because of the international nature of this side hustle (students are located in China), time zones are an issue, that is, if you want to maximize your earning potential. If you live anywhere in Canada or the US, the peak teaching hours are early mornings because most lessons happen during the evening in China. Which might be perfect if you get up early in the morning – if not? You may want to reconsider if this is the best side hustle for you.
Is VIPKid Legit?
Unlike some online side hustles, VIPKid is 100% legit. The company is worth over $3B, has been around since 2013, and thousands of English teachers from around Canada and the US have made a reliable income on the platform. That doesn't mean that it doesn't have a few drawbacks. The following list of pros and cons will let you know what to expect, both the good and the bad.
VIPKid Pros and Cons
As a remote side hustle, there's a lot to like about VIPKid. But it also has a few drawbacks, or limitations. To help you sort things out, here's my list of pros and cons:
Pros
100% remote work
Flexible; work when you want
Good pay of up to $30/hour CAD
Manageable; classes are 25 minutes long
Supportive online community for teachers
Cons
Adjusting to different time zones
Lengthy onboarding process
Once a class is booked, not easy to cancel
Some kids misbehave
Income is not guaranteed
VIPKid Alternatives
As I mentioned earlier, VIPKid sets a higher qualifying standard than many other online ESL programs, in that you have to show proof of a completed University Bachelor of Arts degree. If you can't meet that requirement, all is not lost. Here are a few other online English teaching programs without the BA requirement:
PrePly
PrePly has been around since 2012 and offers the same remote work opportunity as VIPKid. They also hire teachers for other languages, including Spanish and German. You don't need a BA to teach, but you'll need a strong online profile to stand out in the search results.
SkimaTalk
Also founded in 2012, SkimaTalk hires English teachers with a neutral accent (British, Canadian, American, Australian, etc.) With SkimaTalk, your profile will need to include a video. Unlike VIPKid, SkimaTalk students are adults. It's a great opportunity to get to know people from other cultures. One downside is that SkimaTalk expects you to complete 3 unpaid lessons before being fully accepted in their program.
Lingoda
Lingoda is a German-based company that offers lessons in English, German, Spanish, and French. You'll need to hold a TEFL certificate to teach with Lingoda, as well as 3 years of teaching experience (online or otherwise), but a BA degree is not a requirement. There is an expectation that you will work a minimum of 5 hours per week.
Who Is the Ideal VIPKid Candidate?
No job is perfect, but you may be the ideal VIPKid candidate if most, or all, of the following, apply:
Looking for a side gig
Interested in working from home
Hold a Bachelor's or Master's degree
Have a teaching license
Hold a TEFL certificate (or are willing to get one)
Are an early morning person
Can manage the time difference
Don't mind dealing with parents
VIPKid Review: Final Thoughts
There you have it, our VIPKid review. If you're interested in becoming an online English teacher, I encourage you to take a close look at VIPKid, as well as the other online teaching platforms that are out there. It's never too late to land your first teaching job.