How to Get Married Without Going Broke
Did you know that the average wedding in 2012 cost $30,000? You read that right – thirty thousand dollars. I got married in 2008 for a grand total of $5,000 (including a 1-week vacation to Cuba). This is not as good as my friend Kerry's $239 wedding, but I still think we did pretty well, considering what the average wedding cost.
Wedding on a Budget.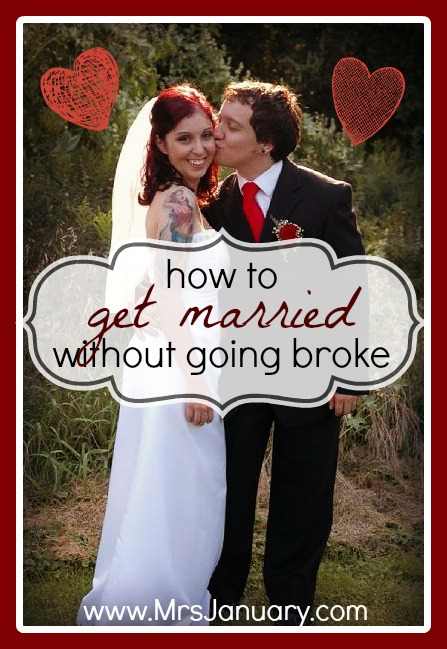 How to Get Married Without Going Broke
One thing my husband and I decided before the wedding was that we would pay cash for everything. We would not go into debt to get married. We paid for the wedding (and honeymoon!) by ourselves and and did not go a single cent into debt to get married – which we are so proud of ourselves for.
If you're looking for ways to save money on your upcoming wedding, please, let me teach you how to get married without going broke.
The Date
Don't get married on a Saturday. It's the most expensive day of the week.
Get married during the off-season (November – April is cheapest).
The Invites
Make your own invitations. Instead of including an RSVP card, ask guests to RSVP by phone or email.
Don't invite every single person you know. Cut your guest list back as much as possible – only invite those that are closest to you.
The Location
Have a backyard wedding. It's cheaper, less formal, and more familiar.
Have the ceremony and reception at the same place to save money (and time) on travelling.
The Dress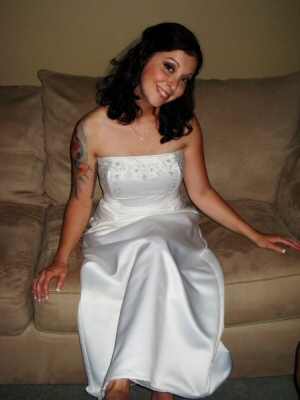 Buy used. Most dresses have only been worn once and with some dry-cleaning and alterations (if necessary), you can save a bundle.
Rent your wedding dress. It's not like you're going to wear it again, anyway.
Shop sample sales for a wedding dress. These dresses are only used in the stores as samples and will cost much less than brand new.
The Decor
Shop Ebay, Craigslist, Kijiji, consignment shops and yard sales. Buy used wedding decor whenever possible.
Borrow decor items from your friends and family.
Use something other than flowers in centerpieces. Flowers are expensive.
If you must buy flowers, make sure to only buy flowers that are in season.
The Food
Have a buffet dinner instead of serving multiple courses by the plate.
Have your ceremony in the morning and serve lunch afterwards, instead of dinner.
Have cupcakes instead of a wedding cake. They are cheaper to have made (make them yourself to save even more money).
Skip the champagne toast. Rarely does anyone drink the champagne.
Buy your own booze (if your venue allows it, or you are having a backyard wedding). Return the bottles to get cash back.
The Photographer
Hire a student photographer that has a good portfolio. Check references.
Book your photographer early. Many offer discounts for booking in advance.
The Entertainment
Hire a DJ instead of a band. They are much cheaper. Plus, you only have to feed one person, as opposed to a group.
If you must hire a band, hire students. Oftentimes, they are very talented and will cost you much less than an established group.
Please don't spend $30,000 on a wedding. You don't have to. There are a ton of ways that you can get married without spending copious amounts of money – and you can have an enjoyable, memorable (in a good way!) wedding to talk about for years.
Please share your money saving tips for weddings in the comments!