Top 6 Reasons Why I Love Smart Source
You count on us at MapleMoney.com to offer reputable ways to collect coupons, and we take that trust very seriously.
I really love Smart Source as a tool, and highly recommend it for many reasons.
Top 6 Reasons Why I Love Smart Source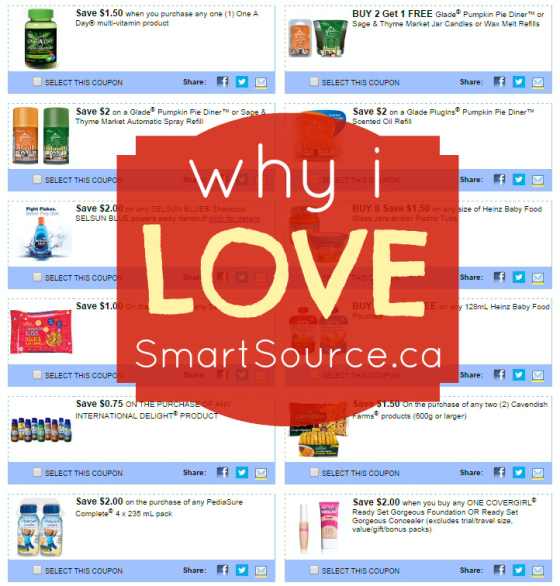 1. Multiply the Savings

Smartsource.ca allows you to print two coupons from each computer. Depending on how many computers you have, you can print 2, 4, 6 or more of the same coupon without leaving the comfort of your home. That generous feature can help build your coupon collection quickly.
2. Maximize the Deals

Smart Source often offers high value coupons, which means more savings for buyers. And every week, we share our popular coupon match-ups, where we include Smart Source coupons. If you use our coupon match-ups, you will be able to get items for free or almost free!
3. Canadian

How frustrating is it to follow an internet link to a coupon that looks amazing, only to find out that it is not valid in Canada? A Canadian website like Smartsource.ca caters to Canadians only – eliminating coupon fury.
4. Hidden Coupons

Not only do I love Smart Source's regular coupons, but they also offer coupons that are not as easy to find. Make sure you're regularly checking out MapleMoney.com to find extra hidden coupons available on Smartsource.ca. This inside scoop guarantees you will never miss another Smart Source coupon.
5. Variety

Smart Source regularly offers a good variety in their coupons. These include coupons from every category—household goods, personal, baby items and groceries. And the variety of brands is also an advantage. I have tried new brands (and typically liked them) because of Smart Source printable coupons, but I also can save on brands I am already familiar with.
6. Expiry Dates

Sometimes I feel time pressured to shop as coupons THAT I JUST GOT are expiring imminently. The coupons from Smartsource.ca often have a generous expiry date to take that pressure off. It also allows you to wait for a sale on a particular product, in order to make the most out of these coupons.
I really work hard to find reputable coupon sites that can be used by Canadians, and I can confidently recommend sites like Smartsource.ca, because I use it myself and know that it works.
What do you love about Smart Source?