Frugal Family Fun – Marble Mania
Frugal Family Fun!
This is the first edition of our new series, Frugal Family Fun.
Throughout this series, my boys and I will select a theme and try out relevant activities. We will offer many different ideas to get you started on having more frugal family fun that youc an do on the weekend (or whenever you'd like)!
Choose a few of these ideas, and you can have a lot of family fun, for very little money out of pocket (if any at all). Most activities require minimal preparation and only basic items. At the end, there are extra activities that are a bit more involved, in case the kids want to keep exploring the theme.
Frugal Family Fun – Marble Mania
This weekend's activities require marbles, which can be found at your local dollar store, and a bit of imagination.
Full of Hot Air
One person stands at each end of a table. Try to blow a marble off your opponent's edge of the table – and don't use your hands! If it rolls off their end, you score a point.
Have You Lost Your Marbles?
One person hides a set amount of marbles. Everyone tries to find them. Whoever finds the most, hides them the next time. Although this was the most basic game, it quickly became a favourite. The boys enjoyed giving each other clues if the marbles were hidden so well that the others couldn't find them.
Speculation
Guess how many marbles are in a jar – winner gets a prize (maybe a marble-themed prize?).
Tasty Treat (Marble Cake Mix)
All parties around here must involve food. It's a non-negotiable. We took an official vote to choose our snack for this frugal family fun project. Marble cake beat out marble cheese — by a landslide. Since we did not have a marble cake mix on hand, we made vanilla cupcakes and then swirled in melted chocolate chips. Yummy!
Marble Games
Play any marble games that you own (or can borrow from friends): Aggravation, Kerplunk, Hungry Hungry Hippos or Rebound.
Marble Run Sets
Quadrilla (I bought the boys this set for Christmas from Kijiji. It has quality, solid wood pieces.)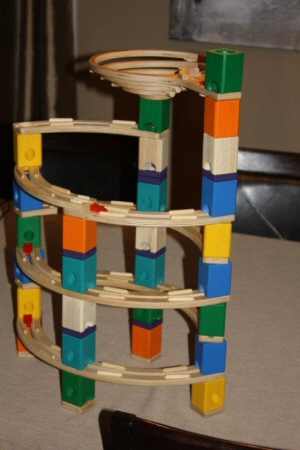 Discovery toys are great, too (I got ours very reduced by hosting a Discovery Toys home party years ago).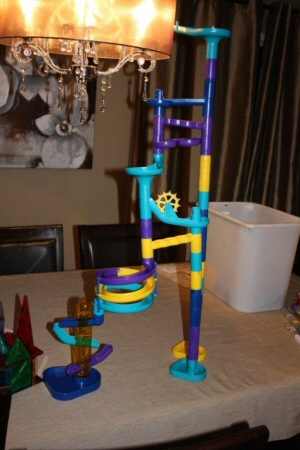 DIY Marble Runs
Use paper towel tubes for tunnels and flat objects for ramps. Try building different marble runs. Have races to see whose marble goes the fastest.
Here's a simple marble run built with popsicle sticks. For more inspiration, look up "marble runs" on YouTube or Pinterest.
Ayden built this one with our magnet set on an angled white board. See the marble in action?
The Good Old Days (String)
Play like children used to play on the playground. I recommend Joe Marbles for easy marble games and basic terminology.
Marble Toss (Muffin Tin)
Assign points to each section of the muffin tin. Take turns standing at a distance and tossing the marbles into the tin. Lowest score does the dishes that evening!
Once Upon a Time
Write a story as a family, about how marbles might have been created. Be as silly as you want. The first person says one sentence and then the next person continues the story and so on. Then look up the true history of marbles.
More Advanced Frugal Marble Activities
Marble Art (cookie sheet, paper, paint)
Place a white sheet of paper on a cookie sheet or other pan with taller sides. Place several drops of paint (different colours) on the paper. Then, place a few marbles in the pan, roll them around and see what designs you can make.
DIY Marble Run (wrapping paper tubes, magnets, paint)
This takes a bit more effort, but there is value in creating the tubes, and experimenting with the set up. Build on a magnetic white board, or the refrigerator. Here's a great example.
Liam used his marble run to attack unsuspecting Lego guys.
We started our marble fun last Friday and the kids kept coming back to it throughout the weekend. I love that the television was hardly on, and the boys did what children were meant to do — use their imaginations.
I hope this first edition of Frugal Family Fun was inspiring for you. Come back next Friday to see how my boys and I had fun with marshmallows!