Who Is the Best Online Broker? The Best Discount Brokerages in Canada 2021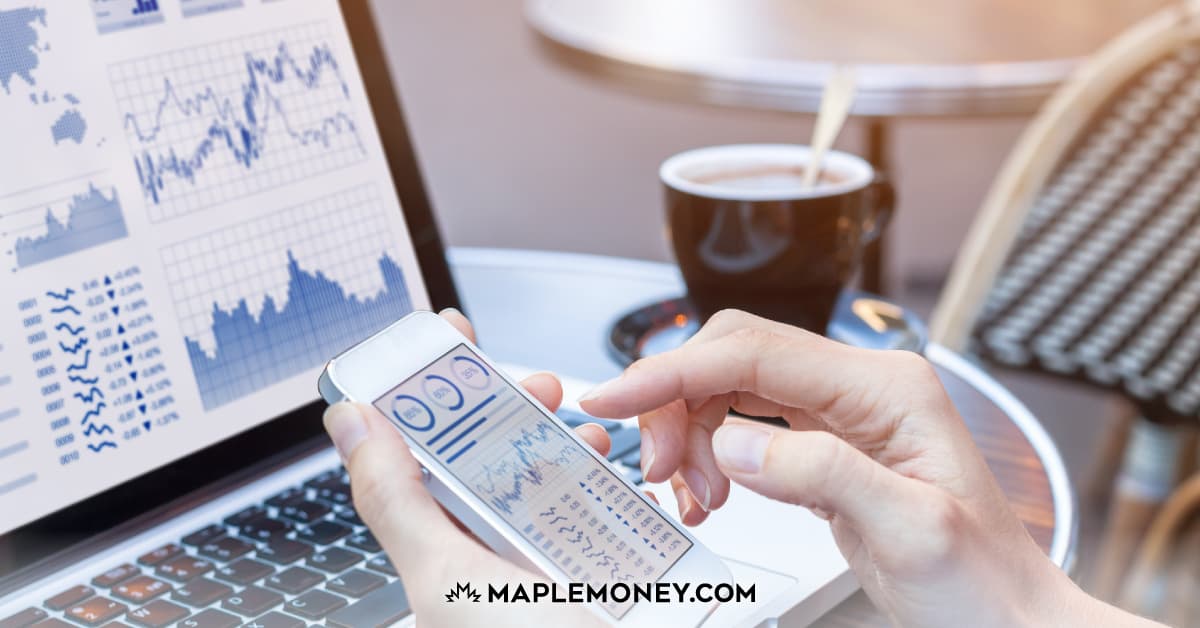 In recent years, Canadians have become more aware of the impact of fees and commissions on their investment returns. This awareness has resulted in the rapid growth and popularity of online brokerages, also known as "discount" brokerages.
In this article, I'll give you an inside look at all of the major online brokerages in Canada for 2020, and help you decide which one might be the best fit for you. I'll also reveal my top choice for Canadian online brokerage, and let you know why it's my favourite this year.
What Is An Online Brokerage?
An online brokerage is an internet-based investing platform that provides investors with the capability to manage their own portfolios and place trades online.
Investing through an online brokerage can save you money because it removes the need to deal with an advisor in a bricks-and-mortar location or over the telephone. Without the cost of the middleman, the brokerage firm can pass along some of the savings to you, the investor, in the form of lower fees.
It's do-it-yourself investing, a concept similar to what you might experience shopping at a wholesale grocery store.
There are often less staff available to assist with bagging groceries or to help you to your car, but you don't mind doing the extra work if it means saving money on groceries every week. You get the idea.
Self-Directed Investing
An online brokerage is often referred to as self-directed investing, another name for 'do-it-yourself'. While it's true that most brokerages have people standing by, ready to assist with technical questions or system-related issues, there is no advice provided through an online brokerage.
In other words, the investor is fully responsible for the investment decisions that they make.
This is something that should be considered when deciding whether or not to open an online brokerage account. Depending on your approach, an online brokerage isn't always suitable for new investors.
However, with so many investment options available today, I believe that most investors can benefit from the convenience and cost-savings of a discount broker.
Choosing An Discount Brokerage – Things To Consider
The thought of opening an online brokerage account can be intimidating, especially for new investors. With so much to consider, it can be tough knowing which platform is right for you.
For some, the path of least resistance might be to go with the brokerage connected to your primary financial institution, that is, if you deal with one of the Big 6 Banks.
But many of the independent brokerages are leading the way when it comes to not only pricing but the ease of use and strong customer service.
To help you make the right choice, I've compiled a list of the most important features to consider when shopping for an online brokerage.
Here they are, in no particular order:
Account Administration Fees
Some discount brokerages charge a quarterly or annual fee simply to hold an account. An example of this would be RBC or TD Direct Investing, who charge $100/year on their brokerage RRSP accounts.
This is over and above the fees you might pay to buy or sell a stock or ETF.
It's important to understand how brokerage fees might impact your overall returns, and what you need to do to avoid them.
In the case of RBC and TD, both will waive the annual fee if you maintain a minimum balance of $15,000 across all accounts, or place a minimal number of trades every three months.
Equity Trading Fees
If you're not careful about the commission fees you're paying each time you trade, the cost can really add up over the long term, taking a significant bite out of your overall returns.
Using a simple calculation, if you were to place 100 trades over a 1-year period, at $9.95 per trade, you will pay $1000 in fees just to buy and sell shares. That's 4% of a $25,000 portfolio.
Now, if you were to repeat a similar pattern year after year, imagine how difficult it would be to accumulate any wealth. This is why it's so important to consider trading fees, and how they might impact your overall return.
The good news is that I've eliminated the guesswork for you. In this review, I'll let you know which online brokerages have the lowest trading fees on a range of securities, from stocks and ETFs to options and mutual funds.
ETF Friendly
ETFs, or exchange traded funds, have become incredibly popular with self-directed investors in recent years, due to their low cost relative to actively managed mutual funds, as well as the tax efficiency that they can hold.
But most online brokerages charge a commission fee for the purchase and sale of ETFs, which reduces that low-cost advantage.
If ETFs are your thing, it's important to know which online brokerages are the most ETF friendly, offering reduced rates for buying and selling, and a large number of ETFs to choose from.
There are a few brokers who lead the way here, including my choice for the best online brokerage in 2020. I'll let you know which companies are considered the most ETF friendly, making the choice easy for you.
Strong Customer Service
In a world where just about everything has become a commodity, it can be very difficult to tell one product from another.
Often, the only way a company can differentiate itself from the competition is in its ability to deliver top-notch customer service. The online brokerage world is no different, and each of the companies I've reviewed in this article offers varying levels of service.
For example, several offer a "live online chat" feature, which can be very convenient, while others do not. Some are noted for their lightning-fast response times, while others can keep customers waiting for days.
This review will let you know what to expect from Canada's leading online brokerages when it comes to customer service.
A Note About ECN Fees
If you are a self-directed investor, you may have heard of ECN fees. An ECN fee is triggered by stock exchanges upon the purchase and sale of securities such as equities and ETFs.
ECN fees are charged on a per-share basis and usually amount to a fraction of a cent per share. While the fees tend not to be significant, they can be confusing, as they are not always triggered.
When Are ECN Fees Charged?
In short, ECN fees are triggered when a trade is considered to be removing liquidity from the market.
An example of this would be a market order, where the investor is willing to accept the current market price to purchase an investment. This trade would effectively remove liquidity from the market, as it would likely be placed immediately.
Also, when an investor decides to buy shares in a non-standard block or anything that is not in multiples of 100, say, ECN fees can be triggered. This is because a non-standard block order may also remove liquidity from the market.
The bottom line is, while it's important to understand when and why ECN fees are charged, the cost is so low that it shouldn't have any material impact on your returns.
The Best Online Brokerage for 2020 – Questrade
Amongst a group of strong contenders, my choice as the top online brokerage in Canada for 2020 is Questrade.
There's a lot to love about this online investing behemoth, but it all begins with low-cost trading. After all, isn't that why you're dealing with an online brokerage in the first place?
We'll take an in-depth look at all Questrade has to offer, and size up our second choice, Virtual Brokers, who receive my nod for honourable mention. We'll also take a look at how the others stack up, in no particular order.
After all, while Questrade is our top pick in 2020, the online brokerage field is broad, with no less than 14 firms vying for your investment dollar.
Questrade Review (Best Overall Online Brokerage)
Low Fee Trading
Questrade has the lowest fee offering, simply put. With most online brokerages, a basic equity trade starts at $9.99. CIBC Investors Edge and Qtrade are exceptions, at $6.95 and $8.75 respectively.
Through Questrade, trades begin at a mere $4.95. After that, shares are .01 each, to a maximum of $9.95. In other words, you would have to purchase hundreds of shares through Questrade to reach the standard pricing of most competitors. Save even more with $50 in free trades by signing up here.
Active Trader Pricing
The deal is even sweeter for active traders, as the commission for trades maxes out at $6.95. While most of the competition closes the gap here, Questrade's starting point of $4.95 still leads the way.
Commission-Free ETFs
For many, this one feature separates Questrade from the competition.
ETFs, or Exchange Traded Funds, have become incredibly popular with investors who prefer a low-cost, passive approach to investing. But most online brokerages charge a commission fee on the purchase of ETFs, making them more expensive to buy, especially in small amounts.
With Questrade, all Canadian and U.S. listed ETFs can be purchased commission-free. The only other online brokerage with the same offer is Virtual Brokers. A couple of others offer no-fee commissions, but only when large blocks of ETFs are purchased.
It should be noted that there is a commission fee when you sell ETFs through Questrade, which may be of less importance if you are maintaining a long term, buy-and-hold strategy.
That said, it is something to keep in mind when building your investment plan.
No Annual Fees On Registered Accounts
With Questrade, you won't pay quarterly or annual administration fees on registered accounts, providing you execute 1 trade or maintain a balance of $5000 across all accounts. This is one more reason they've become the clear leader of low-cost investing.
While Questrade remains my choice for the best discount brokerage in 2020, the competition is fierce. And depending on what you are looking for in a self-directed brokerage, you may settle on a different company.
Either way, this review will give you the information you need to decide. So without further ado, let's take a look at the other leading Canadian online brokerages.
Virtual Brokers Review – Honourable Mention (no-fee ETF purchases)
Virtual Brokers is a formidable competitor in the low-cost online brokerage space and earned my nod for honourable mention this year.
One of their top-selling points is their no-fee offering on ETF purchases, an offer only matched by Questrade.
While they fall a bit short by charging $9.99 to sell ETFs, the no-commission on purchases is enough to satisfy many ETF friendly investors. With Virtual Brokers, the benefits don't stop there.
For example, Virtual Brokers offer no-fee trading on mutual funds. They also don't charge annual fees on registered accounts, unlike many of the brokerage accounts offered by the Big Banks.
The exception here is a fairly minimal $25 fee on RESP accounts, but there is no annual fee to hold an RRSP or TFSA account.
Virtual Brokers will also cover the transfer fees when you move funds over from a competitor, which is a nice feature.
Lastly, Virtual Brokers has staked out a solid reputation when it comes to customer service.
Clients have access to customer support that's quick and convenient, through an increasingly popular live, online chat feature. They've also invested in mobile technology, offering a mobile app in line with their competition.
Overall, Virtual Brokers' high customer satisfaction levels, as well as their ultra-low fee offering place them a close second behind Questrade, who maintain a slight advantage on fees.
Qtrade Investor Review (class-leading customer service)
Not to be mistaken with Questrade, Qtrade is a highly competitive player in the do-it-yourself investment space. Qtrade beats most of the Big Banks, by offering regular trades at $8.75.
Where Qtrade really shines is with their reputation for class-leading customer service.
They make the account opening process a breeze, and the response time of their customer support is the envy of their competition. Unlike some of their larger competitors, they offer live, online chat support. They also have a mobile app.
While trading is fairly cheap at Qtrade, they do charge a $100 annual fee for accounts, which can be waived if if the balance across all accounts is in excess of $25,000.
While this threshold isn't out of reach for many, it may dissuade newer investors with small balances from opening an account. It should be noted, you can also avoid the annual fee by making frequent contributions or by trading fairly regularly (8 or more commission-generating trades within the preceding 12 months).
When it comes to ETFs, you can purchase 100 different funds through Qtrade with no commission fee. This may be enough for anyone dabbling in ETFs, but who also hold other types of securities in their portfolio.
Dedicated ETF investors will be better off with Questrade.
Wealthsimple Trade (best for beginners)
Recently, Canadian robo advisor giant Wealthsimple made a splash with Wealthsimple Trade, a stand alone trading platform that allows investors to buy and sell thousands of stocks and ETFs without any trading fees or minimum account balance requirement.
To get started, download the mobile app from either the Apple or Google Play store, provide Wealthsimple with some required personal information, and begin the process of transferring money into your account. Simply put, it's currently one of the cheapest and easiest ways to buy stock in Canada, which is no surprise, coming from the brand that has already made a name for itself with its low cost, robo advisor portfolios.
But while the prospect of no-fee stock trading is a beautiful thing, there's more that goes into a great discount brokerage than just price. With Wealthsimple Trade, account types are limited to non-registered, RRSP and TFSA, and at this point, they offer a mobile-only trading experience ie. smartphone. In other words, if you prefer to place trades on a desktop computer, the option doesn't currently exist.
To me, Wealthsimple Trade is a great choice for beginner investors, or anyone else who doesn't mind the limitations of trading on a mobile app. Also, the fact that they offer non-registered, RRSP, and TFSA accounts will be enough to satisfy most investors. In the future, you may see more functionality built in, but for now, Wealthsimple Trade is a great way for beginners to get started with self directed investing.
BMO InvestorLine Review (market & research capability)
First up from the Big Banks, is BMO Investorline. Out of the gate, it's important to understand that pricing tends to be less competitive from the traditional financial institutions, something they strive to make up for in other areas.
BMO offers very standard pricing of $9.95 per trade. Unlike much of their competition, however, BMO doesn't offer reduced pricing for increased trading frequency. This can make life more expensive for active traders.
In order to avoid the $100 annual fee on registered accounts ($50 on RESP), you must maintain balances in excess of $25,000. BMO also requires a minimum balance of $5000 to open an account.
Given the high minimum balance thresholds, BMO offers more value to experienced, or high net worth investors, than perhaps those just starting out.
Where BMO excels is in their offering of full-featured market and research tools. Their mobile application is also considered one of, if not the best in the game.
If you're a seasoned buy-and-hold investor and are able to satisfy the minimum thresholds, the combination of strong research tools and an intuitive mobile trading platform make BMO Investorline an attractive choice.
Scotia iTrade Review (competitive pricing for active traders)
Scotia iTrade, formerly known as Etrade Canada, is the self-directed brokerage arm of one of Canada's largest financial institutions, Scotiabank. iTrade comes to the table armed with very competitive pricing for active traders.
Beginning at a very standard $9.99, prices drop to $4.99 per trade, when an investor exceeds 150 trades per quarter.
Amongst Canada's big banks, it's a level only matched by CIBC and is a boon for active traders.
Another positive, Scotia iTrade is considered to have one of the strongest online trading platforms in the industry, noted by their placing 3rd overall in Surviscors 2017 Online Brokerage Review.
Also, like several of their low-cost competitors, they also offer live online chat functionality, in addition to 6 day/week telephone support.
A big knock against Scotia iTrade is how cost-prohibitive it is for small investors.
For example, you have to pay a whopping $24.99 to trade stocks, unless you hold over $50,000 in assets across accounts, or make more than 30 trades per quarter.
Because of the high entry point, stock trading through iTrade may be limited to the well-heeled, active investor.
National Bank Direct Brokerage Review (ETF friendly broker)
National Bank Direct has made major strides with its ETF offerings in recent years. For starters, they no longer charge fees for buying AND selling ETFs, which is a great feature.
The caveat is that free ETFs only applies to orders in excess of 100 units. Regardless, their free-ETF offering gives National Bank Direct an advantage over several of their competitors.
With National Bank, you can also hold ETFs through Investcube, which is an affiliated 'robo-advisor'. This is a definite value add, as many online brokerages don't have a robo-advisor affiliation.
National Bank doesn't charge an annual fee on TFSA and RESP accounts (RRSP accounts are subject to a minimum balance requirement), but they won't cover your fees when you transfer money over from other institutions.
At this point, National Bank has yet to jump on board with live online support functionality, as many of their competitors have done. This does leave them a bit behind in the customer service department.
HSBC InvestDirect Review (low trading fees)
Where HSBC InvestDirect beats its traditional bank competitors is with its lower pricing on trades, both for regular and active investors. Their basic commission of $6.88 is lower than every other online brokerage, with the exception of Questrade ($4.95).
Furthermore, their pricing for active traders is also very attractive, falling to $4.88 per trade, for over 150 trades per quarter. You can add $1.25 to these prices for options contracts.
While commission fees are low at HSBC, their service offering contains some major gaps, something that needs to be considered when shopping for an online brokerage.
For starters, there is no mobile app offering for HSBC InvestDirect. Apparently, it's coming down the road, but with almost every other competitor active in this space, it's a major shortcoming.
Obviously, without the mobile capability, investors are unable to trade from their smartphones through HSBC InvestDirect.
Gaps aside, HSBC does provide one other unique service offering; global trading capability.
They are one of the very few online brokers who provide access to not only North American markets but the Hong Kong stock exchange as well. This is a big plus for traders looking for greater access to global markets.
CIBC Investor's Edge Review (low trading fees)
CIBC Investor's Edge is similar to HSBC in that they have priced their basic equity trading fee at a very competitive $6.95, and they offer active traders with more than 150 trades per quarter an even lower fee of $4.95 to trade.
Unlike HSBC however, CIBC has a mobile app, where investors can trade both equities and ETFs. They also offer customer support via live online chat, during regular business hours.
Unfortunately, there has been some noise spread online through forums and product reviews, bemoaning CIBC Investor's Edge customer service levels, specifically response times, as they've been reported as being some of the longest in the industry.
When it comes to annual administration fees, Investor's Edge will not charge you for RESP or TFSA accounts. They do charge $100 on RRSP accounts unless the account balance exceeds $25,000. This is fairly consistent with much of their competition.
Overall, Investor's Edge delivers a very competitive commission fee structure, which makes them a company you definitely want to consider, especially if you are an existing CIBC client, or you prefer dealing with a traditional bank.
But looking at the full package, it seems as though other online brokerages have more to offer.
TD Direct Investing Review (usability)
TD Direct Investing, formerly known as TD Waterhouse, is the longest standing self-directed broker in Canada, and in many ways, it shows.
For starters, they are in a league of their own when it comes to providing market data and research tools. In a self-directed environment, access to information is incredibly important to many investors, and TD does the best job of presenting that insight.
The best part is, they make these tools available to all clients, not just active traders.
TD is also the only broker, aside from HSBC, who offer access to global trading, in markets outside of the U.S. and Canada. This can be an attractive feature for sophisticated investors.
One other thing that sets TD Direct Investing apart is their live telephone support. TD is the only online brokerage in Canada that provides access to a licensed trader via telephone, 24/7.
In other words, support is only ever a phone call away.
Unfortunately, TD Direct Investing doesn't yet offer a live online chat feature, something that I would like to see them add in the near future.
The biggest knock against TD is their very average fee structure. Basic trading begins at $9.99, and the lowest pricing you can get through active trading is $7.00.
In a world where Questrade and a few others are offering sub $5.00 trading for active investors, it just isn't that competitive.
Depending on what's important to you in an online brokerage, TDs robust platform has a lot to offer, but if your top priority is low fees, you may want to look elsewhere.
RBC Direct Investing Review (customer service)
RBC Direct Investing shares some similarities to TD Direct Investing, aside from the name.
Perhaps this is due to the fact that they are Canada's two largest financial institutions, and compete for banking supremacy on a number of fronts.
RBC's basic fee structure is similar to that of TD. They will charge you a rather pedestrian $9.95 for equity trades, while active traders enjoy reduced rates of $6.95 per trade (150 trades or more, per quarter).
RBC and TD also waive the annual fee on registered accounts if you meet a $15,000 minimum balance threshold across all accounts. The minimum balance requirement is lower than some of the competition, but still lags the industry leaders, Questrade and Virtual Brokers.
RBC Direct Investing delivers a strong customer experience, as evidenced by the feedback provided by many online reviews and forums. Their response times are nearly class-leading, and they offer live, online chat functionality.
They also offer investors some great educational resources, including their popular "Show Me" videos. Educational resources are an important feature in the do-it-yourself world of investing, and here, RBC delivers.
Desjardins Online Brokerage Review (low options commissions)
For many sophisticated investors, options trading is a key part of a robust investment strategy. It's here that Desjardins shines as an online brokerage.
Their options commissions are lower than several of their competitors, including the major bank brokerages. For example, Desjardins pricing comes in at $1.25 per options contract, with a minimum of $8.75.
Many competitors are priced at $9.99 + $1.25 per contract, bringing the total price over $11 per trade. Building on their options strength, Desjardins enables investors to trade options via their mobile app, something that many others do not.
Where Desjardins slips is in providing leading-edge mobile accessibility, and online resources, such as market research tools. Also, their basic trading fee is $9.95, a far cry from the class leaders.
That said, if options trading is your thing, Desjardins Online Brokerage is worth a second look.
Interactive Brokers Review
Interactive Brokers is the Canadian arm of the very large U.S. online brokerage of the same name. They are an independent broker, and not tied to a major bank. Their service offering is geared primarily for active traders, and they do offer very competitive pricing on equity trades.
Here's an inside look at some of the pricing offered by Interactive Brokers.
They charge a paltry .01 per share, with a minimum commission of $1.00 CAD per equity trade. So, as an example, if you purchase 100 shares at $35/per share, your commission paid is only $1.00.
Sounds pretty amazing, but you need to keep in mind the order sizes, as well as the minimum balance of $10,000 which is required to open an account. In other words, Interactive Brokers may not be well suited to the small investor.
You can open registered accounts through Interactive Brokers, but there are some restrictions not found with other online brokerages. For example, an RRSP account with Interactive Brokers is not eligible for the Home Buyers Plan (HBP) or the Lifelong Learning Plan (LLP).
On a positive note, they do not charge an annual fee on the TFSA account, and the RRSP administration fee is only $50, as opposed to $100 charged by several competing brokerages.
If you're an active trader, and not concerned with borrowing from your RRSP to purchase your first home or pay for post-secondary education, the low fee offering from Interactive Brokers may be of interest to you.
Laurentian Bank Discount Brokerage Review
Generally speaking, Laurentian Bank's offering in the discount brokerage field is fairly weak.
They lack in many areas, including available technology, customer service, and product offering, and they fail to bridge the gap by providing a more competitive fee structure.
For example, their basic trading fee is $9.95, and they don't offer reduced fees for active traders. The one area where they are competitive is their account administrative fees. For example, they will waive the annual fee on an RRSP account with a minimum balance of $15,000.
Fees aside, Laurentian lacks a mobile app, they don't have live online chat, and telephone support is not available outside of business hours. This could be why their average response time to service requests is the worst in the business.
It appears as though Laurentian's existence in the online broker space is simply to provide a self-directed solution for existing clients, to prevent them from looking elsewhere.
If they want to become competitive, however, they have some work to do.
Which Online Brokerage Is Right For You?
For my money, Questrade is the online brokerage that checks most of the boxes in 2020, especially the big ones for me, low overall fees and ETF accessibility. Virtual Brokers remains a formidable competitor, as do a number of others.
To figure out which online brokerage offers the best landing spot for your hard-earned money, the best place to start is to figure out which features are most important to you.
From there, it will become much easier to narrow your choices and make a final decision.