How to Save Money on Diapers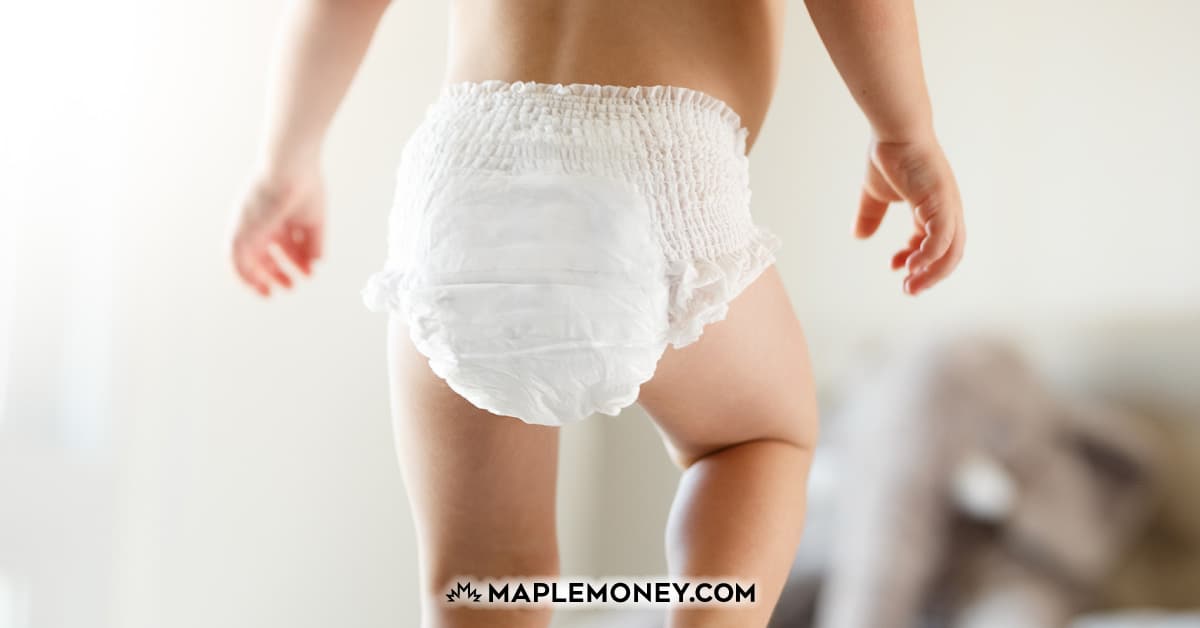 Something that I am asked often is "how do you save money on diapers?". Those pesky things can cost an arm and a leg sometimes.
I personally save on diapers by redeeming points from rewards programs, and then of course, stocking up when I see them on sale at the store.
My target price for diapers is $0.10 per diaper. The only way I would pay more than that is if I was also receiving reward program points and the value of those points was more than the extra money I was spending on the diapers.
Having a child in diapers is certainly not cheap, but there are ways that you can save money on this expensive necessity.
How to Save Money on Diapers
Use Cloth Diapers
Cloth diapering is something that many women swear by. I have not done it, only because I can often get disposables for free or a very good price. However, I know of a few people that have done this with their children and they told me that they saved a ton of money by getting rid of disposable diapers and replacing them with reusable ones.
The cost of a start up pack of reusable diapers (usually including 6 dozen pre-folds and 16 covers) is around $400. The average cost of disposable diapers is around $0.30 each. That's a savings of $0.12 per diaper right there. If you plan to use the diapers for more than one child, that savings can easily double or triple!
The only negative thing I see when it comes to cloth diapering is that it is a bit more work to have to wash all of those soiled diapers. However, with savings so great, it just may be worth it.
Stack Coupons
In Canada, the only place you are able to stack manufacturer coupons is London Drugs. As long as the barcodes are different, you can use as many manufacturer coupons on one item as you want (keep in mind that London Drugs does not allow overage).
If you're an avid coupon clipper, shopping at London Drugs would make it easy for you to stock up on diapers for free or next to nothing. Simply hold on to your coupons and watch the sale flyer.
Let's say you stumble across a 60 pack of Pampers diapers on sale for $9.99. You have the following coupons: $2.00 off any Pampers diapers, $1.50 off any Pampers Diapers, $3 off any Pampers Diapers, $2.00 off any Pampers diapers (different barcode than the first one). Use all of these coupons on one package of Pampers diapers and pay just $0.49 for 60 diapers.
Use Rewards Points
Like I mentioned earlier, the way that I usually get free or inexpensive diapers is by redeeming points from various rewards programs (usually Shoppers Drug Mart).
I am a member of various rewards programs and make a great effort to make the best use of all of them so that I can earn rewards points to use on things I hate paying for (like diapers!).
My favourite rewards program is Shoppers Optimum. I take advantage of as many of their bonus point promotions as possible and then save my points until I need to stock up on things. I almost always pick up a pack or two (sometimes more than that) of diapers any time I am redeeming my points. That way I don't have to pay anything for them at all.
Shop the Sales
If all else fails, be sure to shop the sales. Diapers are on sale pretty much every single week, so I strongly advise against ever paying full price for them. They even sell diapers online, where you can often use coupon codes to get your total price even lower.
If you have the budget for it, stock up on diapers when you see them go on sale. If you aren't sure how long your child will be in a certain size diaper, stock up on a few of each size. You can always exchange them at the store if you wind up with too many of a particular size.
Purchase Store Brands
Just like anything, it's important to be open to the idea of purchasing store brand items if you want to save money. These are almost always cheaper than the name brand (especially if they are on sale and the name brand is not) and can save you serious money over the long term if you try them out and they end up working well for you.
I must admit, I have not used many store brands. This is mostly because I can almost always get name brand diapers for free when redeeming points. I have tried the Metro store brand (they were great) and the Shoppers Drug Mart store brand (they were awful) and am glad I tried them because now I know that if I am ever in need of diapers and the name brand prices are too high, I can purchase a store brand package and get by just fine.
Buy in Bulk
Considering that the average person will go through over 4,000 diapers in the first 2 years of their child's life (assuming you change 6 diapers per day), stocking up is a smart idea.
If you use coupons and shop the sales, you can often get diapers cheaper than you would at any warehouse, such as Costco – but if you aren't having much luck with that, it may be worth the membership fee to purchase your diapers in bulk at these stores.
I really dislike having to purchase items that I am just going to throw away, so I always have to be cautious when picking those things up from the store. Doing a combination of the tips above have helped our family tremendously when it comes to diaper costs.
The biggest thing I want to stress when it comes to saving money on diapers, is to be open to trying new things. Cloth diapering may sound like too much work for you, but have you seriously weighed all of the pros and cons? It just may be something that could be very beneficial to your family.
Also, remember that different children respond differently to various diaper brands. If you are stocking up for a baby that has not yet arrived, be sure to purchase multiple brands, just in case your baby has a bad reaction to one kind.
How do/did you save money on diapers? Let us know in the comments.