TransferWise Review: A Better Way to Conduct Foreign Exchange?
The high fees and bloated exchange rates incurred when sending and receiving foreign currency can be a bitter pill to swallow. This is especially true for anyone who has to send money abroad on a regular basis. Much of the problem lies in the exchange rates offered by banks, which are priced well above the actual market exchange rate. Not only that, fees on wire transfers can be as high as $50 or more, depending on the amount of money you're sending.
Recently, I wrote an article on the various ways that you can exchange money, so I thought the timing was right for a review of TransferWise, a leader in online foreign currency exchange. Thankfully, companies like TransferWise are around, to take the sting out of foreign exchange, as well as sending money overseas.
Using the latest in mobile technology, TransferWise makes foreign exchange instant, and affordable. In this TransferWise Canada review, I'll show you exactly how TransferWise works to save you money, and why it's a better way to send money than through traditional channels ie. your local bank branch.
What Is TransferWise?
TransferWise is a U.K. based company, founded in 2010, by two friends, Kristo Käärmann and Taavet Hinrikus. Fast forward to today, TransferWise is now worth more than $1 billion and boasts more than 6 million customers.
According to Business Insider, "the idea for TransferWise surfaced when its two founders realized that they could cut down on money-transfer costs by paying each other's expenses. Hinrikus used his money in Estonia to pay for Käärmann's mortgage, and Käärmann used his money in the UK to send payment to Hinrikus. TransferWise avoids international bank-transfer fees by keeping the money transfers inside the country, using domestic accounts to minimize the distance that money has to travel."
How to Save Money with TransferWise
TransferWise saves you money in three ways. For starters, all foreign exchange is conducted using mid-market exchange rate, or real exchange rate. This is the rate without the spread that's added by your bank or broker, which means you're getting the lowest possible rate of exchange, regardless of the amount of currency.
While TransferWise does charge a nominal fee to send money, it's typically under 1%. Compare that to the 2.5% foreign exchange fee whenever you make a foreign currency purchase with your credit card. Or, the high fees charged by your bank when you send funds via wire transfer, which can be upwards of $100, depending on the amount you are sending. I should point out that it's free to receive funds into your TransferWise account. With bank wire transfers, recipients are usually charged a fee when the funds arrive in their account.
Lastly, you will pay a fee when you make your payment to TransferWise, to fund your transaction. However, these charges are fairly minimal, especially when you send money via direct debit from your bank account.
What Is a Mid-Market Exchange Rate?
The mid-market rate represents the midpoint, between two currencies buy and sell prices. TransferWise always charges the mid-market exchange rate, whereas your bank will include a spread on the rate the client pays, in order to boost profits on an exchange transaction. Fees aside, this is why you'll save money sending money through TransferWise, as opposed to say, a bank to bank wire transfer. The mid-market rate is considered the most accurate rate of exchange between two currencies.
What Countries Can I Send Money To?
TransferWise has the ability to send money to most major countries and currencies. I counted no less than 58 countries on the TransferWise website. I've listed just a few of those below. I should note that there are restrictions on some currencies, in how transfers can be sent and received. It's important to read the instructions as they pertain to the specific country you are wanting to send funds to.
Australia
Brazil
Canada
China
Columbia
Denmark
India
Indonesia
Israel
Japan
Mexico
Norway
Philippines
South Africa
South Korea
Thailand
Turkey
United Arab Emirates
United States
Vietnam
How to Send Money with TransferWise
To illustrate how funds are sent using TransferWise, I'll use the following example, of converting CAD to USD. As you can see, it's a fairly straightforward, 6-step process.
Signup With TransferWise. Registration is free, all you'll need is an email address, or you can use an existing Google or Facebook account. You can sign up through the TransferWise website, or by using their mobile app.
Set an amount that you wish to send. TransferWise will let you know upfront what the fee will be, and when your transfer will arrive.
Here's a snapshot of the calculated pricing of a $1,000 CAD transfer to USD. As you can see, the direct debit fee is only $2.58 CAD, and the Transferwise's overall fee is $11.61 CAD. When you take into account the fact that you're also saving money on the exchange rate (due to TransferWise using the mid-market rate), you're going to save money with TransferWise vs. your bank.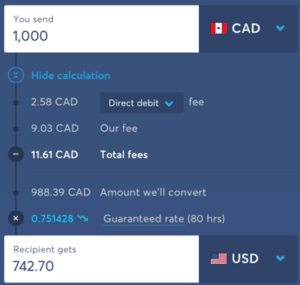 Provide your recipient's bank account info. TransferWise does provide the option of reaching out to your recipient to collect their information directly.
Confirm your identity. TransferWise is able to verify your ID online, and in some cases, that may require you providing photo ID, such as a driver's license or passport.
Fund your transfer. You can do this through direct debit (bank account), bill payment, wire transfer, or a debit/credit card. According to my calculations, you'll incur the lowest fees via direct debit.
Track your transfer. You've done everything you need to do. The rest is up to TransferWise, who will make sure your recipient gets their money. TransferWise allows you to track the progress of the transfer until it arrives at its destination.
I should point out, in my example above, the for sending payment via direct debit was $2.58 CAD Here's a list of what the fee would be for the same transfer, using other payment methods. In this case, direct debit is by far the cheapest option.
Debit card $20.09 CAD
Credit card 29 CAD
Domestic wire 50 CAD
Bill payment 50 CAD
TransferWise Fees Explained
You may be wondering how TransferWise fees are structured, compared to other companies, or even your bank. When you send money, there are typically 3 components to a TransferWise transaction. Here's how it breaks down:
Payment Fee
TransferWise charges a fee when you send money to your account for payment. You have up to 5 options, depending on the currency: bank debit, debit card, credit card, wire transfer, or bill payment. As you can see in the CAD to USD example I provided above, the bank debit method is the cheapest.
Transfer Fee
The transfer fee is expressed as a percentage of the amount of money being sent, but in most cases, it's below 1%.
Real Exchange Rate
The third, and final component, is the currency exchange. With TransferWise, your funds will always be converted at the mid-market, or real exchange rate. This is the rate without the 1-4% spread, or hidden fee, which is always added on by your bank or broker. If you exchange funds on a regular basis, this is where you can realize enormous savings through TransferWise.
The TransferWise Borderless Account
The TransferWise Borderless account is a thing of beauty. If you are a freelancer or own a business with clients in several countries, TransferWise makes receiving payment in any number of foreign currencies a breeze. Here's how it works. You start by opening your borderless account through the TransferWise app. From there, you can hold accounts in up to 30 foreign currencies, opening each one with a single click. You will be assigned a personal account number in each currency.
Anyone can then transfer money into an account, and you won't pay any fees. As I mentioned, you can hold money in your account in over 30 currencies, and transfer currencies within seconds, at the real exchange rate (translation: far cheaper than your bank). TransferWise will charge a nominal fee for the exchange, which is displayed in an upfront, transparent fashion. Now, here's where it gets interesting.
The TransferWise Debit Mastercard
You can now get a TransferWise debit Mastercard that allows you to spend the balance in your TransferWise Borderless account, anywhere Mastercard is accepted. What's cool is that if you don't have enough funds in the local currency, TransferWise will automatically pull available funds from the currency with the lowest exchange fee (providing you have funds available).
Features of the TransferWise Borderless Account:
Hold up to 30 foreign currencies in your account
No fees to receive payments into your account
Free ATM withdrawals up to £200 monthly
Nominal fee charged when you exchange between currencies (0.35-2%)
Convert funds between currencies instantly, at the real exchange rate
Debit card can be used worldwide, anywhere Mastercard is accepted.
With the addition of the TransferWise debit Mastercard, you may not even hold a U.S. dollar account through your primary bank. If you receive U.S. funds into your TransferWise account, you could simply hold the funds, and exchange or spend when necessary.
Is TransferWise Safe?
Anytime you're dealing with a new company, especially one that's going to be handling your money, you want to know that your funds, along with your personal information, is safe. You can be rest assured that this is the case with TransferWise. The company is registered with the financial regulating agencies in all of the major countries in which they do business.
For example, in Canada, TransferWise is registered with FINTRAC, which helps detect, prevent and deter prevention and money laundering as well as the financing of terrorist activities. All major financial institutions in Canada are required to report transactional information to FINTRAC.
Likewise, in the U.S., where TransferWise belongs to the Financial Crimes Enforcement Network (FinCEN). Not only that, but TransferWise deposits are held in financial institutions that are protected by the Federal Deposit Insurance Corporation (FDIC).
Transferwise Comparison (vs. PayPal/WorldRemit/RBC)
For a quick look at how TransferWise stacks up against the competition, I took a screenshot of a helpful comparison tool directly from the TransferWise website. This allows you to get a real-time look at the exchange rates and fees for a TransferWise transaction and compare it with the same transaction from a few key competitors, in this instance, Royal Bank, PayPal, and WorldRemit.
You'll notice in this example that TransferWise is the only company offering the mid-market exchange rate. So, while their fee is actually the highest on the list, you would come out between $6-19 ahead with TransferWise vs. its three competitors. Keeping in mind, of course, that this comparison was done using TransferWise, and not a 3rd party app.
Transferwise Contact Info
If you're looking for support through TransferWise, I recommend that you start at their Help Centre, located on their website. Here they have a tonne of articles designed to answer just about any question you might have. If you've gone through the FAQs, and you still have questions, TransferWise makes it easy for customers to reach them anytime, via email or phone. In Canada, telephone contact hours are between Monday-Friday, 9 AM-7 PM EST. Or, you can send them your question via email right on the website.
Final Thoughts on TransferWise Canada
Like most financial products and services, TransferWise isn't for everyone. For example, if you only perform the occasional foreign exchange transaction, then it's likely not worth the effort just to save a couple of bucks here and there.
However, if you buy and sell foreign currency with any regularity, either personally, or for business reasons, and you're currently doing so through your primary bank, you really should consider moving that part of your business to a company like TransferWise. You're simply leaving too much money on the table otherwise. And now, with the introduction of the TransferWise Debit Mastercard, making it easy to spend your foreign cash, that value proposition becomes even more pronounced.