9 Rainy Day Activities That Don't Cost Anything
April and May are almost always rainy, wet months. We experienced a good 2 full weeks of rain during the end of April and let me tell you – it was awful. It was difficult to get up in the morning and accomplish things because it just looked so dreary outside. I tend to work better when the sun is shining. I'm sure I'm not the only one… right?
After such a long time of seeing nothing but rain, and knowing that sunshine wasn't in the forecast for awhile, we decided to make the best of the situation.
Since we don't have much money to spare right now, it's not an option to spend the day at the mall, go to a movie, or enjoy community events that cost more than $5. Instead, we came up with a list of rainy day activities that don't cost anything to get us through this rough patch.
Rainy Day Activities That Don't Cost Anything
Bake Something Yummy
Not only will the oven warm up your home, you will have some tasty treats to enjoy. When the weather is bad, I love baking cookies. There are so many great cookie recipes available online and in cookbooks. I love to pick a few good ones and then mash them together to make my own recipe.
Baking something can be a fun family activity and if you have young children. It's a great opportunity to teach them all about cooking in the kitchen.
Toddlers can play with measuring cups/spoons and help you mix ingredients. Bigger kids can also mix ingredients and decorate the baked goods.
Movie Marathon
Why wait until the evening to play movies? Pick a few of your favourite films and play them one after another.
Remember to take some breaks in between so that you can stretch your legs and enjoy a meal.
We often have a movie marathon when it's raining outside. It's nice to just relax all day long.
Visit The Library
Libraries are such a fabulous resource for everyone, but especially those who choose to live a frugal lifestyle.
People often associate libraries with borrowing books, but nowadays you can find much more at your local library. Many libraries offer movie DVD's (and VHS tapes), magazines and music CD's.
Don't forget to track your library items to avoid fines. The library isn't very fun if you are constantly incurring fines for not returning materials on time.
Make Crafts
Unless you are a crafty person by nature, this idea is more for those with children.
Crafts are a great way to teach your kids all about art. There are many craft ideas that you can try that are both frugal and and fun.
Picnic in the House
Just because it's raining doesn't mean you can't have a picnic!
Prepare a bunch of your favourite picnic treats, set out a big blanket on the living room floor (or another room of your choice) and have yourself a fun little indoor picnic.
Some of our favourite picnic foods include:
– Peanut Butter & Jelly Sandwiches
– Pickles
– Crackers & Cheese
– Granola Bars
– Fruit (of any kind)
– Bell Peppers, Celery & Carrot Sticks
Museums & Zoo's
Check out your city's website and find their community calendar. Many museums and zoo's offer "free days" where you can visit for free.
These free days are often in the summer when kids are out of school and parents are looking for some fun activities for their children.
If you don't see any free days listed on your community calendar, find a few local museums and zoo's and just call them up and ask them if they are having any free events in the near future.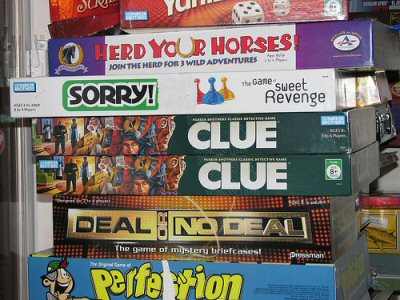 Board Games
It's common for people to play board games when the sun is shining, but it's a more popular activity for rainy days.
When the rain starts coming down, dust off those board games and enjoy some fun family game time.
Some of our favourite board games are:
– Scrabble
– Monopoly
– Boggle
– Risk
– Guess Who?
Organize Something
Now, this may because I'm just a tad bit OCD about organizing, but for some reason, all I want to do when it's raining outside is to organize something.
Of course, this probably wouldn't be a fun activity for your kids, but if you are child-less and enjoy organization, this just may be a good rainy day activity for you!
There are many rainy day activities that you can enjoy on a dreary day, this is just a small sampling.
Don't let a rainy day get you down – do something fun instead!
What are some rainy day activities that you enjoy?