How to garden the frugal way
Frugal gardening.
Frugal gardening is something I have been talking about with family a lot lately because I have been considering creating a garden in our backyard. Many of them think it can't be done. "Gardening is expensive, there is no way to save any money", says my grandma. "If you buy cheap plants, your garden will be ugly", says my cousin.
I checked with my good friend (who has the most beautiful garden I've ever seen!), and she begs to differ. She is very frugal and tells me there are many ways to save money on gardening. With her help, I have compiled this list of 7 ways that you can garden the frugal way.
Start with small plants
Plants are priced by the size, so to minimize gardening costs, start with smaller plants (until you get the hang of things and feel comfortable spending a bit more money).
Start plants from seed
You can save an incredible amount of money by growing plants yourself, instead of purchasing them directly from a nursery or home improvement store.
Buy in bulk
Buying in bulk will always save you money when it comes to plants for your garden, but doing so will likely leave you with excess. To save by purchasing in bulk, get a bunch of friends in on the purchase. This way, you all save!
Host a plant swap
Just like buying in bulk is a great thing to do with some friends, so is hosting a plant swap. Each year, go through your garden and trade some plants with your friends. This adds variety to your garden and also creates fun memories.
credit
Make your own fertilizer
Creating your own fertilizer is a great way to save money on gardening and thankfully, it's very easy to do (and it's much more natural than commercial fertilizer). Here is a great tutorial: DIY fertilizer from kitchen leftovers.
Buy cheap gardening items
If you can get your hands on some used (but still in good shape) gardening tools – do it! There's no need to go brand new. If they are of good quality, gardening tools will last a very long time. Also, consider re-using items you already have for gardening tools – start seeds in egg cartons, make a watering can from a milk jug, etc.
Collect water
Instead of using your own water and racking up your water bill, use a rain barrel to collect rainwater. Use that to water your garden instead. You can buy rain barrels at most nurseries and home improvement stores, but they are also pretty easy to make yourself. Here is a rain barrel tutorial for you.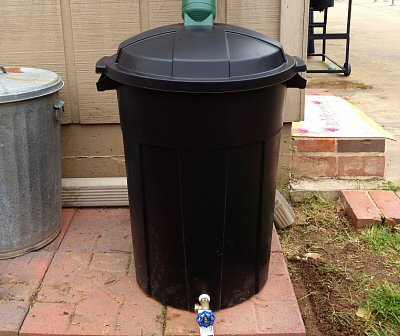 Gardening is such a fun part of spring and summer, but it is not often very cheap – unless you are smart about it. By following just a few of these gardening tips, you will be able to enjoy your garden, without spending a ton of cash on it.
Do you have any tips for saving money on gardening?