DIY liquid laundry soap for only 25 cents
Liquid laundry soap recipe.
A few months ago I posted my recipe for homemade oatmeal laundry soap and someone asked me for a liquid recipe, as some prefer a liquid detergent. So, liquid laundry soap reader – this post is for your homemade liquid laundry soap!
Ingredients
1 Cup Natural Oatmeal Soap (or any other bar soap), Finely Grated
1/2 cup Borax
3/4 cup Washing Soda (recipe here)
1/2 Cup Baking Soda
To turn this into liquid laundry detergent, simply:
Boil 12 cups of water.
Remove water from heat and stir in 1/2 cup of the above recipe. Stir until the soap flakes have melted.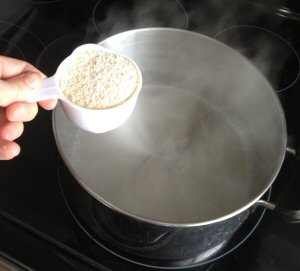 Allow to sit for 6 hours, or until cool, stirring occasionally. The mixture will look like a liquidy gel.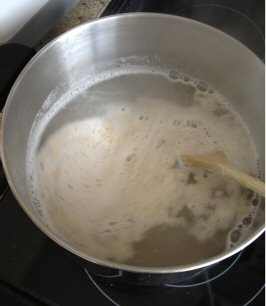 Pour into an old laundry detergent bottle. This recipe makes just under 3 liters of laundry detergent.
Shake well before pouring 1/2 – 1 cup into your washing machine with your laundry.
I find the detergent very effective in the liquid form. Any extra stain fighters (Shout, OxiClean, Resolve) could be added for stubborn stains. In my home, for stubborn stains, I pop the clothing in a pail with water and a bit of vinegar and leave it in the sunshine.
The overall cost
The original powdered laundry soap cost $2.30. Since we are using only 1/2 cup of this mixture, our cost is lowered considerably.
3 litres of this laundry soap will cost less than $0.76, which makes it only $0.25 per litre!
For that price, it is certainly worth a try – don't you think?
Have you ever made liquid laundry detergent?