New Ontario Hydro Time of use rates – you can still save money!
November 1st marks the change of Ontario Hydro Time-of-Use rates. Are you being savvy about your hydro use and saving as much money as possible by adjusting your schedule?
As a Save-at-Home-Mom, Christa Clips makes it a priority to change her cooking and cleaning routine to stay in the green. In this guest post, Christa shares details about the new Time-of-Use schedule and when you should turn those appliances OFF in order to save money on your hydro bill.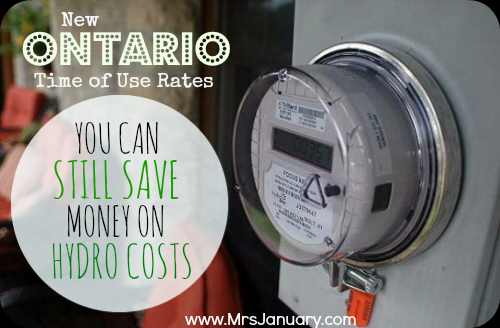 Clocks aren't the only things that change at the beginning of November – so do the Ontario Hydro Time-of-Use rates. Starting on November 1st, hydro is almost twice as expensive during certain times of the day:
6.7cents/kWh – Off Peak 7 pm-7 am and all weekends and stat holidays
10.4 cents/kWh – Mid Peak 11am-5pm
12.4 cents/kWh – 7am-11am and 5pm-7pm
Here are some changes that are easy to implement and will make a big impact on your hydro bill if you can do the majority of your cooking, cleaning, and use of electronic devices outside of those dreaded RED zones.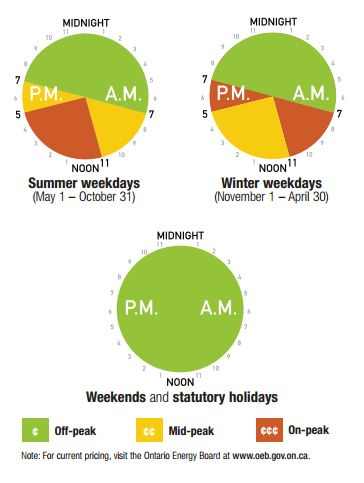 Showers
Implement a "last call for showers" so that everyone is out of the shower, the exhaust fan can be turned off, and the hot water tank can refill completely by the time the RED zone kicks in at 7 am. Shower doors don't open again until 7 pm!
Laundry
If you must do laundry during weekdays instead of during the GREEN zone (weekends), put your load in to soak first thing in the morning but don't start the wash cycle until 11:00 am. Make sure that the washing machine and dryer are turned off by 5 pm.
Electronics
Charge your laptop, cell phones, and other electronic devices overnight so that you can unplug and work off of the battery between 7 am-11 am. Recharge if need be during the YELLOW zone and unplug again between 5 pm-7 pm.
As always, unplug any electronic appliances and devices that aren't in use – they still draw a small current even when switched off and can add to your monthly hydro bill without your knowledge.
Cooking
If your mealtime falls within the RED zones, cook during the GREEN or YELLOW zones and keep food warm on the burner or in the oven until serving time – both take a long time to cool down after you've turned them off if you don't lift the lid or open the oven door.
Dishwasher
Don't run your dishwasher outside of the 7 pm-7 am GREEN zone. That is all.
Furnace
Turn down the thermostat when you're not home. When you are home, get the house up to your preferred temperature before the RED zones kick in and then use the fan only to circulate the heat until you can top up the heat again when the zones change to YELLOW or GREEN.
Note: Make sure to change the clock on your programmable thermostat when the clocks roll back on November 3rd!
Start small by implementing one or two of these simple changes until you're in the routine of saving on hydro.
With Canadian winters, we're obviously going to have some lighting and heating costs during the RED zone, but by keeping your cooking, cleaning, and use of electronic devices to the GREEN and YELLOW zones, you can save a bundle on your electricity bill.
Christa Clips lives outside Ottawa, Ontario with her husband and two children. She left her career as a teacher trainer when she figured out that it was costing her $47,000/yr to work outside the home, and shares her Save-at-Home-Mom story on her website, Christa Clips