6 cautions when setting up automated payments
Many companies promote customers signing up for automated payments. In many ways, automated payments can be convenient, as long as we take these steps to avoid disasters.
6 cautions when setting up automated payments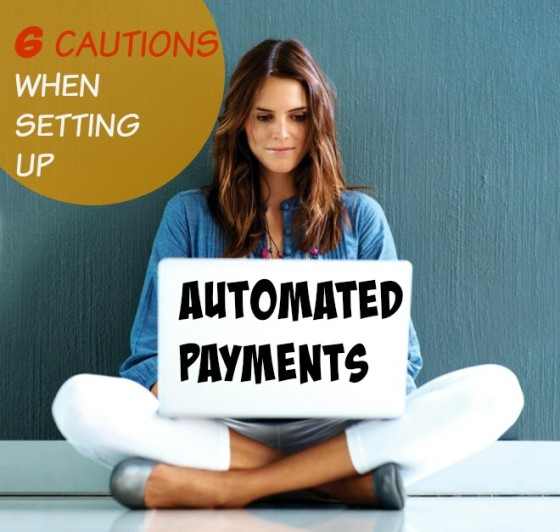 1. Does your bank account have a healthy cushion?
If your bank balance tends to run close to zero, automatic payments may not be a great option. NSF (non-sufficient charges) are costly if an automated payment is not covered by your account balance. Even if you have overdraft protection, smaller charges will add up over time. One safeguard you can employ is to use a tool like Mint.com to send an alert when your account dips below a certain level.
2. Are you good with dates?
If you are not a detail-oriented person, multiple automated payments can become complicated. Some withdrawals happen weekly, monthly or even less frequently. If you want to use this as a convenience tool, be sure to set up a calendar or spreadsheet that will track when the payments will happen. Here is a sample of our payments that come out automatically, along with the approximate day of each month:
1st Mortgage Payment A
8th Property Tax
15th World Vision Donation
16th Mortgage Payment B
30th Insurance: Car and House
3. Will you regularly check that you are not overcharged?
When my husband and I purchased our first home, the bank made an error in the second month of automatic mortgage payments. They withdrew double what they should have, leaving us quite tight for that month. Even when I contacted them about the error, it still took several days to reverse it. I was thankful that I had been checking our automatic payments, or I may not have even caught that error.
4. Will you ensure that withdrawals are not missed?
A few years later, someone made an administrative error at our car insurance company. I had always been making sure we weren't overcharged, but we went five months without noticing that our payment for car insurance had not been withdrawn. Once we contacted the company and they acknowledged their error, they wanted to charge a lump sum for all missed payments. It took a fair bit of negotiating, but they did concede to give us a reduction for the amount owing.
Since then, I have added one extra step to my budgeting process. On my excel budget tracking sheet, I highlight which payments still need to come out during the month, and the dates in which they should be made. As each payment is withdrawn, I remove the highlight and enter the amount of the payment.
5. Would paying bills yourself work better for you?
Different systems work for different people. Think carefully about what system would be the best fit for you. Would you prefer to be emailed a bill, and then pay it directly yourself? Don't feel pressured by a company to set up automated payments, if you would prefer to explore other options.
6. Is the company reputable?
Exercise caution when setting up automatic payments from lesser-known vendors. There is a danger that you might be charged even after you have terminated service. This is a common complaint with fitness memberships or auto-ship orders of online purchases.
There are several benefits of using automated payments. However, consider these cautions to make sure automated payments meet your needs.
Do you have any additional cautions to add about using automated payments?