60 Ways to Make Money Online in 2022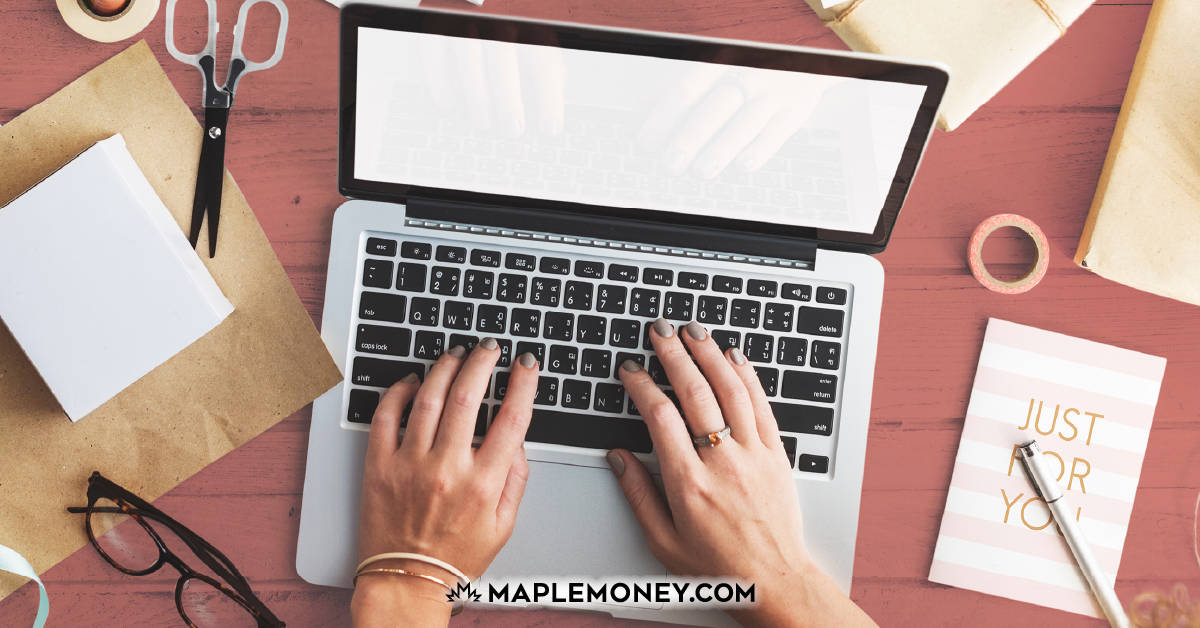 I am often asked how to make money online, and although there are many ways to do so, some are easier than others. What I do know, is that there are no get rich quick schemes, and anyone who tells you otherwise is lying. If you want to make money online, be prepared to put in the time and a fair amount of money in some cases.
My best advice is to treat your online endeavor like you're running your own business. It's that simple. The good news is that if you're not afraid of working hard, you can earn some pretty good money. To help you get inspired, I've created the following list of 60 ways to make money online in Canada.
1. Become a Freelance Writer
If you love to write, there are many websites out there that will pay you to create content. While you don't need a master's degree, it helps if you know a specific area: personal finance, travel, parenting, etc. The more you write in a particular niche, the more you can establish yourself as a trusted voice. A great way to get noticed is to start a blog, which can act as a resume of sorts.
From there, find work as a freelancer on sites like Upwork, or peruse the job board over at ProBlogger. Once you land your first gig, you can start making money fast as a writer.
2. Sell Homemade Goods on Etsy
If you're into arts and crafts, there's money to be made by selling your creations on Etsy, one of the best websites for selling homemade goods. Millions of people browse Etsy, giving you a huge audience that you can sell your products.
Check out this great post of things to consider before opening an Etsy shop.
3. Rent Out Your Home on Airbnb
Millions worldwide are making money by renting out their homes, or even a room in their home, via Airbnb. In fact, some have managed to make Airbnb their full-time business. The beauty of Airbnb is that you choose when to make your home available and the price you'll charge.
Find out how to list your property through Airbnb, and turn your property into an income-earning machine.
4. Sell Your Stuff
This is a great way to make money immediately. If you find yourself in a cash crunch or financial emergency of sorts, get rid of stuff you don't need by selling it online through sites like Kijiji, Craigslist, eBay, and Amazon. For Canadians, Kijiji is great because it's free to list things for sale, and the site is easy to use.
Before you start selling, however, there are some things you'll need to know. Check out this post for some great tips on how to sell your stuff.
5. Start a Blog
I may sound like I'm contradicting myself when I say that you should NOT start your own blog to make money. If money is your motivation, then it probably won't last. That's because income from your own blog can take a long time to grow, so you have to have something else driving you. So, write for enjoyment, and eventually, the money might follow.
Money-making bloggers earn income from various sources: ad revenue through Google Adsense, Mediavine (for higher traffic blogs), and affiliate marketing. Amazon Associates Program, or by selling products such as eBooks and online courses.
For a more in-depth look, check out this article on blogging for money.
6. Sign Up for Swagbucks
Swagbucks is a website that pays you daily rewards to complete simple online tasks. For example, you can earn rewards for watching videos, completing surveys, and just searching the web. By making Swagbucks your default search engine (powered by Yahoo), it will keep track of your online activities and reward you with Swagbucks points, which You can exchange for gift cards and cash.
Check out my article on how to earn Swagbucks faster, and then head to Swagbucks and sign up!
7. Complete Online Surveys
I'll begin with a caveat. That is, don't expect to make much more than pocket change through any survey website. That said, if you have a lot of downtime and you like voicing your opinion on surveys, you might as well get something in return.
Get started by signing up on a website like Survey Junkie, Daily Rewards, or Opinion Outpost.
8. Start a Youtube Channel
Making money on YouTube can take a while, but it is definitely possible. The most common way is to earn revenue on ads displayed in and around your video content. The more views your videos receive, the more money you can make. You do need to hit a minimum threshold to qualify for YouTube's Partner Program.
If you can create videos that educate and entertain, more people will want to watch. Here's a, you guessed it, YouTube video that has some great tips on getting started.
9. Record a Podcast
If you have something to say, and you don't mind sharing it, you may be able to make some money by starting your own podcast. Like blogging, podcasting isn't going to make you rich overnight. After all, it'll take time to build an audience. Eventually, you could make money by selling sponsorships to brands who want to reach your audience. Affiliate marketing is another way for podcasters to make money.
For more information, here are 8 ways podcasters can make a profit.
10. Web Design
Web design is a skill that can be entirely self-taught. The first step is to build a few websites of your own. Once you get the hang of it, you can offer your services to others. Depending on how developed your skills are, you can charge a decent sum of money. While it is a competitive field, experienced web designers can command thousands of dollars to build a site.
WordPress is the world's largest website building platform while hosting services like Siteground makes managing your website a breeze.
11. Rent Out Your Motorhome
Owning an RV can be an expensive venture, but thanks to apps like Rvezy, and Outdoorsy, you now have the ability to make money by renting out your motorhome. The nice thing is that you set the price and the time that your RV will be available to rent. It's not uncommon to make upwards of $200/day. You may even make enough money to cover the costs of your own RV adventures.
Head over to Rvezy or Outdoorsy to find out how to list your RV today!
12. Sell Concert Tickets on Stubhub
Sites like Stubhub allow you to resell concert or sports tickets for a profit, and it's all legal. That's because you're using their platform, which follows all of the proper legal requirements. But how does one make money flipping tickets? There's a bit of an art to this, so you really need to do your research. But by snagging tickets on an in-demand event, you'll have an opportunity to sell at a later date to someone who wasn't missed out on a sold-out show.
Here's a great article that explains the ins and outs of ticket reselling.
13. Selling Products Through Shopify
If you have your own products you want to sell online, you can set up the entire process through Shopify. They'll help you set up an online store, including sorting out payment options, and even handle promotion and shopping for you.
To find out more about the services Shopify offers, check out their website.
14. Become an SEO Consultant
You may be wondering what SEO even stands for? Search Engine Optimization is the process of maximizing the number of visitors to a website by improving the site's pages on popular search engines, Google being the most common. It takes some experience to learn proper SEO techniques, but it's something that you can learn through research and plain old, trial and error.
If you have experience with SEO, you can get paid to consult businesses on their SEO practices and help them improve their traffic.
15. Sell Your Old Smartphone
We all know how expensive smartphones have become. The upside is that they tend to hold their value, providing they're maintained in good condition. If you're like most people and cycle through phones every couple of years, chances are you can get a good price on your current iPhone or Android device.
Often, your cell phone provider will offer you a credit when you trade in your old iPhone or Android device, or you could choose to sell it online.
Orchard and Swappa are two sites dedicated to the selling of used phones and other electronics.
16. Manage Facebook Ads for Local Businesses
Ever notice the posts marked 'sponsored' that show up on your Facebook feed? Those are ads paid for by the endless number of companies vying for your attention. Businesses pay good money to place ads on Facebook, but they need someone to help them build the ads and run the campaigns. You can make good money by providing this service to small businesses in your area. Fitness clubs, coffee shops, even vet clinics, or chiropractic offices make for great potential clients.
While you can teach yourself how to run Facebook Ads, I recommend taking an online course, which will not only help you create effective ad campaigns but show you how to land clients.
17. Work for a Company Remotely
There are a large number of companies that hire work from home employees. The types of jobs can vary, but they often involve customer service roles, data analysis, and market research.
The best way to locate work from jobs is to visit the careers page on the company's website, refine your search using keyword filters, like 'remote' and 'work from home. Well-known brands, such as American Express, Staples, and Google, have all been known to hire work from home employees.
I've included a long list of companies that hire stay-at-home workers in this article.
18. Become a Website Tester
If you spend a lot of time surfing the web, there's a good chance you know what makes a great website. Some companies will pay you up to $30/hour to browse through website content and document your experience.
Sites like UserTesting, and Userlytics, will let you sign up and get paid to test websites.
19. Write an eBook to Sell on Amazon
Chances are, you have a skill or experience that someone else wants to learn more about. One way to monetize that skill is to create an eBook and then make it available for sale on a huge marketplace, such as Amazon. Amazon will take their cut, but you maintain the rights to your work and set the price. There is some upfront work involved, i.e. writing the eBook, but once it's ready to go, it's all passive income.
Visit Amazon Kindle Direct (KDP) for more information on how to get started.
20. Create and Sell Courses Online
If you have a specific skill or have found success in a specific area, there's a chance you can monetize it by creating an online course. To make a significant amount of money, it's a lot easier if you have an established audience that you've built trust with. One way to grow your fanbase is to offer e-books or mini-courses free of charge to add value.
You can create and sell your courses using websites like Udemy and Teachable.
21. Get Paid to Stay Fit, with Achievement
Want to stay in shape and get paid? There's an app for that. AchieveMint syncs to your devices, such as Fitbit and Healthkit, and keeps track of your exercise routines. It will award you points as you go and convert those points to dollars. It's not a lucrative money maker, but it's a great way to make a little extra cash while you're already doing something you love.
If you're wondering how AchieveMint makes money, it's by collecting massive amounts of data from users and then selling it to companies that can benefit from the information.
Visit Achievement today to download the app to your iPhone or Android device.
22. Sell Your Freelance Services on Upwork or Fiverr
Earlier, I mentioned becoming a freelance writer as a great way to make money online. But there are so many other freelance opportunities out there. Whether you're an accountant, graphic designer, computer programmer, or engineer, chances are there is someone out there who will pay you for that skill set. The beauty of freelance work is that you're working for yourself. You choose what clients you want to work for, with the freedom to set your price. Sites like Upwork and Fiverr provide freelancers with the ability to market their services to a massive audience.
Sign up through Upwork and/or Fiverr and start your freelance career today!
23. Online Travel Agent
This is a great way for travel buffs to make money online. Earn a commission income by helping travelers with their flight and hotel arrangements and other aspects of the vacation planning, i.e. cruises, excursions.
Career sites like Indeed are great places to start looking for job opportunities, or, for more information, check out this article on becoming an online travel agent.
24. Start an at-Home Daycare
If you're a parent to young children, this can be a great way to make extra money while caring for your own children. While the work itself isn't done online, it's probably the best way to find clients. Simply advertise your service on your community's local Facebook group, and let word of mouth take over.
25. Hair Stylist
Are you a licensed hairstylist? Would you love to run your own business instead of working for a salon? While you would require an initial investment, you can make great money by styling hair in the comfort of your own home.
Simply convert a spare room into a studio area, and advertise your services online. You could get lots of business by advertising on a couple of social media sites, like Facebook and Instagram.
26. Declutterer/Professional Organizers
If you are one of those ultra-organized people who have a place for everything, some people will pay you to go through their home and help them come up with a plan to declutter. You can choose to do this as a coach or consultant or roll up your sleeves and help your clients do the heavy lifting, so to speak.
Coaching or consulting could be done in person or online, depending upon where your clients are located. Check out this article for more information on becoming a professional organizer.
27. Personal Shopper
Believe it or not, this is a thing. Some people will pay someone else to do their shopping for them. If you love to shop and have a discerning eye, this could be a great way to make extra money. One nice thing about this job is that you can shop online and do most of your research there also, although you might prefer to head to the mall. It all depends on the kinds of items your client is looking for.
Here's a great article on how you can become a personal shopper.
28. eBay Reseller
The business model is simple. Buy items at a steep discount, and then sell products online for a profit, as an eBay reseller. You can learn tricks to be able to spot bargains, but you also need to figure out the types of items that are in demand and will be easy to sell. The last thing you want is to be left holding onto a bunch of useless products.
Head over to eBay, and check out the listings to get inspired.
29. Interior Decorator
This is a job you don't need to go to school for. If you have a knack for putting together colour combinations and a passion for home decor, chances are you can find someone who will pay you to help them decorate their home.
Get started by taking pictures of the work you've done in your own home and then sharing it via a Facebook Page. From there, let word of mouth take over, and you just might find yourself with a budding side hustle.
30. Home Staging
When a house goes up for sale, it needs to stand out to get noticed. To draw in prospective buyers, realtors will often pay to have the home staged or, in other words, looking its best for the camera. Usually, this involves decluttering or adding accessories to spruce up the look and feel of a room. The changes are temporary, but the job requires a similar skill to interior decorating.
To get started, you could provide the service to friends and family to create a portfolio of your work. Then, reach out to a few realtors in the area to let them know about your service and your rates.
31. Graphic Designer
If you know your way around programs like Photoshop or Adobe Illustrator, there's a good chance you have the skills necessary to create or edit images for websites, advertising campaigns, or social media posts. Many businesses need these services but don't have the budget to hire a dedicated graphic designer.
This article explains exactly what a graphic designer does.
32. Social Media Manager
Do you spend hours on Snapchat and Instagram? If so, why not get paid for it. These days, every business needs to have a social media presence, but many entrepreneurs don't have the time to stay on top. Some companies will outsource social media tasks to someone who can build an audience and create engaging content.
Try reaching out to businesses in your area, and offer to create and manage social media content for a monthly fee. You might be surprised by their willingness to pay for this service.
33. Wedding Photographer
If you love photography, you might have what it takes to start a wedding photography business. You'll need to invest in some pretty serious equipment, including professional-grade cameras and a nice computer to edit your work, but the money can be perfect in this line of work.
Eventually, you'll want to build a website to display your portfolio, but you could always start with a Facebook or Instagram page and spread the word that way.
34. Publish and Sell Stock Photos
Perhaps you love taking pictures but have no interest in dealing with customer service demands with wedding or family photography. Instead, you could publish photos you've taken out of your own enjoyment and sell them online through stock photo sites.
Here's a list of 10 websites where you can sell your stock photos.
35. Uber – Become a rideshare driver
Uber has become an enormously popular way to get around and make a side income. Some very motivated Uber drivers even turn it into a full-time gig, although their stories are few and far between. Regardless, if you have a good driving record, a reliable car, and enjoy being around people, driving for Uber can be a great way to make some extra dough. A big perk to this job is that you can work according to your own schedule. You drive as much or as little as you want.
Sign up through Uber, and find out what's required to get started.
36. Turo – Rent Out Your Ride
Have you ever considered the number of hours your car sits in your driveway, not being used? Well, you can now take advantage of your car's downtime. Turo is a ridesharing app that makes it possible to rent out your car. Real quick, here's how it works: List your car on the app, wait for a request, and either accept or decline. Meet your guest at a predetermined location. Ensure you check their license and do a walkaround of the car with them before they set off. Arrange for pickup when they're finished using it.
Visit Turo for more details or to list your car today.
37. Work for a Food Delivery Service
If you have a reliable set of wheels, you can earn extra money by joining a food delivery service, like Skip The Dishes. While you'll need to leave the house to make money, this business model works by connecting restaurants all across Canada with local drivers via the Skip The Dishes app. One great thing about this gig economy job is that it allows you to pick your schedule, making it ideal for students or a second job.
Find out how you can become a Skip The Dishes courier here.
Earn Cash Rewards
The following apps allow you to make money by earning cash and other rewards by shopping at your favourite stores, in person, or online.
38. Ebates
Ebates is a website that pays you to shop…on their website. That's right. By accessing hundreds of Ebates partner retailers directly through Ebates, you become eligible for cashback rebates. According to their website, Ebates has over 5 million members and has paid out over $70 million in cashback since they launched in 2012. Partner stores include Sportchek, Old Navy, and Sephora.
Start earning cash anytime by signing up through Ebates.ca.
39. Paymi
Paymi is similar to Ebates in that you earn cashback when you shop at their many partner retail stores, but where Ebates is geared to online shopping, Paymi syncs to your debit and/or credit card. Once you complete the initial setup, all you need to do is spend, and Paymi will take care of the rest. It's a seamless way to earn cashback. CIBC customers may be eligible for enhanced rewards from time to time, as the two companies have a partner relationship.
For more details, or to open an account, visit Paymi today.
40. Drop
Another entry in the field of cashback loyalty companies is Drop. Like Paymi, Drop syncs to your bank account through your debit/credit card and offers rewards when you shop at any of their partner stores. Here's a tip. If you sync Drop (or Paymi, for that matter) to a credit card that earns cash back or points towards travel, you can multiply your rewards.
Visit Drop for more information, or sign up to begin earning rewards.
Saving & Investing Online
With the advent of money savings apps, the ability to save and invest money online has never been easier. The next few items on my list feature many fintech companies giving Canadians of all ages the ability to make money online by placing innovative savings and investment solutions right at their fingertips. If you love personal finance, this is a fun way to make money in the long run.
41. Lending Loop
Lending Loop is a peer-to-peer lending platform that matches borrowers to lenders. In other words, you can combine your money with thousands of other Canadians and lend it to small businesses that require access to capital. You make money on the interest that's collected from the various loans. The level of risk can vary depending on the business you lend to, but Lending Loop makes it easy to find an investment that you're comfortable with.
Peer-to-peer lending offers the potential of above-average returns, and when done carefully, can be a nice complement to your overall investment portfolio. Bonus: Use this link to have $25 added to your account once you lend $1500!
42. Mylo
Mylo is a roundup savings app similar to Acorns in the US. Mylo makes saving money a breeze by rounding up your spare change and then depositing it into an investment that will earn interest. Mylo syncs to your debit and/or credit card and tracks your purchases. Every time you spend money, Mylow rounds up your purchase to the nearest dollar and moves the 'spare change into an investment account.
You can download the Mylo app and open your account in minutes to start earning interest on your savings.
43. Robo-Advisors
A Robo-advisor is an online investment platform that requires little to no human oversight. In other words, you can make money on your savings without a face-to-face meeting with a financial advisor at your bank. Whether you're saving for retirement or your next vacation, there's a Robo-advisor portfolio that's right for you.
Currently, our top pick for Robo-advisor is Wealthsimple. You can open an account in just a few minutes using our exclusive link and experience a low-cost, hands-off investing experience.
44. Online Brokers
If you prefer a do-it-yourself investment approach, you can save a lot of money by opening a self-directed investment account through an online broker such as Questrade or Virtual Brokers. The nice thing about an online broker is that it gives you access to a wide range of investments, such as mutual funds, stocks, bonds, even exchange-traded funds (ETFs).
In fact, if you open an account with Questrade, you won't pay any fees to purchase ETFs. It's an offer unmatched by other discount brokers.
45. Online Banks
Online banks have exploded in popularity in recent years. Names like Tangerine, Simplii Financial, and EQ Bank have become synonymous with ultra low cost, high-interest day-to-day banking. Some of them are affiliated with traditional banks, giving the account holder access to their huge ATM networks.
Open a high-interest savings account with Tangerine, for example, and you'll receive unlimited transactions and an interest rate that's higher than anything you'll find at one of the big six banks.
46. Create and Sell Tee-Shirts Online
People have an insatiable appetite for t-shirts. If you can find a great design and market it to the right niche, you can make some great money. To make life easier, some companies will handle all of the sales and printing and shipping. You need to market the product, which can be easier said than done, of course.
47. Become a Virtual Assistant
Do you love to help others? Do you have skills in an administrative or creative area and the willingness to work remotely? If so, you can make good money as a virtual assistant. Small business owners everywhere require assistance with tasks that they themselves don't have the time to perform. Whether it's checking and responding to emails or managing social media accounts, a virtual assistant can be a valuable resource to a small business.
You can get started as a virtual assistant by advertising your services through freelancer sites like Upwork.
48. Become an Online Tutor
If you love to teach and have skills in math or English, you can find work as an online tutor. Online tutoring services such as Tutor.com or VIP Kid also pay quite well, making it a great way to make some extra cash.
Check out this post for more information on becoming an online tutor.
49. Teach Music Online
Turn your love for singing, or playing a musical instrument into extra income, by offering music lessons online. Lessons can be done over video via Skype, making it almost as though you're in the room with your student. As for payment, it's easier than ever with Interac E-Transfer or Paypal.
50. Tax Preparation
This can be a great way to make money at tax time. You can earn money online by helping people with their income tax returns, and you don't need a master's degree. Software apps, such as SimpleTax and TurboTax, make online tax prep incredibly easy. You can complete most tax returns within an hour or two, but not everyone wants to be bothered and are willing to pay someone else to do the job.
51. Offer Bookkeeping Services
If you know your way around booking software, such as Quickbooks, you can pick up work doing bookkeeping for small businesses. This is often very part-time work, a few hours per week, so depending on how much time you have, you could choose to take on several clients.
Start by advertising your services through your local Facebook Community Group or by reaching out to small businesses in your area.
52. Online Coaching
If you have a well-developed skill set, along with some real-life experience in any number of fields, chances are some people will hire you as an online coach. Fitness & nutrition, sales, leadership, human resource management, you name it. The beauty of this online job is that you set the price and decide how much you want to work. Depending on the subject, this can be a very lucrative online business.
53. Proofreader
Closely related to freelance writing, another way to make money is by reading articles written by others. What I love about editing or proofreading is that it's completely location-independent. You can work from anywhere; all you need is a laptop. If you have the skill, it's a fairly easy job. There is no shortage of places where you can find work as a proofreader, in addition to listing your services on sites like Upwork.
54. Test Search Engines
Several companies will hire remote workers to test search engines. Businesses like Lionbridge will supply you with search queries, and it's your job to implement and then record your observations and provide feedback. This is a great work-at-home, online job to do in your free time.
55. House or Pet Sitting
Many people prefer not to leave their house empty when they go away for vacation. Or, if they have pets, they'd much rather leave them at home where they're comfortable, instead of dropping them off at a kennel. If you don't mind staying in someone else's home, you can make good money, with some added perks, by offering to house or pet sit for families in your neighbourhood.
56. Buy and Sell Web Domain Names
This is one of the more interesting online businesses you can try. There is an active market for the buying and selling of website domain names. Similar to the stock market, over time, the demand for certain domain names rises and falls. You may be able to make a profit by buying a domain at a relatively low price in the hopes of selling it at a profit in the future. Also, like the stock market, there's some risk involved, but it can be a lucrative way to make money online over the long term.
For more information on how to make money with domain names, check out this article.
57. Sell Your Songs
If you're a songwriter and have recorded music, there are various ways to sell your music online. Websites like CD Baby and Tunecore act as music publishing services for independent musicians. For an annual fee, or a fee per song/album, you can upload your music, and they will distribute it to all of the major online streaming services, such as Apple Music (iTunes), Spotify, and Google Play. You'll receive royalties whenever your music is streamed on those sites.
Check out Tunecore and CD Baby today, and discover the possibilities!
58. Audio or Video Editor
Many content creators, such as recording musicians or videographers, don't have the time to edit their own audio or video recordings. If you have the talent to do the job, you can make good money by helping them with the audio or video editing process. Any newer personal computer, equipped with the necessary editing software, should be sufficient, and files can be transferred online, making this a job you can do from anywhere.
Here's an article that explains how you can become a video editor.
59. Earn Affiliate Income with a Niche Website
If you are interested in a specific subject, such as travel credit cards, or calligraphy for beginners, you can start a website devoted to that topic and make money through affiliate marketing. Over time, by establishing trust with a dedicated audience, you'll have an opportunity to earn income when they purchase products that you recommend.
Check out this 11-step guide on how to make good money by building a niche website.
60. Buy an Existing Website
Perhaps you'd rather skip the work of building a money-making website from scratch. Well, today you can. Several online marketplaces will allow you to purchase a website that's already established and making money. How much you pay will depend on several factors, including the website's existing cash flow. Here's an article that takes you through the pros and cons of buying an existing online business.
To get inspired, make sure you browse the listings over at Flippa, a leading online business marketplace.
How to Make Money Online: Final Thoughts
Making money online isn't for the faint of heart. In fact, I was blogging for more than 2 years before I started making a decent income. Although it takes time, there is something gratifying about working online from the comfort of your own home or anywhere you can get a wifi connection, for that matter.
It's also nice to have the flexibility to take breaks whenever you need them and be your own boss. The main thing to remember is that if you want to make anything more than pocket change online, you need to treat it like a business rather than a hobby.