The Complete Guide to Senior Discounts in Canada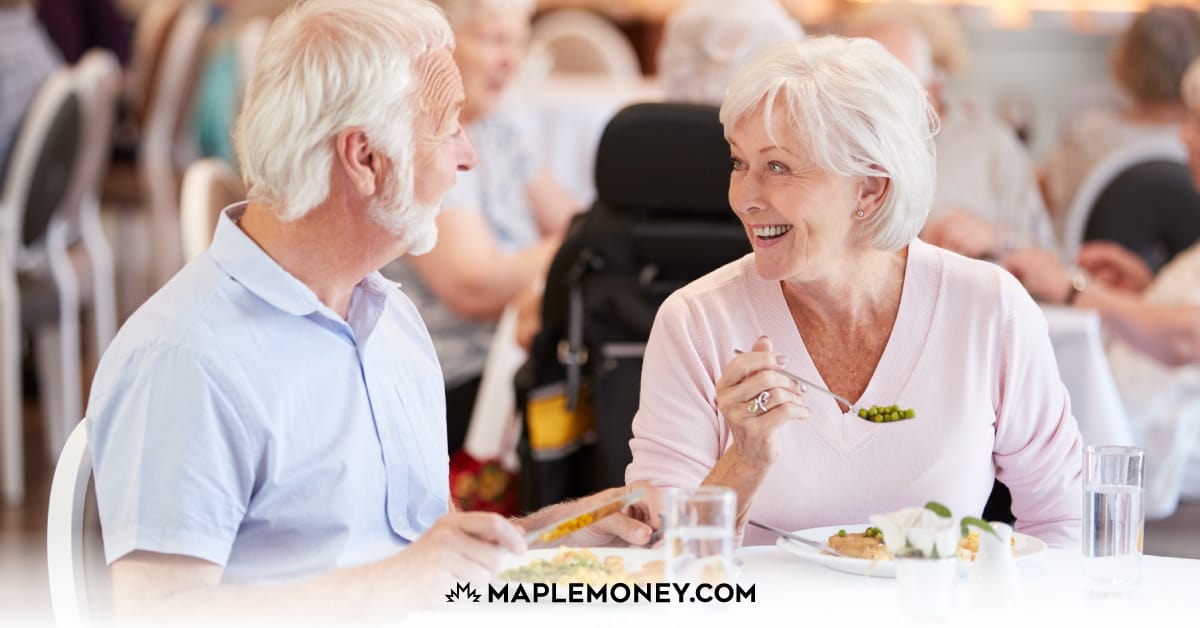 If you're a senior (or you know a senior) looking to save money, look no further. I have put together the following list of discounts available to seniors in Canada, fully updated for 2021. Here you'll find details such as the specific discount, the minimum age requirement, and a link to more information. I will add more discounts to this list as I come across them. If there are any you'd like to see added to the list, feel free to include them in the comments.
The Benefits of a CARP Membership
Throughout this article, you'll notice several references to the Canadian Association of Retired Persons, also known as CARP. For an annual fee of $19.95, Canadians 50 and older can purchase a CARP membership and receive senior discounts at a large number of hotels, restaurants, and other businesses in Canada.
The minimum age requirement can vary depending on the partner, but the membership is worth considering. Many of the senior discounts on the list below are exclusive to CARP members.
Banking Discounts
ATB Financial: The Freedom Account offers free banking (no monthly fees and unlimited transactions) to customers 59 & over. You can also enjoy $10 off the annual fee on a Safety Deposit Box.
BMO (Bank of Montreal): If you're 60 or over, you qualify for a free chequing account that includes 12 monthly transactions. Also, discounts are available to seniors on all chequing accounts.
Canadian Western Bank: For Canadians over 57, CWB offers the Gold Leaf PLUS Account, including no monthly fees and free cheques. A Safety Deposit Box Discount is also available.
CIBC: CIBC Smart for Seniors benefits are available to anyone 65 or older. They include fee discounts on chequing accounts, free bank drafts and money orders, and $5 a Safety Deposit Box annual fee.
National Bank of Canada: It's an odd name for an account, but the National Bank Modest Chequing plan is only $4.95/month for customers 60 and over, and free if you maintain $3000 in your account throughout the month. The account includes 30 transactions before additional fees are charged.
Royal Bank: The RBC SixtyPlus Account requires a minimum deposit of $100 at account opening. It's available to clients 60 years of age or older. It features several benefits designed to save you money, including free cheque writing, free statements, free drafts, and a 50% discount on a Safety Deposit Box annual fee.
Scotiabank: Scotiabank seniors (60 and over) qualify for discounts on all chequing account plans, not to mention a free Basic Account, which includes 12 monthly transactions. The normal fee for this account is $3.95/month.
TD Canada Trust: At TD, seniors 60 and over qualify for discounts on all chequing account service plans, free cheque orders (once per year), and a Safety Deposit Box discount.
Pharmacy Discounts for Seniors
As we age, our healthcare expenses tend to increase. Thankfully, senior citizens can save when they fill prescriptions and shop at some of Canada's largest drug stores.
Lawtons Drugs: Lawtons Drugs advertises a 55+ Appreciation Day, which they say is held at least once per month. It features a 20% discount on several store items, including prescriptions, giftware, select mobility products, stamps/post office, gift cards, and more.
Rexall Pharma Plus: Rexall Pharma Plus has partnered with the Canadian Association of Retired Persons (CARP) to provide a 20% discount on thousands of in-store items every day. As I mentioned earlier, there is an annual fee for a CARP membership, but at only $19.95, the cost is reasonable.
Shoppers Drug Mart: If you're looking for a senior discount at Shoppers Drug Mart, Canada's largest drugstore chain offers 20% off on hundreds of in-store items every Thursday. To qualify, you will need to be a PC Optimum member. The Shoppers Drug Mart senior discount is available to anyone 65 and older.
Food & Restaurant Discounts
Amaranth Foods (Calgary): This Calgary Health Food Store has a Seniors Day every Tuesday, where people 65 and older receive 10% off of most items.
M&M Food Market: Formerly known as M&M Meats, seniors 60 and over get 10% off on all regularly priced items when they shop at M&M on Tuesdays.
Safeway: Not all Safeway stores offer a senior discount, but they do have a Customer Appreciation Day on the first Tuesday of each month, where all customers have a chance to save. Usually, you choose between a percentage discount off your grocery bill (with a minimum purchase) or bonus Air Miles.
Sobeys: Sobeys doesn't have a company-wide policy surrounding seniors discounts, but many individual stores will designate the first Wednesday of each month as a seniors day and offer discounts. I recommend checking with your local Sobeys to see what's offered.
Senior Discounts at Restaurants
A&W: A&W does not offer senior discounts. They do, however, regularly issue coupon books for discounted meals.
Boston Pizza: Boston Pizza does not appear to offer senior discounts at this time.
Bulk Barn: Every Wednesday, seniors and students receive 10% off most Bulk Barn items. ID must be provided at the till to receive the discount.
Burger King: Many Burger King locations offer free coffee to seniors, but I don't know that this is a company-wide policy.
Dennys: If you're 55 or older, you can order from Dennys Senior menu, which features smaller portions at lower prices. Some locations may offer a Seniors discount, but there's no company-wide policy.
Humpty's: When you sign up for an Emerald 55 Club card, you'll enjoy 10% off at Humpty's whenever you dine. The card also qualifies you for a 20% discount every Tuesday at all Humpty's locations.
IHOP: Like many other restaurants on this list, IHOP features a 55+ menu with reduced prices.
KFC: If you're over 55, you can get a free small drink when purchasing a KFC meal.
McDonald's: It's common for McDonald's locations to offer reduced pricing on coffee and other beverages for seniors 55 and older. Make sure you check when you order.
Perkins Restaurant: This popular restaurant chain offers a 55+ menu with lower prices on reduced portion meals.
Salisbury House: This iconic Winnipeg-based restaurant chain does not offer a senior discount, but they have a dedicated "Silver Menu" for seniors 55 and older.
Subway: Subway offers a 10% discount every day for seniors 60 and older.
Taco Bell: Seniors get free drinks at some locations.
Tim Hortons: Some Tim Horton's restaurants have a 10% button on the till for Seniors who request a discount, but not all. It's definitely not a corporate policy. Still, it's worth asking when you stop in at a Tims' location. You will likely be required to provide an ID.
Wendy's: I could not locate a seniors discount policy anywhere on Wendy's website, but it never hurts to ask as individual locations may offer a discount upon request.
White Spot: I could not find a senior discount for this popular BC family restaurant chain, but they offer a seniors menu at some locations.
Hotels
Best Western: The global hotel chain offers seniors 55 and over room rate discounts of up to 15% at Best Western Hotels and Resorts worldwide.
Choice Hotels: All travelers over 60 can enjoy room rate discounts of up to 10%, and CARP members can save as much as 20%. Other senior benefits include free breakfast and hotel Wi-Fi.
DoubleTree: This Hilton owned hotel chain offers discounts to seniors 65 and over at participating locations. If you're booking an additional room for family traveling with you, you may also qualify for a discount on that room.
Fairmont Hotels: CARP members receive a $25 credit when they stay at a Fairmont Hotel, as well as a free night when they are booking for a 3rd, 4th, or 5th consecutive night. Conditions apply.
Hampton by Hilton Hotels: If you're 65 years of age or over, you'll receive up to 10% off the best available rate at Hampton Hotels. Let them know you'd like the Seniors Rate when you book by phone or online and provide your ID when you arrive at the property.
InterContinental Hotel Group: The IHG Senior Rate is available to travelers 62 years of age and over when they stay at any InterContinental Hotel worldwide. All IHG hotels have senior rates, but each location sets the discount percentage.
Sandman Hotels: Sandman Hotels 55+ Senior Program includes 10% the best available rate, and 20% off at Shark Club Sports Bar and Grill, and Denny's Restaurants, at participating locations.
Travelodge Hotels: People 60 or over will always qualify for a senior rate when they stay at a Travelodge hotel. You can request a discount when you book and provide proof of age when you arrive.
Wyndham Hotels: If you're at least 60 years old, you can request a senior rate when you book your stay at any Wyndham hotel. Keep in mind that you'll be asked to provide proof of age when you check-in.
Transportation Discounts
From public transit to airfare and car rentals, you can find special pricing for seniors across Canada. With some providers, like BC Ferries, you can even travel for free.
Transit Discounts
BC Ferries: If you're a BC resident and a senior 65 years or older, you can travel for free Monday to Thursday on select BC Ferries routes. This only applies to passenger fares – vehicles are not included. Also, the 100% discount does not apply during select holidays, including Christmas and Thanksgiving.
British Columbia Transportation System (BCTS): Qualifying seniors over 60 may be eligible for a reduced BC Transit bus pass. Conditions apply, but you must meet the age requirement and be considered low-income or have a disability.
Calgary Transit: Calgary seniors who are 65 or over can purchase an unlimited bus pass, called the Senior Yearly Pass, at a reduced rate. Further discounts are available to low-income seniors.
Go Transit: Seniors 65 or over get a 50% discount for any single ride aboard GO Transit. There is no discount for a Day Pass, however.
Halifax Transit: Seniors 65 and older can ride for free between 10 AM and 3:30 PM, and after 6 PM on Tuesdays, and receive a discounted rate at all other times.
Ottawa Transit: Seniors can ride the O-Train and OC Transpo buses for free on Sundays and Wednesdays and receive discounts on monthly passes and single rides at other times with a Presto membership card.
St. John's Metrobus: Seniors who ride the bus in St. John's don't receive a discount for single rides, but they do save on monthly passes, as well as 10-ride passes.
Winnipeg Transit: Seniors 65 or older receive discounts on single fares and passes (called peggo e-passes) when they ride on Winnipeg Transit. For single fares, they do need to provide proof of ID when boarding, however.
Air Travel Discounts
Air Canada: Not all airlines offer senior citizens discounts, but Air Canada does, up to 10% on airfare, excluding taxes and surcharges.
WestJet: I could not locate any senior discounts for WestJet customers. I've included them on this list as they are Canada's second-largest airline. If you know of any discounts WestJet offers to seniors, please let me know in the comments, and I'll update it here.
Railway Discounts
Amtrak: Amtrak is an American passenger rail carrier, but they partner with Via Rail on several cross-border routes, and seniors 60 and over receive a 10% discount. To get the discount, you will need to verify your age before you travel.
Via Rail: Seniors 60 and over can receive a 10% discount off the regular fare price when they travel by train on Via Rail. Be careful when booking, however, because the discount does not apply to all classes.
Bus Discounts
Greyhound: Get a senior discount when you travel by bus on Greyhound. The regular discount for passengers 62 and over is 20%, but that jumps to 30% if you're booking an additional senior ticket, as long as it's 3 days in advance of the trip.
Car Rentals
Avis: CARP members who rent a car with AVIS can save up to 25% off of the rate, in addition to other available discounts.
Budget: Like the Avis senior promotion, Budget customers over 65 who are CARP members can also benefit from discounts of up to 25%.
Hertz: Here's a car rental company with a generous senior discount. Drivers 50 years of age or more can save up to 20% when renting a car through Hertz.
Thrifty: Thrifty offers customers 50 and over a 5% discount on car rentals.
Retail Store Senior Discounts
Canadiana Flowers: CARP members receive a 15% discount on all flowers and basket arrangements.
Michaels: The arts and crafts retailer offers regular discounts to teachers, military veterans, and seniors. Senior's 55 or older receive a 10% discount on most regularly priced items whenever they shop. Valid ID must be shown, and some items are excluded.
Samsung: CARP members are eligible for a 15% discount on select Samsung products.
Museums & Entertainment Discounts
Canada's Wonderland: If you're at least 60 years old, you qualify for discounted rates on both day and season passes at Canada's largest theme park.
Canadian Museum of History: The Canadian Museum of History offers pass discounts for Seniors for $2 off the regular adult rate.
Canadian Museum for Human Rights: Located in Winnipeg, Manitoba, the CMHR is the only national museum located outside of the national capital area. Seniors 65 and over can purchase a regular pass for $14. The regular adult ticket is $18.
Canadian Museum of Nature: Discounted tickets ($19) are available to seniors 65 and over.
Canadian War Museum: Seniors 65 and over can buy a museum pass for $15, a two-dollar discount on the regular price for an adult ticket.
Hockey Hall of Fame: Seniors 65+ get discounts on individual and group ticket purchases.
Royal Ontario Museum (ROM): The Royal Ontario Museum offers an 8% discount on senior citizens' 65 and over entrance fees.
Parks Canada Discovery Pass: Passholders receive unlimited access to over 80 Parks Canada sites across the country. Seniors 65 and over receive a discounted rate, while youth 17 and under are free.
Vancouver Art Gallery: Senior Monday happens on the first Monday of each month, and people 65 and over can enter with a donation between 10 AM and 1 PM. Special guided tours are available. Seniors also get a discounted rate during regular hours.
BC Parks: There are no senior discounts during the peak camping season at BC Parks, but between Labour Day and June 14th, discounted front-country camping rates are available to BC residents 65 and over.
A Summary of Senior Discounts In Canada
Every day, senior citizens across Canada get a discount when they travel, shop, or eat out. If you're not taking advantage of seniors' many discounts, you're missing out on some great savings. In my list, the Shoppers Drug Mart, Bulk Barn, and Rexall Pharma Plus discounts stand out, as do several hotel and car rental offers.
I highly recommend that you bookmark this list so that you can check back frequently for discounts. Also, consider purchasing a CARP membership. I have no affiliation with the organization and won't benefit in any way if you sign up, but I can spot a great deal when I see one.