Chequing vs. Savings Account: What's the Difference?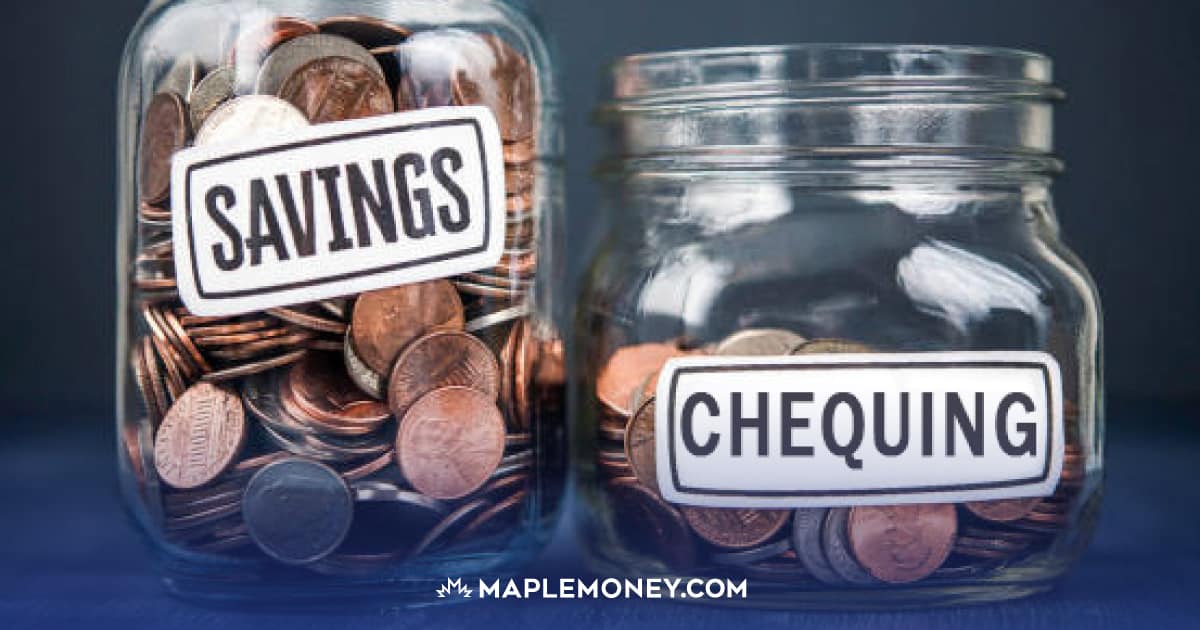 When it comes to managing your finances, using the correct type of bank account is very important. But while the differences between a chequing account and a savings account may seem obvious to some, you would be shocked at the number of people who use their savings accounts for daily transactions or who keep piles of money in their chequing account earning zero interest.
During my banking career, I encountered numerous clients who paid hundreds of dollars in unnecessary banking fees just because they used the wrong type of bank account.
In this article, I explain the differences between chequing and savings accounts to clear up any confusion.
What Is a Chequing Account?
A chequing account is meant for daily banking transactions, including writing cheques, direct deposits, bill payments, ATM cash withdrawals, and debit card purchases.
Most banks charge a monthly chequing account fee, which can be waived if you maintain a minimum balance throughout the month. Depending on the bank, students and seniors may qualify for free banking up to a certain number of monthly transactions.
Most online banks, like Tangerine and Simplii, offer free chequing accounts with unlimited monthly transactions and no account minimums.
Benefits of a Chequing Account
Convenience: Chequing accounts make it easy to manage your money, especially when combined with a mobile banking app. You can get paid via direct deposit, make purchases in-person and online with your debit card, e-transfer funds back and forth with friends and family, pay bills, and more.
Cost-Effective: People often complain about the service fees imposed by banks, but if used properly, chequing accounts can be very cost-effective. For example, if you open a chequing account with Tangerine (the digital banking arm of Scotiabank), you get unlimited free banking, including free ATM cash withdrawals from over 3,500 Scotiabank ATMs.
In other words, you can bank for free.
The worst-case scenario is that you pay around $15/month for an unlimited chequing account with one of the big five banks (RBC, TD, BMO, etc.).
Disadvantages of a Chequing Account
You don't earn interest on your money: Most chequing accounts do not pay out any interest, regardless of the balance in the account. This is, to me, the biggest drawback of a chequing account.
Extra Fees: As I mentioned earlier, I believe that chequing accounts can be very cost-effective. However, if you're not careful, you can pay unnecessary fees, making it more expensive.
For example, if you choose to add overdraft protection to your chequing account, there is usually an additional fee for having that service. And if you actually use the overdraft, you will pay a very high interest rate on the amount you borrow (around 21%).
If you don't have enough funds in your bank account when a payment comes out, you may receive an NSF charge (non-sufficient funds). These charges are steep, at around $50 per occurrence.
Another sneaky fee is the "Other Bank Charge" for using another bank's ATM. You'll get charged a fee by the ATM provider and by your own bank. You might pay $4 or $5 total for withdrawing $20 from the bank machine.
The good news is that all of these extra fees can be avoided.
What Is a Savings Account?
A savings account is a bank account that allows you to deposit money and earn interest on the balance over time. Unlike a chequing account, a savings account should not be used for daily transactions. While most savings accounts do not charge a monthly fee, you may be charged for every debit transaction on the account.
Benefits of a Savings Account
No monthly account fee: Most savings accounts don't charge a monthly account fee.
Interest-bearing: Most savings accounts pay a modest amount of interest on the balance in the account. High-interest savings accounts (see below) offer an even higher rate of return.
Disadvantages of a Savings Account
No cheque-writing privileges: While some savings accounts may allow you to write cheques, most do not. So, if you need to write cheques for things like rent or your kid's activities, you'll want a chequing account.
Low transaction limits: While savings accounts don't charge a monthly account fee, most have a very low transaction limit, above which you must pay for each transaction. Before opening a savings account, find out what the transaction limit is, and make sure you don't exceed it.
High-Interest Savings Accounts
A high-interest savings account (HISA) is supposed to offer a higher interest rate than a regular savings account. Of course, this is all relative. Most banks aren't that competitive with their HISA rates. For the most competitive rates, look to credit unions or online banks.
Some banks charge higher withdrawal fees on their HISA accounts (up to $5/withdrawal) to discourage customers from making regular withdrawals.
Chequing vs. Savings Accounts: Key Differences
When opening a bank account, it's important to remember the following differences between chequing and savings accounts:
Monthly Account Fees
Chequing accounts often have monthly account fees, which can sometimes be waived if you maintain a minimum monthly balance. Savings accounts do not usually charge a monthly fee. Instead, you may be charged a fee per transaction, which can be very costly.
Cheque Writing Privileges
Chequing accounts are designed for day-to-day transactions, so they usually come with cheque-writing privileges. In contrast, savings accounts are meant for saving and don't typically allow you to write cheques.
Transaction Limits
Compared to savings accounts, chequing accounts generally offer more monthly transactions, as they're meant to handle your daily financial activities. With a savings account, you may have an allowance of one or two monthly transactions, but exceeding this limit will likely result in additional transaction fees.
Note: This is where I've seen people get into trouble. They start using their savings account for daily transactions, not realizing that they're paying for every cash withdrawal and debit card purchase they make. Thirty monthly transactions are only 1 per day, so you can see how expensive things can get if you're not careful.
Interest Rates
While the interest rates offered by savings accounts are modest, they provide you with an opportunity to grow your savings without the risks associated with investing. Chequing accounts, on the other hand, pay little to no interest as their primary function is to facilitate daily transactions.
Conclusion
In summary, a chequing account is ideal for your everyday transactions, such as paying bills and making purchases. On the other hand, a savings account is designed to help you save money and grow your balance over time.
By opening a chequing and savings account, you can effectively manage your money, make the most of your deposits, and work towards your financial goals.
FAQs
Can I use a chequing account for savings purposes?
You can save money in a chequing account, but it's not the most suitable option. Chequing accounts are designed to handle regular transactions like bill payments and daily spending and don't typically pay interest on the account balance.
How does interest work for savings accounts?
Most banks calculate interest on a daily basis and pay it monthly. It's important to remember that not all financial institutions are equal when it comes to paying interest on savings. Most of the big banks pay little to no interest on savings accounts. On the other hand, online banks and many credit unions offer competitive rates via their high-interest savings accounts.
Is it a good idea to have both a chequing and savings account?
Yes, most people should have a combination of a chequing and a savings account. Having both types of bank accounts can help you better manage your finances and achieve your financial goals. Use your chequing account for daily expenses and transactions and your savings account to set aside funds and earn a little interest.