When it comes to choosing a bank, it's important to carefully consider what will work best for your situation. The right bank can provide you with a place to keep your money, as well as help you with other needs, such as saving for retirement or getting a mortgage.
One of my favourite players in the Canadian banking space is Tangerine. If you are looking for a bank that doesn't charge daily banking fees, and if you are looking for a full-service bank with competitive yields and low interest rates, it makes sense to consider Tangerine. Here's what you can expect:
High Interest Savings and Free Chequing
My wife and I already have TFSAs at Tangerine, and while we're happy with PC Financial, we are thinking of switching our chequing over there as well. The biggest reason is that Tangerine doesn't charge fees for savings accounts. You can earn 0.80% on a "regular" savings account, RSP account, or TFSA account. It's also possible to earn triple interest for the first six months (making it 2.40%) and get up to $50 in bonuses, no matter which savings account you open. There are no fees and no minimum balances.
Open a Tangerine Savings Account
Tangerine also offers savings accounts in US dollars (although the yield isn't as high), and RIF Savings Accounts that pay 1.25%.
A chequing account at Tangerine also pays interest on every dollar you earn. You don't have to worry about fees or minimums with a chequing account, either. You earn interest on your chequing account starting with the first dollar in the account. You can add overdraft protection to your account (but you will need to pay a fee for that) and Tangerine provides your first 50 cheques free. You can also send Interac e-Transfer money to for a low fee of $1.00, and receive the transfers for free.
Open a Tangerine Chequing Account
Tangerine Money-Back Credit Card
Tangerine recently launched a credit card that offers a unique way to earn cash back. You can choose two different categories that offer you 2% cash back. Your options include:
Grocery
Eating places
Furniture
Hotel/motel
Gas
Drug store
Recurring bill payments
Home improvement
Entertainment
Public transportation and parking
You can pick the two categories that make the most sense for your spending. If you know that you will spend the most money on groceries and gas, you can pick those categories and then pay for everything with your Tangerine credit card. It's also worth noting that you can change your 2% cash back categories to fit spending later. Even better, you can choose a third category when you have your rewards deposited to a Tangerine Savings Account. I really like additional rewards boost plus the incentive to save. You get 1% cash back on all spending that isn't related to your categories with higher cash back.
The interest rate is a relatively low 19.95% APR and there is no annual fee. There's also a signup bonus where you can get 4% on your chosen categories for the first three months, so apply now before it expires.
Apply for Tangerine Money-Back Credit Card
If you want more information on this card, check out our in-depth Tangerine credit card review.
Mortgage or Line of Credit
Tangerine offers you the chance to get a mortgage. The current rate for a five-year variable rate on a mortgage with Tangerine is 2.70%. There is also an interesting prepayment option with the Tangerine mortgage. You can increase your regular payments by up to 25% of your original payment amount. It's also possible to make lump sum payments of up to 25% of your original mortgage amount on any regular payment date. This is a great way to help you save money on your mortgage.
You can also tap into your home's value with the help of a home equity life of credit from Tangerine. You need to have at least 35% equity in your home, and if you do, you can use the fixed payback plan to work on paying it off as quickly as possible. The current rate on the line of credit is 3.35%.
Investing
You can even invest with Tangerine. Tangerine offers different fund options that are relatively low cost, compared to many of the Canadian mutual funds out there. Tangerine relies on an indexing strategy, which I prefer with my own investments. You end up with a lower cost in those cases. Tangerine offers income and growth portfolios. You can also set up an automatic investment plan so that you can take advantage of dollar cost averaging to keep on track with your investment plan.
Other accounts you can use as investments through Tangerine include:
TFSA Investment Fund: You can get a TFSA account that makes use of investments, rather than only relying on savings. This can be a way to take advantage of the tax breaks offered by these accounts.
TFSA GIC: You can earn up to 1.90% on a tax-free GIC through Tangerine. You don't have to worry about paying taxes, and there are no fees or service charges.
RSPs: Use an investment fund account for a higher potential return, or you can get the GIC version of the RSP or the savings account.
RIF: Retirees can also take advantage of investment accounts designed for growing wealth while at the same time withdrawing what you need. In addition to fund investments, you can get GIC and savings account versions of the RIF.
Another feature offered by Tangerine is the RSP loan. The interest rate is a low 1.50% if you take out a loan from Tangerine and then use it to contribute to your RSP at Tangerine (the rate is much higher if you put the money in an account at another financial institution). An RSP loan provides you with the chance to see returns that more than make up for the 1.50% that you pay on the loan. You won't be charged fees or have to deal with early repayment penalties.
Banking Options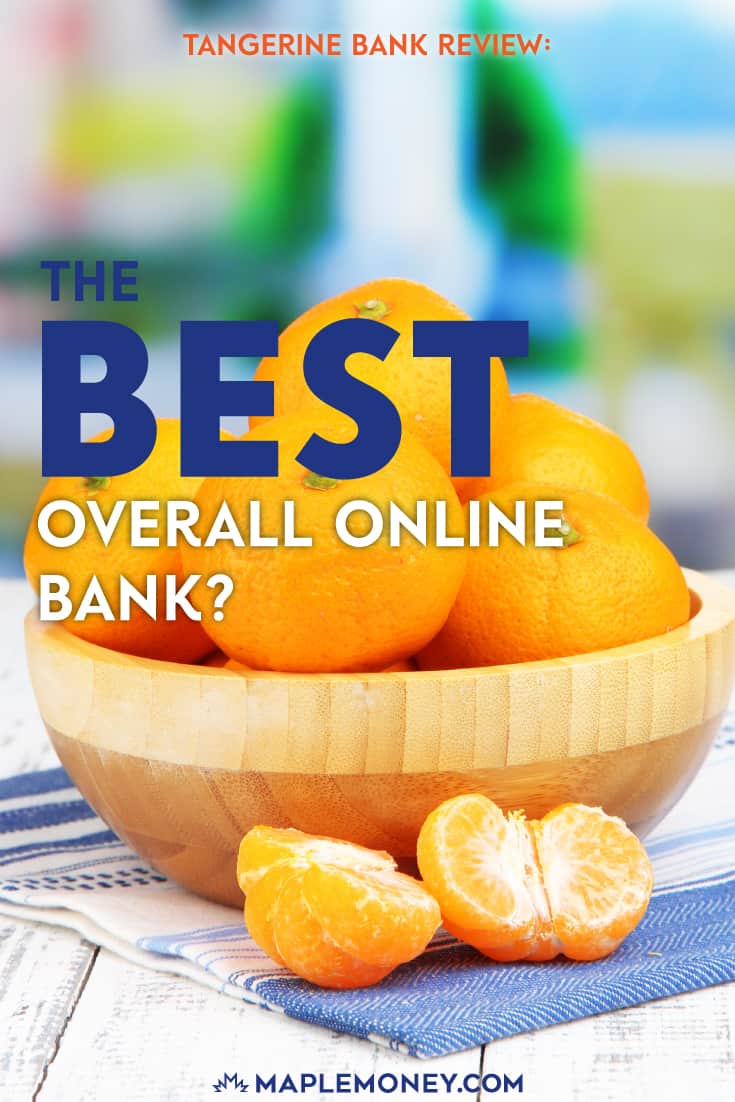 Finally, Tangerine offers a number of great ways to bank. You can go into some locations in Toronto, Vancouver, Montreal, and Calgary, but for most Canadians, the benefit of Tangerine is in the convenience of online banking. If you really want to set up an account in person, but don't live near one of the locations, keep an eye out for pop-up locations as Tangerine tours around Canada. Tangerine also offers telephone banking.
Online and mobile banking offer the greatest flexibility. You can open an account online, and you can connect that to your mobile device. Once you are set up this way, you can manage all of your accounts, pay bills, transfer money, and even access mortgage tools.
Finally, you can access your money for free through more than 3,500 ABMs all over the country with the Scotiabank ABM network. Pay attention to where these are located so you can avoid paying ABM fees when you access your own money.
Tangerine offers everything you need in a bank, and does so at a low price. There are similar free chequing accounts, and savings accounts that currently have higher interest rates. However, if you are looking for a bank that gives you some of the best rates, free accounts, and the most banking options, I think Tangerine is the best overall online and it might be the best choice for you.