Save money on toys: Host a toy swap
This post is part of the Frugal Parenting series with Taya and Lori.
This guest post was written by Lori of Frugal Edmonton Mama
If you're a parent, chances are you have bins and bins of toys lying around your house. You step on them on the way to bring the laundry upstairs, you pick them up in the morning, in the afternoon and at bedtime – and you probably wonder why it is that you have so many toys. Am I right?
That trip to the store to buy new toys every few months? It's not very frugal. Getting new toys doesn't have to cost an arm and a leg.
Hosting a toy swap can update the in your home toys – for free.
Interested in hosting a toy swap but not sure where to start? Here are some tips: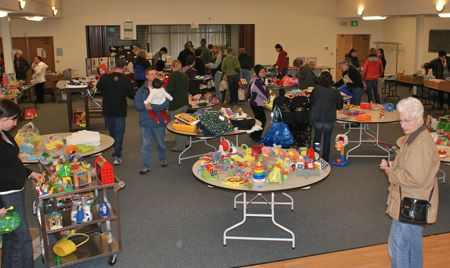 Avoid the free for all
Most swaps have guests coming with bags of items that are simply strewn in a pile and you can take what you want.
Doing it this way might mean that you will lose out on the value of the toys being traded. Avoid the free for all and use tickets instead. Decide what types of toys (or values) will be worth how many tickets.
This way – everyone wins.
Choose moms with similar age groups
It's likely that you are going to want to use these toys right away. Invite mothers (or fathers) to the toy swap who have children of similar ages to make sure that the toys are going to be used, and are age-appropriate.
Get a list – before the swap
Get a list of the items that people are going to bring to the swap. This lets the other members of the swap know what will be available and helps to avoid multiples of toys showing up.
Use an event page, like on Facebook, to track who's coming and what they are bringing along to the toy swap.
Label
Use colored labels affixed to the toys during the swap. This helps with the extra toys that are leftover. If you brought along toys that have not been swapped, you can easily identify these toys and bring them home to use at the next swap.
These labels can easily be found at office supply and dollar stores.
Swap time
At the time of the swap, it's important to determine among guests whether the toys are going to return to the original owner, or whether the toys are being traded permanently.
Toy swaps are a great way to curb the spending on new toys and done efficiently, can help to get new toys on a regular basis.
Have you ever taken part in a toy swap? What was your experience?
Lori is an Edmonton mama that can help you to change the way that you shop through coupons and deal-hunting. Money saving and coupon using made simple is the name of her game. Lori blogs at Frugal Edmonton Mama daily.