5 Simple Household Cleaner Recipes
Homemade Cleaners.
There seems to be a specialized cleaner for everything. One to remove soap scum, one to unclog drains, one to clean your stove top… but all of those cleaners can really add up financially.
This is a list of 5 cleaning DIY tricks that can save you money. These tricks are so very simple, and truly effective.
Soap Scum Scrubber
Source: Martha Stewart
This idea grew from one I had seen on Martha Stewart. It was a homemade cleaner used to clean copper. I don't have any copper to clean – but my logic for trying it was two-fold.
First of all it looked really easy. Second, if it was gentle enough to not scratch copper, it would be gentle enough to not scratch my tub. That's right, I used this cleaner to tackle the soap scum buildup in my bathtub – and boy did it work!
It even removes the rust ring from shaving cream cans! (These rings, I have learned, can be prevented in the first place by putting a coat of clear nail polish around the can edge.)
Ingredients:
1/2 Fresh Lemon
1/4 Cup Kosher Salt
Instructions:
Dip your lemon into the Kosher salt and gently "buff" your bathtub. No force is required. Just use gentle, circular motions. Rinse with hot water when you're finished.
Ceran Stovetop Cleaner
My findings above led me to thinking about what else I could clean with half a lemon. The ceran top on my oven is always a pain to clean. The only thing I had found that truly worked was the expensive, and toxic, Cerama Bryte.
Not anymore, because the half-lemon does it again – along with my cleaning best friend, baking soda.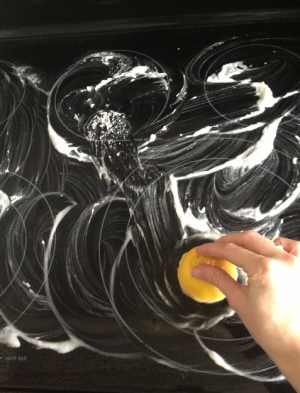 Ingredients:
1/2 Fresh Lemon
1/4 Cup Baking Soda
Hand towel soaked with very hot water
Instructions:
Sprinkle your ceran stove top with baking soda. Lay your super hot water soaked hand towel over top. Wait 5 minutes or so. Remove the hand towel and use your half lemon to rub circles with the baking soda. Use a clean, hot wash cloth or rag to wipe clean.
Foaming Drain Cleanser
Source: Instructables
The idea of dumping a bottle of toxic drain de-clogger down my sink with my drinking water did not sit well with me, so I was on a search for a natural drain cleaner. One day, I stumbled upon this idea. It does work, though best on slow running drains – not completely clogged ones.
Ingredients:
1/2 Cup Baking Soda
1 Cup Vinegar
3 Cups or so of Boiling Water
Instructions:
This is much like the volcano you may have made in school. Pour the baking soda directly down the drain (a funnel may help). With your rubber stopper in hand, pour the vinegar down the drain and quickly (oh boy do you have to be quick to beat the reaction!) plug the drain. If you don't have a tub stopper you can plug the drain with a rag. Wait 15 minutes and pour the boiling water down. Repeat as needed.
So Simple All-Purpose Cleaner
This tip is yet another very simple one. This cleaner can be used anywhere. In my home, we regularly use it in the kitchen and bathroom. It cuts through grease quite well.
Ingredients:
Citrus Peels (lemon, lime, grapefruit, whatever you happen to have on hand)
2 Cups or so of Vinegar
Jar with a Lid
Instructions:
Simply fill your jar with the citrus peels and fill the jar to the top with vinegar. Let stand 2 weeks. Pour the liquid into a spray bottle and spray to clean when required. The citrus cuts the vinegar smell significantly. Wipe surfaces clean with a damp cloth.
Tough Spot Cleaner
Source: One Good Thing by Jillee
This cleaner was coined as "The Miracle Cleaner" by it's founder, and for good reason. It was originally used to tackle kitchen trouble spots (baked on food, etc.), but I use it all over the house! With 3 young kids, our tough messes are not limited to the kitchen.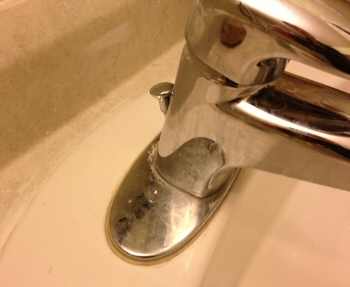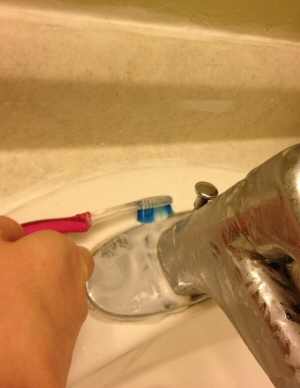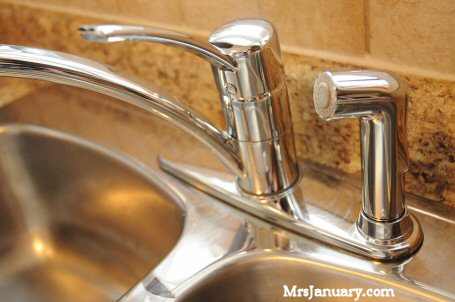 Ingredients:
1/2 Cup Baking Soda
A few Tablespoons of Hydrogen Peroxide (just enough to make a smooth paste)
Instructions:
Rub the paste onto your trouble spots. I usually use an old toothbrush, but a rag would work as well. Rinse with clean water. This paste will also remove those troublesome rust rings in the tub. (If you have a husband like mine that refuses to put clear nail polish on the bottom of his shaving can.)

And there you have it! These are 5 super simple tips to clean your house with products you've made yourself. These DIY cleaning products will certainly save you money and will also keep your family free of chemicals.
Consider trying one trick the next time you run out of your cleaner. I promise that you will be impressed with the results.
Do you have a simple DIY cleaning trick to share?