The minimalist guide to couponing
Minimalist guide to couponing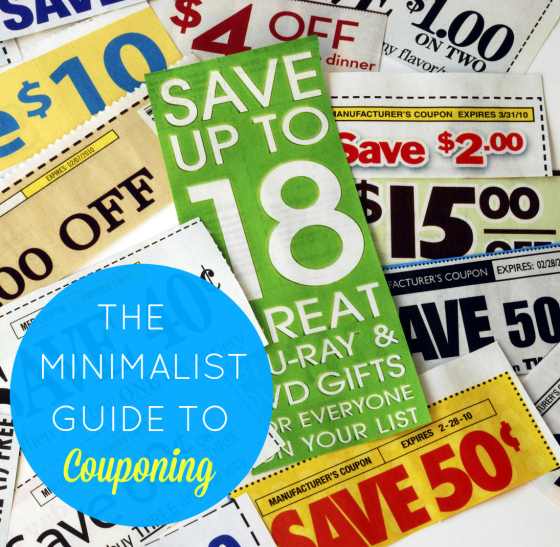 I'll be the first to admit it – couponing isn't easy. It takes time to learn how everything works, to grow a stockpile and to know a good deal when you see one.
There are certainly ways to make couponing easier, though. It doesn't have to be so difficult!
1. Stay organized
Being organized is key when it comes to… well, just about anything in life – but especially couponing. If you want to do some extreme couponing, you will need to be even moreorganized.
Find a couponing organization system that works well for you (I recommend the binder method – but do what fits well with your lifestyle) and keep that system organized. Clip and file your coupons as soon as possible and always remember to remove expired coupons at least once per month.
2. Don't clip every coupon
Even if you want to be an extreme couponer, you really don't need to clip every single coupon you come across. When you start using coupons often, you will see just how easy it is to accumulate a mountain of coupons. And who wants to clip a mountain of coupons all the time? I know I sure don't.
Instead of clipping all of your coupons, only clip the ones that you know for sure you will use, and the ones you think you might use.
Donate the rest, or set them aside for coupon trades or trains (if you set them aside, keep them organized by separating by category and removing expired coupons every month).
3. Review weekly coupon match-ups
When it comes to going through flyers and matching sale items up with your coupons, let someone else do the work to make couponing easier for you.
Every Thursday, we post Canadian coupon match-ups. These match-ups list all of the best deals at various stores in Canada. If there are coupons to match up to those deals, we will let you know about those as well.
Watch for the items with a red star – those are the really good deals.
4. Shop once per week (or less)
Instead of shopping multiple times per week to get a whole bunch of deals, limit your shopping trips to one per week. This will save you time and gas (or transit) money.
Sure, this might mean you miss out on a few deals. But guess what? You don't have to get in on every deal. I promise there is another great one right around the corner.
To make things even easier, shop only at one store (one that allows price matching, so you can still pick up the great deals that are on sale at other stores).
5. Prepare in advance
Before every shopping trip, make sure that you are prepared in every way possible.
Have all of your flyers (for price matching) and coupons ready to go, and don't ever leave the house without a shopping list. Prepare as much in advance as you can.
Being prepared is one simple thing that you can do to easily cut down on the amount of time you spend shopping and checking out at the grocery store.
Although couponing can be hard work, it doesn't have to be that hard. With some practice and determination, you too can be a couponer (or extreme couponer, if that's what you want to be!) without much effort.
Simplify things as much as possible to make couponing easier for you.
How do you make couponing easier for yourself?