How to save money on clothing
Save money on clothing.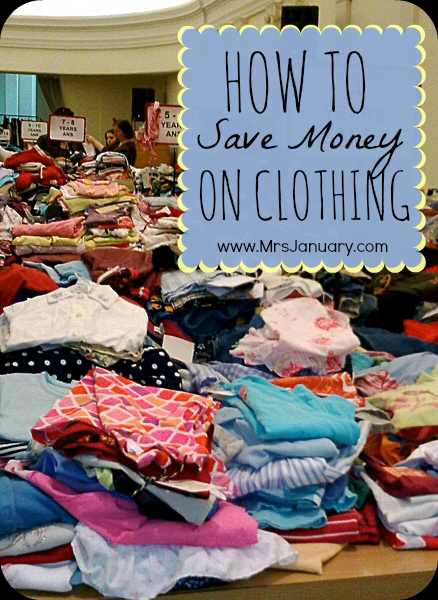 Clothing is something you should never pay full price for.
There are so many easy ways to save money on clothing. Here are just a few of them.
How to save money on clothing
Watch for sales
Stores have clothing sales all the time. Watch the sale cycles to determine the best time to buy certain clothing items.
Sign up to the mailing lists of your favorite clothing stores, and you will often receive notifications of store sales.
Shop at big retail stores
Places like Walmart and Zellers now have very stylish clothing, shoes, and even purses for much less than traditional clothing stores. The quality is usually very good as well. Check these stores for your clothing needs before heading to the mall.
Check the clearance racks
Lots of stores have clearance racks, and this is a good place to find some fantastic bargains.
Check these racks before heading to other areas in the clothing section. You never know what kind of deals you might stumble across!
Shop out of season
Don't buy a winter coat in December, don't buy a bathing suit in July. Shop for winter gear in the spring and shop for summer essentials in the fall.
Stores are trying to clear our stock to make room for next years' trends and will put the out of season clothing on sale for an extremely low price. This is when you want to buy it.
Buy second hand
Thrift stores, garage sales, consignment shops, and online classifieds are all great places to find quality (usually) clothing for a great price.
Be sure to check each item over carefully before purchasing to ensure there are no stains, tears, or missing buttons.
Thrift stores often have great sales and coupons throughout the year as well, so if you can, wait for these sales before you shop.
Accept hand me downs
If you have friends or family members (with similar clothing tastes and sizes) that offer you clothing, accept them. There's no better discount than free!
As long as the clothing is good quality and not well worn, it can last you years – saving you quite a bit of money.
Care for your clothes
One of the absolute best ways to save money on your clothing is to take care of what you already have.
Wash items according to the labels, wash inside out to prevent pilling, hang items with appropriate hangers, and store your clothing in a cool, dark place.
The better care you take of your clothing, the longer it will last – which means you won't have to spend money buying new stuff.
Clothing is something we all need – but it doesn't have to cost you a fortune. By trying out a few of the ideas above, you are bound to save some serious cash on your clothing purchases.
Don't pay more than you need to for your clothes. It's not necessary.
How do you save money on clothing?