How to Save Money on Organic Groceries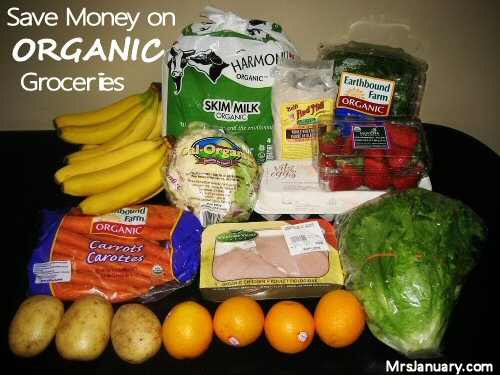 Just over a month ago, my husband and I decided to try going all organic in regards to our groceries. This was not something we planned to do forever, but we wanted to try it out and see if we could feed our family for the same amount of money as we spend on "regular" groceries.
After talking to friends that shopped organic, some research online and a few trips to organic stores, I learned that there are some ways that you can save money on organic grocery items.
Here are 6 of them:
1. Coupons
I had never once seen organic coupons before, but apparently they do exist. I actually received most of my organic coupons by contacting companies. I received coupons from Barbara's, Organic Meadow, Eden's Organics and more. You can find the entire list on our Canadian Companies That Will Mail You Coupons page.
You can also find printable coupons for organic groceries. Two great sites for those are Whole Foods Coupons and The Healthy Shopper.
2. Only Buy the Dirty Dozen
Have you heard of the "dirty dozen" or the "clean fifteen"? I hadn't, but research showed me that these items are very important to those looking to save money on organic groceries.
The dirty dozen are the top 12 food items that have the most pesticides on them. If you want to buy organic, but are on a tight budget, these are the food items you should be buying.
The clean fifteen are the top 15 food items that have the least amount of pesticides on them. You can avoid buying the organic version of these items.
3. Shop at Conventional Grocery Stores.
When we were shopping for organics, we tried multiple sources. Farmer's markets, health food stores, private sales and conventional grocery stores. We found that conventional grocery stores, such at Loblaws, had the best prices for most of our organic purchases.
Produce may not be the freshest you've ever seen, because most people don't buy organic produce at a conventional grocery store, but it is still of great quality and often for much less than you would pay elsewhere.
4. Consider Private Sales
Even though they are usually a bit more costly than a grocery store, purchasing organic items (usually meat, produce and/or eggs & milk) privately, through a local farmer, can be very beneficial.
We didn't do this in our trial run of organic shopping, but a friend of mine does it all the time and she says that if you order products from the same farmer over and over again, they will usually cut you some type of deal each time you buy. This is a fantastic way to save money on organic food. Especially meat and eggs.
5. Buy Entire Animals
Instead of going to a farmer or grocery store and buying cuts of organic beef, chicken and pork, buy the entire animal to save money. Many local farmers sell whole animals and this is a great way to stockpile organic meat.
It won't be cheap (especially cows), so if you can't afford the price tag on one of these animals, ask if friends or family members want to go in on the purchase with you. Alternatively, you can purchase 1/2 or 1/4 of an animal, if the farmer you are buying from offers that.
6. Shop in Season
Only buying produce items that are in season is going to save you a bunch of cash. In season produce is inexpensive and just plain tastes better than the stuff that isn't in season.
Look for things like tomatoes, cucumber, lettuce, strawberries and watermelon in the summer. Look for pumpkins, apples, cranberries, beans and squash in the fall. The in season produce will likely be on the first page of your store's weekly sale ad (if the place you are buying from has a flyer).
If you're passionate about only purchasing organic groceries, but are discouraged by the cost of such items, try a few (or all, if you dare!) of the tips above to keep the costs of those grocery items down.
Do I think it's worth it to shop for organic groceries? Yes and no. It's really only worth it if it's something that you believe in. Are organic foods better for you? Not necessarily. Are you being more economical by purchasing organic groceries? Not really.
When my husband I were purchasing organic groceries, we found that everything tasted the exact same as their non-organic friends. We also learned that the amount of pesticide found on most conventional produce was so little that it would hardly affect us.
We now only purchase organic groceries if the price is the same, or better, as the non-organic items (which rarely happens). To support our local farmers, we visit farmer's markets often.
Do you purchase organic groceries? How do you save money on them?