Maximizing your March break
March break ideas.
Last year I offered to be the March break coordinator for my own 4 kids (infant to 10 years old) and their 4 cousins. One can imagine the need to be organized to keep those kids busy. I embraced this challenge wholeheartedly and would like to share some of my ideas that might assist in planning your upcoming March break.
The first thing you want to do is post a calendar on the fridge so that the kids know what each day will hold. Balance the days with quiet/crazy, free/spending, and indoors/outdoors. Remember to appoint some photographers (free family members/friends/kids) and have the kids create scrapbooks at the end of the week.
Making the ordinary special
Declare one day during March break to be pajama day for everyone. Schedule pillow fights and makes shadow puppets. Read If You Give a Pig a Pancake while eating a pancake dinner. Make pigs in a blanket. Have a slipper hop to some 50s music. Give facials and manicures. Run baths with extra bubbles.
Grab the sleeping bags and have a camp-out in the living room. Enjoy storytelling, or listening to online tales. Our favorite sites for funny, value-packed stories are whitsend.org (free) and Life at the Pond ($1.49/story).
Mealtime mix up
Have the kids make their own homemade pizza and decorate cupcakes. They will have a ton of fun and you can enjoy a break from cooking (this will only work with older children, of course). An off-season barbecue also mixes up the cuisine.
Indoor luau
Pretend you are outside enjoying the sunshine. Host an indoor beach party with summer attire, fruit kabobs, and of course, a little bit of The Beach Boys.
Get crafty
With my 40% off Michael's coupon, I bought a large multi-colored pack of clay. We used everyday objects as sculpting tools (combs, forks, toothpicks) and had lots of fun making clay shapes. Some kids found online inspiration and others went "freestyle."
Creating with Perler beads was another favorite during March break last year. Adults need to iron the finished product, but we do it at one time when all crafts are completed. One large bucket of beads seems to last forever, too, which is a bonus.
Screen time
Theatre: Watch your local theatres for reduced ticket pricing during March break. We bought $2 tickets to see Alvin and the Chipmunks: Chipwrecked. Even having a short outing can help to break up the day.
Church events: A local church near our home, whose facilities are in a theatre, offers free movie options each March break. They also offer $1 snacks. Our kids saw Dolphin Tale and had popcorn, chocolate, and a juice box for a grand total of $3/child. Watch for signage or community posts advertising these events.
If you want to see a more current movie in theatres, be sure to use those cereal box coupons.
Splurge a bit
The goal of this week was to keep 8 kids amused on a low budget, but we were also willing to do a few splurge events (considering how much others spend traveling – no guilt here). Our choices included:
Cooking School – $20 per child for 3 hours of cooking school for the oldest kids. You could easily do a home version of a cooking class, but this was a treat.
Gymnastics Program – $25 for 4 hours of indoor gymnastic fun for the younger kids. Our local Futures Gymnastics hosted these events. Many facilities offer special March break drop-ins.
Indoor Rock Climbing – $20 for 3 hours of rock climbing for the oldest kids — their favorite event of the week.
Restaurant – We rarely eat out, so this was special. We scheduled lunch out because it is much cheaper than dinner. Tucker's Marketplace charges 50 cents per year of your child's age (i.e. 5-year-olds eat for $2.50), which is cheaper than fast food. My mom and I ate for free because we both had birthdays that week.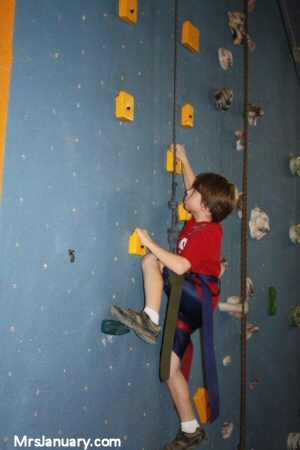 Local fun
Check local libraries to see what free events they offer during March break. Ours offers art classes, visiting reptiles, and puppet shows, to name a few. Check well in advance if they require pre-registration, or if you can drop-in.
Community centers usually have drop-in skate or swim times that will be budget-friendly, too. Maple syrup events are also running in March at most conservation areas.
We took advantage of the FREE Home Depot workshop last March break. The kid's built race cars with their dads. Call ahead for these events to see if you need to pre-register.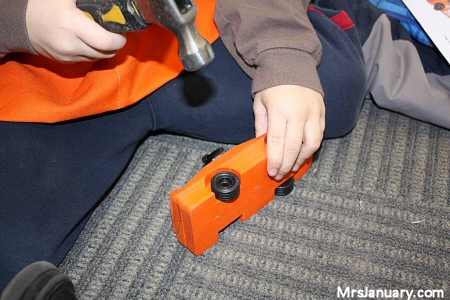 With a little creativity, each day of March break can be special. Depending on their ages, children can also be in charge of planning activities themselves (most kids love the freedom in this!). Have family fun, without over-scheduling. You really can create lifetime memories on a budget of any size.
What March break activities does your family enjoy?