The Definitive Guide to Mastercard Airport Experiences Provided by LoungeKey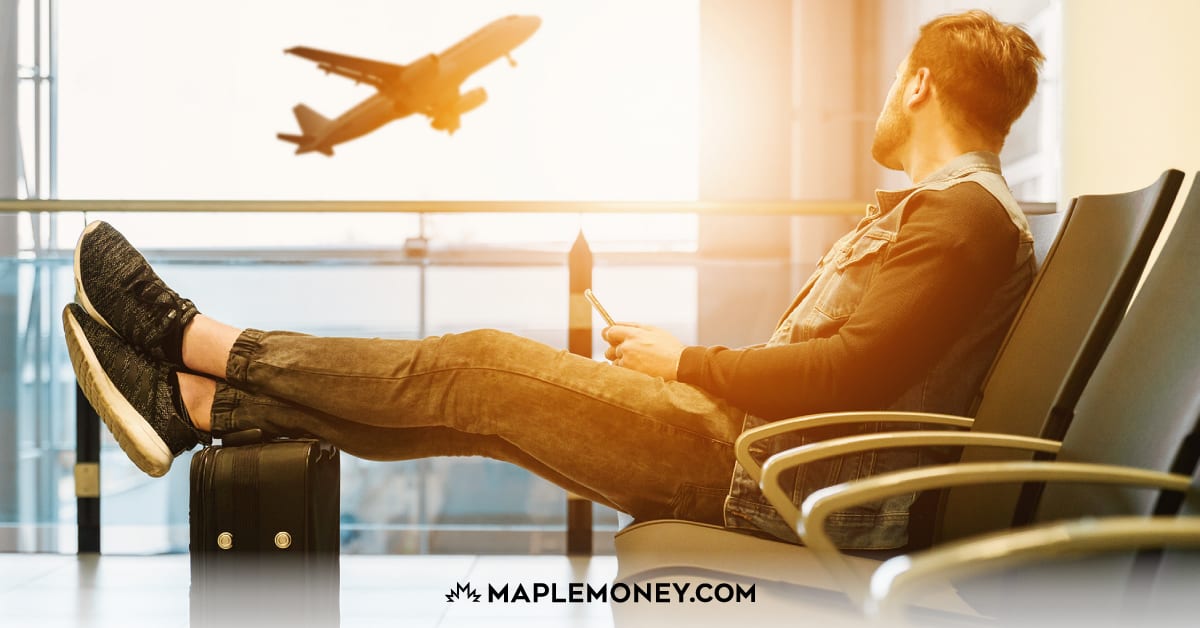 For frequent flyers, private airport lounges offer an oasis of sorts, the chance for some peace and quiet in the midst of a crowded airport. Over the years, these lounges have grown in popularity, with literally thousands now spread across airports around the globe.
What is LoungeKey?
LoungeKey is a program that allows access to over 1000 airport lounges worldwide, regardless of which airline you're flying, as long as you have an eligible credit card.
Unfortunately, for Canadians, not many credit card companies participate in the LoungeKey program. The partnership is limited to select Mastercard products, which is what makes the Mastercard Airport Experience so valuable.
Today, I'll cover everything you need to know about the Mastercard Airport Experience Program by LoungeKey, and let you know which credit card I use to access LoungeKey facilities when I'm travelling.
First, let's take a look at some of the benefits offered by an airport lounge.
What's Inside an Airport Lounge?
The services offered by an airport lounge vary, but the following perks are common to most locations:
space to stretch out and relax, with comfortable seating
complimentary snacks and drinks
full meal service and a choice of premium alcoholic beverages
free, secure WiFi, with docks to charge your phone or laptop
screens offering departure and arrival information
service staff to assist with travel related questions
washrooms, and in some lounges, shower facilities
Before visiting a lounge, I recommend checking out which services they offer as they can vary from lounge to lounge. It is also helpful to check their policies. For example, many lounges will set their own rules in regards to accommodating children or additional guests.
BMO and Mastercard Airport Experiences
BMO is the Canadian bank offering the most comprehensive access to the LoungeKey program.
These following five BMO Mastercards allow for LoungeKey access:
BMO World Elite Mastercard
BMO Cashback World Mastercard
BMO Cashback World Elite Mastercard
BMO Air Miles World Mastercard
BMO Air Miles World Elite Mastercard
A Quick Glance at the BMO World Elite Mastercard
As a perk with the BMO World Elite Mastercard, cardholders receive 4 complimentary LoungeKey passes annually. This alone is why I personally hold this card. If it's of interest to you, you can apply now, using my exclusive link.
Here's a quick glance at the other features offered by this premium BMO credit card:
Current offer of 35,000 welcome bonus points and the first year's $150 annual fee waived (a $250 value).
Limited time $100 bonus when you spend $100 on travel-related purchases within the first six months.
Complimentary membership in Mastercard Airport Experiences by LoungeKey, along with 4 annual passes. ($140 value)
3 BMO Rewards point for every dollar spent on travel, dining and entertainment.
2 points per dollar spent everywhere else.
Standard purchase interest rate of 19.99%, 22.99% for cash advances.
Minimum annual income of $80,000 ($150,000) household for eligibility.
In addition to the BMO World Elite, the BMO Air Miles World Elite Mastercard comes with 2 annual LoungeKey passes.
The three other BMO credit cards also allow for LoungeKey access, however you must pay the standard cost of $27/US for each visit.
BMO's Change from Priority Pass to LoungeKey
During 2018, BMO announced that they were moving over to LoungeKey, and away from Priority Pass.
For most BMO cardholders, this wasn't a major change. In fact, Priority Pass happens to be the parent company of LoungeKey.
One of the benefits of the new arrangement is that members now only need their Mastercard to visit a lounge. Previously, you had to carry a Priority Pass member card in addition to your credit card.
With LoungeKey, access is exclusive to Mastercard cardholders, whereas Priority Pass memberships were open to anyone. With LoungeKey, there is no affiliation to a particular airline, and you don't need to be travelling on a certain class of ticket, such as business or 1st class.
Other Mastercard Airport Experience Credit Cards
LoungeKey access is available to Westjet RBC World Elite cardholders, as well as the World Elite Mastercards offered by HSBC and Rogers.
While none of these cards offer complimentary passes, LoungeKey access is set at a reasonable $27/US per person/visit. Your Mastercard is charged when you arrive at the lounge, making access very convenient.
LoungeKey Discounts & Exclusive Offers
Mastercard Airport Experience members are eligible to receive discounts and exclusive offers from a variety of airport retailers.
To find out what's available, visit the Mastercard Airport Experiences website, or download their mobile app. Once there, you simply input the city or airport you'll be travelling to, and a list of available lounges will appear, along with any current offers or discounts.
For example, I tried this out on the website, by entering New York into the city field, and selecting JFK airport.
Not only were there numerous lounges available, but there were also offers of complimentary massages at spas located within the airport, and discounts of up to 10-15% at a number of retail shops.
The Mastercard Airport Experiences Mobile App
You can download the Mastercard Airport Experiences mobile app via Google Play or the iTunes App Store. The app allows you to search for information on any Mastercard Airport Experiences lounge in the world while checking out the available offers and discounts.
You'll also have the ability to manage your profile, browse through Frequently Asked Questions (FAQ's), and save top lounges to a favourites folder, making for easy recall anytime you travel.
iPhone users can save their access code into their Apple Wallet so that it's readily available when travelling. That said, you only need to present your Mastercard to gain access to any lounge.
When Does My LoungeKey Access Expire?
If you are an eligible Mastercard cardholder, your LoungeKey access will only end when you cancel your credit card, or your current card expires. When that happens, you would need to register your new card and expiry date on the website, and your membership would be reactivated.
Are Mastercard Airport Experiences Right for You?
Mastercard Airport Experiences by LoungeKey is a great way to access private airport lounges worldwide. The program gives travellers the chance to unwind during a long layover, regardless of which airline you're flying, or the class of ticket you're flying on.
For Canadians, LoungeKey access is as easy as qualifying for an eligible Mastercard product from BMO, RBC, HSBC, or Rogers.
For frequent travellers, the 4 complimentary passes offered annually with the BMO World Elite Mastercard are a very nice value, especially when you consider the other perks offered by the card.