Wealthica Review: Personal Capital for Canadians?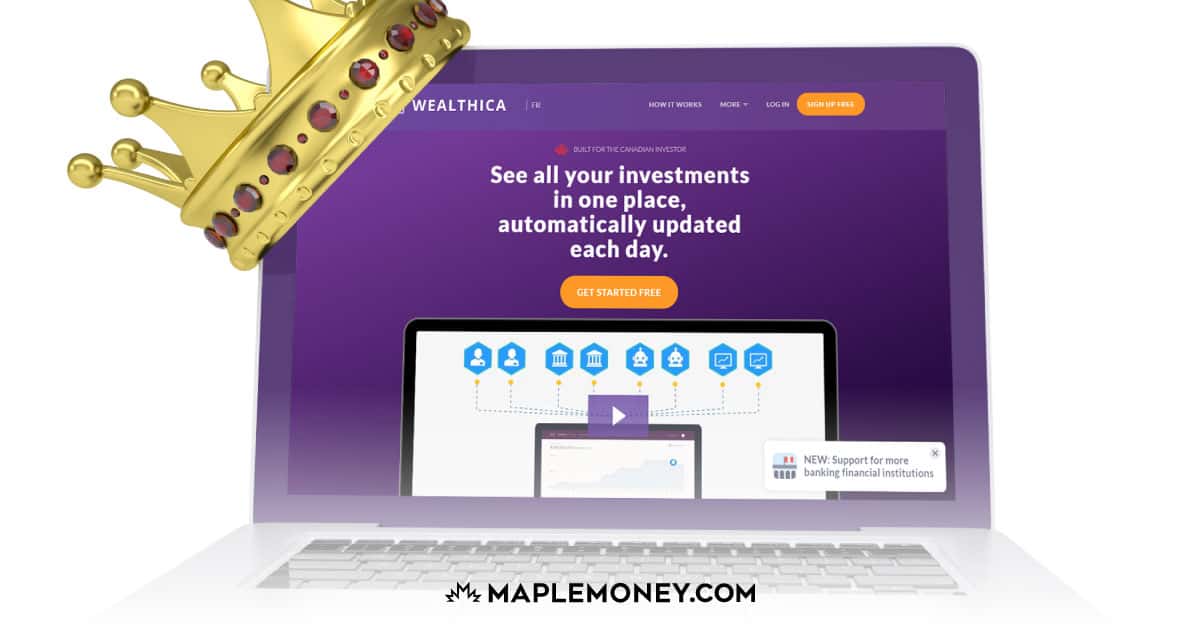 When it comes to your personal finances, one of the best ways to track your progress is by charting your net worth on a regular basis. To do this, you can spend time building a fancy Excel spreadsheet to accomplish the task, or you can look for an app that's designed to do the work for you. In the U.S., the Personal Capital app has been the go-to net worth tracker for a few years now, but it's not available in Canada. At least, not yet. In the meantime, where can Canadian investors turn for automated investment portfolio and net worth tracking? Enter Wealthica.
What Is Wealthica?
Wealthica is a Canadian company helping thousands of investors keep track of their accounts in one place. According to their website, Wealthica has partnered with more than 100 Canadian financial institutions to automatically connect your bank and investment accounts using their platform. In addition to account balances, daily transactions are updated automatically. Now you can see all of your investments in one place. In this Wealthica review I'll cover exactly how it works, the pros and cons, and who I feel Wealthica is best suited for.
How Wealthica Works?
If you are like most Canadians, you deal with more than one financial institution, which makes it difficult to capture your entire financial picture in a single snapshot. For example, you might hold your day to day accounts at one bank, your mortgage at another, and your investment portfolio somewhere else entirely. Wealthica helps by collecting all of your financial data and displaying it in one place. This way, you can get a handle on your money, and keep track one of the most important indicators of a person's financial health, your net worth.
Getting Started with Wealthica
Getting set up with Wealthica is surprisingly simple. As soon as you provide them with an email address and set up a secure password, you can begin connecting your bank accounts. This allows Wealthica to synchronize your account balances automatically, saving you time and effort. Wealthica connects to most major Canadian financial insitutions, but if yours doesn't appear on their list, no need to worry, you can input the information manually.
In addition to your bank accounts, there is a place where you can enter other assets, such as a primary or secondary residence, or a vehicle. You can also add liabilities like loans or credit cards.
I found the sign up process to be very quick. It only took a couple of minutes before my bank account balances were showing up on the Wealthica dashboard. From there, I was able to fill in the rest of my assets and liabilities.
Wealthica Add-Ons
If you're wondering how a free app like Wealthica makes money, one of the ways is through paid add-ons. Add-ons are widgets that improve the functionality of the overall application in various ways. Some of them are free to use, others cost money. While I haven't tried most of the add-ons, here's a list of just a few that are available.
Balance Sheet (Free)
Balance Sheet works exactly as it sounds, by providing a point in time snapshot of your overall net worth. I like that it breaks down your asset totals into different categories. It also displays assets and liabilities in a pie graph format, making it easy to visualize.
Income Report (Free)
This add-on totals up any investment income you've earned on a monthly basis, including dividend payments, interest income, and any other disbursements. I was surprised that Wealthica was able to pull all of this detail from the holdings in my discount brokerage account.
Fees Report (Free)
The fees report lists the fees you've paid on your accounts during over the past 30 days. This can be a real eye opener, and help to identify areas where you may need to make some changes in order to save money.
Google Sheets Export (Paid)
For $5.99/month, Wealthica will allow you to export your daily financial transactions to a Google Sheet, a nice feature for spreadsheet lovers. At over $60 annually, it might not be worth the cost, however.
Wealthscope (Paid)
For $15.95/month, or $99.95 when billed annually, the Wealthscope add-on provides a tonne of analytical capability to your financial data. Some of the advertised features include Portfolio Comparisons, Portfolio rebalancing and Retirement Planning.
CoinTracking (Free)
Wealthica even has something for bitcoin lovers. CoinTracking is a free add-on that allows you to keep track of your cryptocurrency accounts alongside your regular investment holdings. CoinTracking supports over 5,000 cryptocurrencies and can download your balances automatically from most of the popular exchanges.
Wealthica Pros & Cons
During my time spent using Wealthica so far, I've found a number of things I really like as well as a couple of drawbacks. Here is my list of Wealthica pros and cons:
Pros
It's free to use. While there are paid add-ons, the most important tools are 100% free.
It's fully encrypted. As with any online banking app, Wealthica uses the highest levels of security to keep your personal information safe.
Advisor sharing. You can provide your financial advisor with limited access to view your financial details.
Family Office. You can include family members in your data to capture net worth by household.
Free add-ons are useful. I particularly like the balance sheet add-on, which provides the perfect snapshot for your finances, complete with a visually appealing pie graph.
Cons
Some Liabilities must be added manually. From what I could see, Wealthica doesn't synchronize your mortgage balance, meaning that you must update it manually. It's not something I mind doing, but it could be a turn off for some people.
The add-ons add up. Wealthica offers advanced functionality, for a price. One such add-on, Wealthscope, adds various portfolio insights including investment fee tracking, rebalancing etc., but the price is steep, at $15.95/month. You need to decide if those extra bells and whistles are worth the price. As for me, I'll stick to the free tools.
Wealthica Mobile App
As with most fintech products, Wealthica offers a mobile app for download on both iPhone and Android devices. The user interface is very slick, allowing you to jump between the main dashboard view, your total holdings (assets), and recent transactions. Another screen splits up holdings between synced accounts, and manually tracked assets and liabilities. You can see the percentage changes in portfolio value over 7 days, 30 days, 90 days, 6 months, 12 months, you get the picture. I don't see a place to access any of the add-ons on the mobile app, but those are probably best viewed from your desktop either way.
Who Should Use Wealthica?
My overall thoughts on Wealthica are very positive. I'm used to tracking my net worth manually using a spreadsheet and while I'm not sure I'll ever give that up, I really like the ease and automation that Wealthica provides. Similar to Personal Capital in the US, I can see Wealthica being popular with thousands of Canadians who are looking for an effortless way to stay on top of their investments and financial accounts. You don't have to have a million dollars to benefit from Wealthica. In fact, the whole idea is being able to chart your progress as you move from point A to point B. Seeing your net worth grow a little bit each month will motivate you as you hit financial milestones. To get that capability free of charge is priceless.