Best Budget App: Eight Top Budgeting Tools for Canadians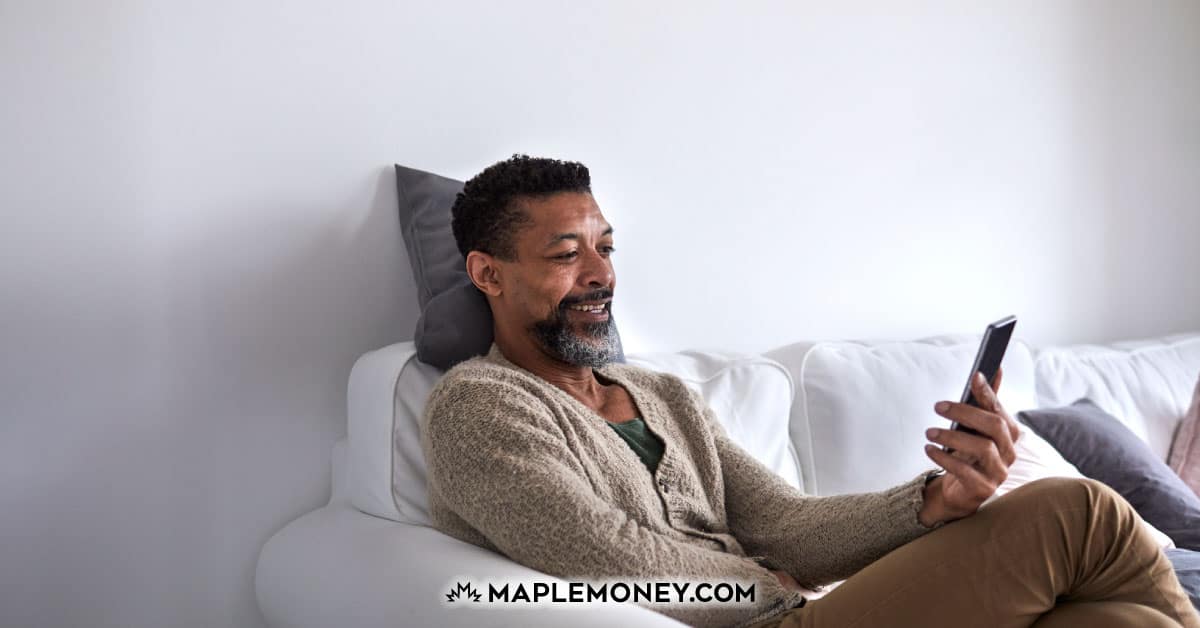 When it comes to budget apps, there are no shortage of options out there to help Canadians manage their spending. But with so many choices, it can be hard to decide which is the best budgeting app for you. To remove some of the guesswork, I've put together the following review. You'll notice that each one works a bit differently. Some you have to pay for, and others are free. But just because a budgeting app is free, doesn't mean it can't get the job done. Before we dive into the different apps that are out there, let's talk a bit about budgeting in general.
The Importance of Creating a Budget
Do you have a good handle on your money is going every month? If you're like a lot of people, you get paid every couple of weeks, and then you just kind of hope you make it until the next pay day. One of the biggest reasons (though not the only one) that people struggle to make ends meet, is that they have no strategy when it comes to their finances. If this sounds familiar, the good news is that there is a way to break the paycheque to paycheque cycle. The first step is to begin tracking your spending. Go back over your bank account statements for past 2 or 3 months, and figure out how much you're spending in different categories. Pay close attention to things like your daily coffee habit, expensive hobbies, or dining out.
From there, you need to create a spending plan for your money, otherwise known as a budget. No matter how much money you make, you risk spending more than you earn if you don't have a plan. This is why it's so important for almost everyone to budget on a regular basis.
How Budget Apps Can Help
Many people like to budget the old fashioned way, with a pen and paper, or by creating an Excel spreadsheet that they fill in manually each month. And there's nothing wrong with either of these methods. In recent years, however, advances in mobile technology have ushered in a wave of slick budgeting apps for your smartphone that take a lot of the work out of budgeting. Not only that, they provide additional features, everything from synchronizing your bank account info, paying you cash back when you spend, and helping you invest. So without further ado, let's take a look at some of the best budgeting apps available to Canadians.
You Need A Budget (YNAB)
You Need A Budget, also known as YNAB is an in-depth budgeting app that works on 4 key premises: Give Every Dollar a Job, Embrace Your True Expenses, Roll with the Punches, and Age Your Money. For example, when you give every dollar a job, you're being proactive with the money that's coming into your bank account. YNAB believes that you need to make a proactive, conscious decision for every dollar you budget, and their app is designed with this in mind.
YNAB is considered a premium app, so there is a cost to using it. Pricing is set at $11.99/month, or $84 per year when billed annually. They do offer the first 34 days free of charge, a nice feature that gives new users a risk free way to test the app before making a financial commitment. You may be wondering why someone would spend money on an app when their goal is to keep more of their money, but YNAB believes that the monthly fee will be well worth the price. In fact, they estimate that new budgeters save an average of $600 in the first two months of using YNAB, and over $6000 after the first year. That sounds pretty impressive.
YNAB Features:
$11.99/month or $84/year (billed annually)
34 day free trial
Ideal for hands on budgeters
Focus on user education
Roll with the Punches feature enables you adjust your budget to avoid overspending
Age Your Money feature teaches you to build an emergency fund
Who it's best suited for:
I'm a big fan of the YNAB approach to budgeting, but admittedly it's not for everyone. If you don't mind spending a few dollars each month for the benefit of being really involved with your budget, then I would give YNAB a shot. If you're looking for a free app, or one that does all of the heavy lifting for you, I recommend you look elsewhere.
Mint
Mint may be the most recognizable name in budget apps, boasting more than 20 million users in Canada and the U.S. That they've been around for a long time is proof that their approach to budgeting works. For starters, the app is free to use. Mint connects to all of your bank accounts, as well as loans and investments, and can update transactions in real time, giving users the most up to date information possible. It picks up on your habits pretty quickly too, by calculating your average spending amount in different categories. Another thing to like about Mint – they provide you with access to your credit score for free. That's a nice feature as it saves you from having to set up a separate app solely for that purpose, such as Credit Karma or Borrowell.
Mint Canada Features:
Free budgeting app
Syncs with all of your accounts, connects to all major Canadian financial institutions
Updates transactions and account balances in real time
Displays credit score for free
Customized budgeting tools help you find additional savings
Who it's best suited for:
One of the best overall budgeting apps, Mint will appeal to someone who is looking for a "set it and forget it" approach to budgeting via a free app. The additional features such as credit score reporting and helpful tips is a bonus.
PocketSmith
The first thing I noticed about PocketSmith was their pricing model. They offer 3 separate budgeting plans, ranging from basic, which is free, all the way up to $19.95 per month ($14.16 when paid annually) for their full-featured Super plan. The mid range option is called Premium, at $9.95 per month. The Basic plan is meant for "the casual budgeter", and it may be enough for most users. It offers manual imports only, but it allows for 12 budgets, 2 accounts, and 6 months worth of projections. The Premium plan introduces automatic synchronization of bank transactions as well as an unlimited number of budgets. Lastly, the Super plan adds unlimited accounts and 30 years projection. You may be wondering why a projection 30 years into the future would be important. PocketSmith allows you to see into the future, and can help you with things like retirement planning based on your current cash flows. That's what makes this budgeting app unique. Is that functionality worth $19.95/month? You'll have to decide.
PocketSmith Features:
3-tiered pricing, Free/$9.95/$19.95 (discount available with annual billing)
Track future scenarios with PocketSmith's cash flow projections
Data sync with most financial institutions
Ideal for anyone looking for future planning ie. retirement
Free download on iPhone or Android device, or web browser
Who it's best suited for:
PocketSmith is the ideal budgeting tool for anyone who wants to add some long term planning capability to their budget. Of course, if you need a spending tracker, it does that too.
Mylo
The Mylo App is different from other budgeting apps in that it's designed to manage your investments, rather than track your overall spending. If you're looking for the easiest possible way to save money, Mylo has got you covered. I signed up for Mylo a while back to test it out, and liked it so much, I decided to stick with it. Mylo uses an interesting concept called round up savings. When you open an account, Mylo syncs to your favourite debit and/or credit cards. Every time you spend, your purchase amount is rounded up to the nearest dollar, and the excess amount goes into your Mylo account. Transfers to Mylo are made once per week. Mylo gives you the ability to set specific savings goals. You also have the choice of investing in a variety of customized ETF investment portfolios, according to your investment profile. You can withdraw from your Mylo account at anytime, and funds will be transferred back to your bank account within a day or two.
Mylo Features
Investing app using round up savings
Funds are invested in customized ETF portolios
Ability to set multiple savings goals, Mylo tracks your progress
Free withdrawals at anytime
$3 monthly administration fee
Available for download on iPhone and Android devices
Who it's best suited for:
Mylo is perfect for students and new investors who are looking for an easy way to save towards purchase goals or build an emergency fund. Using the round up savings method, you don't have to give a second thought to saving once your account is set up. Simply spend as you normally would, and your Mylo account balance grows and grows. The customized ETF portfolios provide users with a perfect introduction into low-cost investing solutions.
Wallet
Wallet is available for download on the Google Play or Apple App Store. It has a free version with manual imports, but if you want to automatically sync your bank account, you'll need to upgrade to the paid version. The app appears user friendly, with plenty of visually appealing graphics and pie charts. With the Wallet app, you also have the ability to share your budget with family members, a nice feature.
Wallet Features:
Free and paid versions available ($4.99/month)
Automatic syncing of bank accounts
Automatic cash flow tracking
Available for iPhone and Android devices
Spendee
Similar to Wallet, Spendee offers both a free and paid version. As with most budgeting apps, you can synchronize your financial accounts as well as your transactions. It also lets you input transactions manually, which comes in handy if you're purchasing something with cash, for example. Spendee is available for both iPhone and Android users, and boasts a slick user interface with no shortage of coloured charts and graphs. There are two price points for the paid version of Spendee, but both are very reasonable – $1.99 and $2.99 per year, with discounts if you choose annual billing.
Spendee Features:
Automated home budget app
Free and paid versions available ($1.99/$2.99 per month)
7-day free trial
Unlimited number of budgets (paid versions)
Available for iPhone and Android users
PocketGuard
PocketGuard stands out in as a free app with a few clever features. For example, an "In My Pocket" feature lets you know how much you have left to spend after all of your bills are paid. It also has plenty of tips and advice as your track your spending. Like most of the other apps featured here, it connects to your bank accounts for automatic syncing of balances and transactions. PocketGuard is available for both iPhone and Android devices.
PocketGuard Features:
Free app
iPhone and Android capable
Unique cashflow feature lets you know how much you have left over
Create custom categories and receive personalized reports
Automatic savings feature with Autosave
Wally
Wally is the final entry on our list of best budget apps. Much like PocketGuard, it's another free app with simple, yet useful functionality. It automatically syncs all of your financial accounts, with regular updates. A couple of features I really like about Wally: it keeps track of due dates in a helpful, calendar format, so you can make sure you never miss a payment date again. It also lets you upload bills, receipts, and warranties directly into the app so that you'll always have them close by. Of note, it appears to only be available on iPhone. I didn't see an option for an Android download on the site.
Wally App Features:
Free budgeting app
Available for iPhone download
Automatic syncing to bank and credit card accounts
Due dates can be scheduled chronologically in a calendar format
Upload bills, receipts, warranties for safekeeping
Ability to create reminders and to do lists
Final Word on the Best Budget Apps
There you have it, eight of the best budgeting tools available to Canadians today. Personally, I'm a big fan of YNAB and Mint for overall budgeting, and Mylo as a clever investment app that will have you saving in no time. If all you need is something very simple to keep track of your accounts, any of the free budgeting apps are more than capable. For those on the fence about budgeting, remember this – the best way to stick to your budget is to start one.