Best Canadian Utility Stocks: Invest in Electricity, Natural Gas, and Water Companies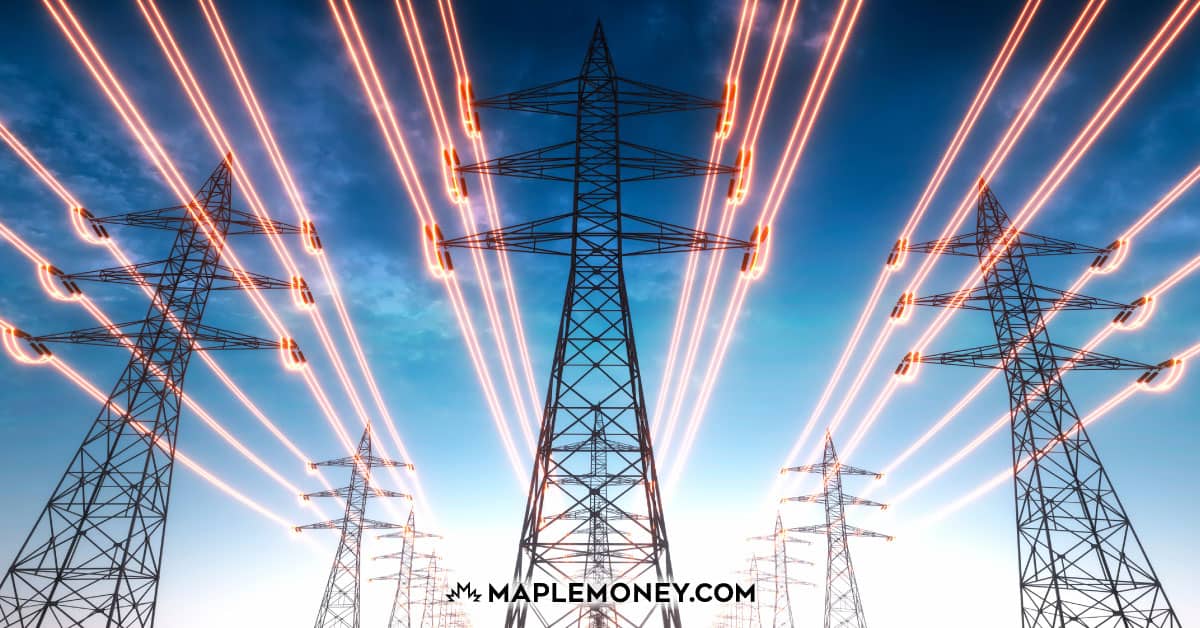 While tech stocks like Apple, Meta, and Tesla get the most attention, thousands of Canadians rely on steady performers in other sectors to generate returns and dividend growth. For years, Canadian utility stocks have been doing just that. If you're unfamiliar with the industry, or how utility companies work, I've got you covered. This article will explain some industry basics and let you know my top five dividend-paying utility stocks at the moment.
What Are Utility Stocks?
Companies in the utility sector are involved with power generation. They serve millions of customers in Canada and abroad by generating and distributing electricity, natural gas, and clean water through non-renewable and renewable sources. However, most leading electric utilities have an increasing focus on the latter.
When you purchase a utility sector stock, you're investing in an essential service capable of generating revenues in just about any economic environment. Let's look at what you can expect when owning a utility stock.
Characteristics of a Canadian Utility Stock
Before adding a utility stock to your portfolio, you must understand the characteristics of the industry and the stock you're buying to ensure that it fits with your overall investment strategy. For example, if you're an aggressive growth investor and your primary objective is capital appreciation, you're unlikely to achieve your goals with a heavily weighted portfolio. However, here is what you can expect:
Modest Capital Growth: If you seek to maximize capital growth, stick with Apple or Tesla. The utility sector is a mature and highly regulated industry. These factors limit the potential for capital growth. It doesn't mean the industry isn't profitable, however, as investors can expect steady earnings and modest capital appreciation, year after year.
Dividend Growth: Like Canadian bank stocks, utility stocks have a track record of paying dividends. If you're looking for high-quality dividend stocks, there are several to choose from in this sector, beginning with our top five below.
High Market Capitalization: Utility companies are big, mature companies with billions of dollars invested in hydroelectric assets worldwide. As such, the public perceives them to be very valuable, as evidenced by their high market capitalization. For example, all of the companies in our top five have market caps above $10B.
Recession-Proof: Because energy is required by everyone in society regardless of how the economy is performing, utilities tend to do well irrespective of macroeconomic conditions. This makes them ideal for a defensive investment strategy as a hedge against a potential recession.
Highly Regulated: Because utilities offer a public service, many are closely regulated by the local governments in their business jurisdictions. The more regulation, the less independence a company tends to have, which is both good and bad. A government that depends on your survival can almost guarantee you against failure. On the flip side, high regulation can limit a company's growth potential because it must balance profits with the public interest.
5 Best Canadian Utility Stocks
1. Fortis
Symbol: FTS
Exchange: TSX
Market Cap: $29.79B
P/E Ratio: 24.02
Dividend Yield: 3.41%
Summary: With headquarters in St.John's, Newfoundland, Fortis is a Canadian-based regulated electric and gas utility holding company. They do business in several regions across Canada, the US, and the Caribbean, with three hydroelectric generation facilities in Belize. Fortis trades on the TSX under the symbol, FTS.TO. They've increased their dividend for more than 40 years as a Dividend Aristocrat, an impressive streak. Investors benefit from stong cash flow and consistent, predictable returns because they are a utility company.
2. Algonquin Power & Utilities Corp.
Symbol: AQN
Exchange: TSX
Market Cap: $13.2B
P/E Ratio: 39.4
Dividend Yield: 4.37%
Summary: Algonquin Power & Utilities Corp. makes our list due to its increasing focus on renewable energy. It also doesn't hurt that their dividend yield of 4.37% has increased for over a decade. The company is headquartered in Oakville, Ontario, and is comprised of two business groups – the Regulated Services Group and the Renewable Energy Group. It facilitates the generation, transmission, and distribution of renewable energy through wind, solar, and hydroelectric generating facilities. Most of Algonquin's assets are located in North America, but it also does business in three other continents.
Algonquin Power has an attractive dividend, currently paying a 4.37% yield. Like Fortis, Algonquin Power is a Dividend Aristocrat. For a company to be considered an aristocrat, it must be listed on the TSX, be a member of the S&P BMI, have a market cap of at least $300 million, and have increased its dividend payout for five consecutive years.
3. Brookfield Renewable Partners
Symbol: BEPC
Exchange: TSX
Market Cap: 15.7B
P/E Ratio: 16.5
Dividend Yield: 2.99%
Summary: Like Algonquin Power, Brookfield Renewable Partners invests heavily in renewable energy. More than 60% of their portfolio involves hydroelectric power, but they also invest in wind, solar, and storage facilities in North and South America, Europe, and Asia.
The company is in a solid financial position with the ability to generate revenue from diverse sources. The dividend yield is currently 2.99% and has increased steadily for more than ten years. Brookfield is a top choice if you're looking for a Canadian publicly traded utility stock with global exposure and a solid renewable portfolio.
4. Hydro One
Symbol: H
Exchange: TSX
Market Cap: $20.5B
P/E Ratio: 21.3
Dividend Yield: 3.11%
Summary: Don't be deceived because Hydro One is limited primarily to the Ontario market. It's one of Canada's largest utility companies, operates 98% of the high voltage transmission grid throughout Ontario, and serves more than 1.4 million customers.
When you throw in the fact that the provincial government is highly reliant on the electric utility company to support its energy infrastructure, you can see why it's one of the more attractive utility stocks to own. Investors shouldn't expect high capital growth rates but relatively solid and predictable results with an excellent dividend yield.
5. Emera
Symbol: EMA
Exchange: TSX
Market Cap: $16.5B
P/E Ratio: 31.9
Dividend Yield: 4.21%
Summary: Halifax-based Emera Incorporated operates cost-of-service rate-regulated electric and gas utilities in Canada, the US, and the Caribbean. Its portfolio comprises primarily electricity generation, transmission and distribution, and gas transmission and distribution.
It makes our list of top utility stocks due to its size ($30B+ in assets), international reach, consistent profits, and an attractive dividend yield of 4.21%. It is a Canadian Dividend Aristocrat.
Utility Stock FAQs
What Are Utility Stocks?
When you purchase utility stocks, you are investing in Canadian companies that provide electricity, natural gas, and water to Canadians and millions of people around the globe. Most of the utilities on our list have holdings in several continents. Because utilities are a public service, they are highly regulated by the government in their jurisdictions.
Are Utilities a Good Investment?
Utilities are an excellent investment for the right investor. If your primary objective is capital growth, there are better options. However, dividend investors love utilities for their good dividend income and stable revenue growth.
Do Utilities Do Well In a Recession?
Utilities tend to perform well during periods of recession because of the nature of their services. Regardless of the economic environment, people will still need electricity, heat for their homes, and clean water to drink. Canadian utilities can be a great way to diversify a portfolio that may otherwise be at risk of underperforming during a recession.
Are Utility Stocks Safe?
While no stocks, including dividend stocks, are guaranteed, the consistent revenues and dividend increases make utilities one of the more stable industry sectors. With any stock market investment, you should have a medium to long-term mindset and have the ability to sustain short-term losses.
Final Thoughts on the Best Canadian Utility Stocks
There you have it, my list of the best Canadian utility stocks. A couple of them also made my list of top renewable energy stocks. These companies are suitable for investors who value stable earnings and long-term dividend growth. However, before you buy any stock, ensure that you've done the proper research and that it fits within your asset allocation and overall investment strategy. If you need to, speak with an investment professional before making a final decision.