Best Canadian Real Estate Apps for 2023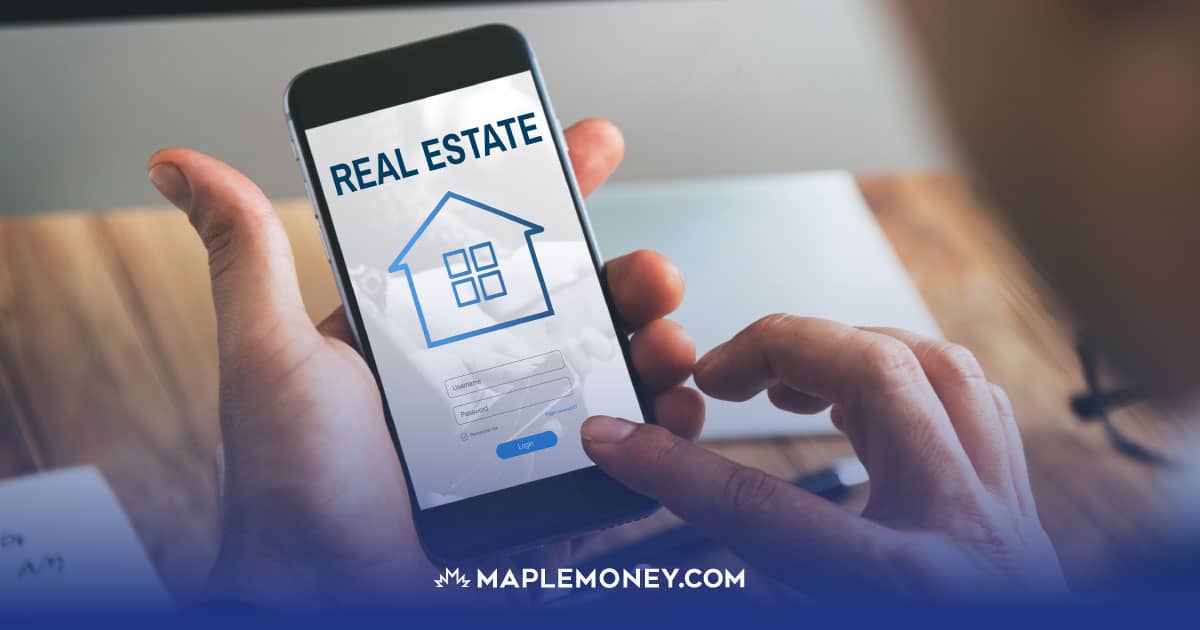 Thinking about buying a home? Before contacting a local real estate agent, it's important to get a feel for the real estate market and what might be available in your price range. Buying a home is a complicated process, so you want to go in prepared. That's where real estate apps come in.
Best Real Estate Apps in Canada
Below are 17 of the best real estate apps in Canada. While they aren't in ranked order, I have separated the apps into three categories:
Best Real Estate Listing Apps
Best Homebuying Tools
Best Mortgage Calculators
Real Estate Listing Apps
Real estate listing apps are online marketplaces where you can access Canada-wide property listings. All the apps on our list feature powerful search engines and advanced filters to customize your search.
1. Zolo
Zolo is one of Canada's most popular real estate apps, with over 10 million monthly users. You can use Zolo to search for properties to buy or rent. Listings are updated every 15 minutes, so you know you're getting the latest search results.
Zolo has a clean website that's free of clutter. But that doesn't mean that it's lacking in search tools or filters. You can search using a Map or Gallery view, and filter by price, number of bedrooms, bathrooms, square footage, home type, and more. You can even pull up active open-house listings.
Zoocasa pulls its data from Realtor MLS listings. One downside, Zolo can't display listings in Winnipeg or the Province of Quebec due to licensing restrictions.
2. Zoocasa
Like Zolo, Zoocasa is a user-friendly app that makes it easy to search for homes to buy or rent. Their search engine has several different filters. I like that you can narrow your search by choosing the key amenities you're looking for in a property, i.e., garage, pool, fireplace, waterfront. You can also switch between a map or a list view.
Another nice feature is the ability to browse new construction listings. Unfortunately, many of those properties only have an estimated list price, e.g., High 500's, High 600's. The Zoocasa blog is a great resource, with plenty of market insights on different cities and regions across Canada, real estate and mortgage news, free guides, and infographics.
3. Zillow Canada
Zillow is a US-based real estate marketplace that was founded in 2006 by the founders of Expedia and Hotwire.com. In 2019, the company expanded into Canada. Their homepage features a split screen that allows you to use the map and list views simultaneously. Their search engine is easy to use and has plenty of filter options. You can search for properties for sale or rent by price, the number of bedrooms or bathrooms, type of home, amenities, etc.
Zillow also offers a real estate agent directory, so you can easily search for an agent in your area. In addition to their contact information, you can browse through customer reviews for each agent and view their current listings.
4. Realtor.ca
Many Canadians will be familiar with Realtor.ca, one of Canada's longest-standing online real estate marketplaces and the official app of the Canadian Real Estate Association. You can download the mobile app for your iOS or Android device or use the desktop version of the app.
The biggest strength of Realtor.ca is the number of listings; you can find up-to-date listings of residential and commercial properties across Canada. On the downside, I'm not a big fan of their app (desktop or mobile version), as it's a bit clunky and dated compared to some of the other real estate apps on our list. Still, it's a great place to start your search for a new home.
5. HouseSigma
HouseSigma is a real estate marketplace similar to Zolo or Realtor.ca, but with a twist. HouseSigma has an AI-powered home valuation tool that allows you to input an address and some basic information about a house, and within seconds, HouseSigma will assign an automated home valuation. You'll be given a range with a low, mid, and high value.
This is perfect if you're selling your house and want to know how much you might be able to list it for or if you're wanting to find values on comparable homes in your neighbourhood. It's also a handy tool for real estate agents.
6. AroundMe
AroundMe isn't a real estate app, per se, but it can be very useful to prospective renters and homebuyers, as well as sellers and landlords. AboutMe lets you know where the nearest restaurants, banks, gas stations, movie theatres, etc., are located, no matter where you are. If you are considering renting or buying in a specific neighbourhood, you can use AroundMe to find out what amenities are located nearby – information you won't usually find in real estate listings or from real estate agents.
You can use AroundMe in many areas around the globe, and the app is available in the following languages: English, German, French, Spanish, Italian, Japanese, and Chinese. AroundMe is available for download on iOS or Android devices.
7. Walk Score
Walk Score is a real estate app on a mission to promote walkable neighbourhoods. According to Walk Score, "walkable neighbourhoods are one of the simplest and best solutions for the environment, our health, and our economy."
They assign a Walk Score to various communities and neighbourhoods across Canada. For example, I pulled up Toronto. Walk Score gives Canada's largest city a Walk Score of 61 (out of 100), a Transit Score of 78, and a Bike Score of 61. It highlighted specific neighbourhoods within Toronto, such as the Bay Street Corridor and Kensington-Chinatown, assigning them specific walk, transit, and bike scores.
If you're looking for a new home and walkability is important to you, you need to check out Walk Score. You never know; maybe every real estate listing will include a walk, transit, and bike score someday.
8. Google Maps
Almost everyone is familiar with Google Maps. And while it's not a real estate marketplace, it's a wonderful way to research different neighbourhoods and locations you're considering moving to. You can even use Google Street View to zoom into a particular address or street and take a look around, move through the neighbourhood, and get a lay of the land. And because it's Google, you know the app is going to be top-notch, whether you're using the desktop or mobile version.
Best Homebuying Tools
The following real estate apps aren't designed to help you find your next house, but they can make things much easier when you do. These real estate tools help with everything from interior design and remodelling to moving to understanding real estate terminology and hiring a handyman.
9. Houzz
Houzz Canada may be the most inspirational app on our list. Houzz helps homeowners bring their design ideas to life when planning a renovation or remodel. You can browse through and save thousands of interior design pictures, connect with professionals, and locate and purchase products for your home right from the Houzz website.
Need to consult with an interior designer or bathroom remodeler in your area? Let Houzz know the type of help you need, and they'll connect you with people who can do the job.
A couple of drawbacks – Houzz is an American website, so while they operate in Canada, their product listings are English only, and all prices are listed in USD.
10. Sortly
Sortly is a fantastic tool that can make life much easier for you when you move. It's an inventory management app that helps you keep track of your things once you've packed them into boxes.
Here's how it works. As you put items into boxes, you can take a picture of them with the Sortly app. Sortly lets you print barcodes that you can place on the boxes. When you arrive at your destination, use the Sortly app to scan the barcodes on each box, and the app will bring up the list of items (and images) of everything contained in the box.
11. Magicplan
Magicplan is a powerful tool that realtors can use with prospective homebuyers. The app uses your phone camera to create detailed floor plans so that you can conceptualize different design ideas for a home. It can auto-detect doors and windows and account for 3D objects, like kitchen cabinets. Magicplan is a paid app, but you can try it out for free first to decide if it's worth paying for.
12. Real Estate Dictionary
Real Estate Dictionary is a free app for your iPhone or iPad device. It gives users access to thousands of real estate definitions from industry-leading publishers. You'll find information about mortgages, property law, closing costs, down payments, taxes, etc.
If you're a homebuyer trying to navigate the tricky jargon your mortgage advisor and real estate agent are using, this tool can come in handy. One drawback, it's a US-based app. While many real estate terms are the same in Canada as they are in the U.S., some terminology won't apply to Canadians.
13. Jiffy
Jiffy is an app that connects real estate agents, property managers, and landlords to certified professionals who can help them maintain their properties. You can find professional help in many areas, including appliance installation & repair, carpet & upholstery cleaning, heating & cooling, locksmithing, and pest control. Unfortunately, the US-based app is only available to Canadians living in Toronto and Ottawa.
Best Mortgage Calculators
Early on in the process, every prospective homebuyer needs to do some number crunching to determine what their mortgage payment will be and how much house they can actually afford. The earlier you know this, the better. The last thing you want is to begin house hunting only to realize you can't afford the properties you're looking at.
Here are some of the best online mortgage calculators to help you estimate your mortgage payments.
14. CMHC Homebuying Calculators
Trying to figure out how much money you can afford? Do you want to compare mortgage payments for different interest rates and amortization? Canada Mortgage and Housing Corporation (CMHC) has you covered. They have three self-serve calculators on their website: a mortgage calculator, an affordability calculator, and a debt service calculator.
The mortgage calculator lets you determine your payment using different down payment amounts and interest rates.
If you have a mortgage or rent payment in mind and want to know if it's affordable for you, you can use the affordability calculator, which factors in your other monthly expenses.
And the debt service calculator helps you determine your gross debt service ratio using the same criteria banks and credit unions use when assessing mortgage applications. You can check out CMHC homebuying calculators here.
15. Government of Canada Mortgage Calculator
The Canadian government has several free financial tools and calculators on its website, including budget planners, a credit card comparison tool, a mortgage qualifier tool, and a mortgage calculator.
The mortgage calculator will not only help you calculate your mortgage payments, it lets you include prepayments into the mortgage calculator so you can see the impact of applying additional payments to your mortgage.
16. Canadian Mortgage App
The Candian Mortgage App has been downloaded over 800,000 times and is available on the iOS App Store and Google Play. Find out how much mortgage you can afford, and compare the best interest rates. Canadian Mortgage App also offers services to mortgage professionals, including calculators they can embed on their websites for visitors to use.
17. TD Canada Trust Mortgage Calculator
All of the big Canadian banks include loan and mortgage calculators available on their websites. They are all similar, so your best bet is to head to your own bank's website and pull up their mortgage payment calculator. As an example, I've included TD Bank's mortgage calculator here. In addition to its mortgage payment calculator, TD offers mortgage affordability and down payment calculators.
Is There a Best Real Estate App?
The best real estate apps are the ones you're most comfortable using. By creating the above list, I aimed to put several of the top apps at your fingertips, so you can try out different ones and decide what works best. The most important thing is to be well-prepared before you begin the home-buying process.