Easy Ways to Save on Black Friday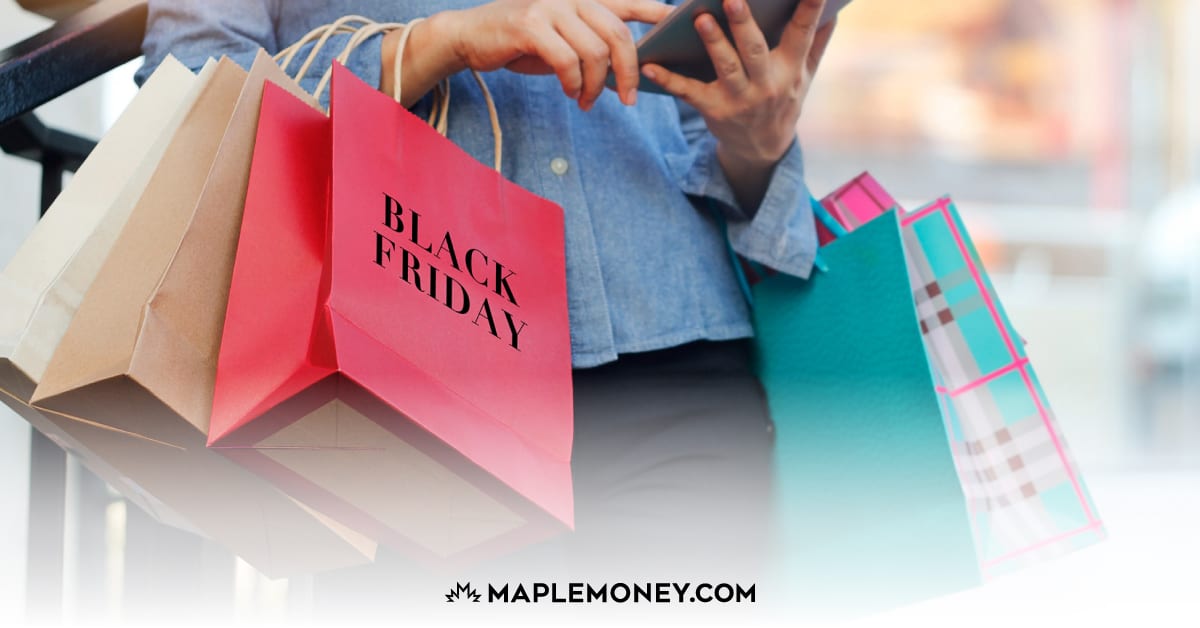 It's beginning to look a lot like the shopping season! Before you start scanning the flyers and planning where you want to camp out for the best deals, take a look at MapleMoney's guide to get the best bang for your buck on Black Friday.
The Origins of Black Friday
It's a term we use each year, yet most of us have no idea of its origins. The first 'Black Friday' was not a shopping free for all, but it did mark a historic loss of money.
The term came from the crash of the U.S. gold market on September 24th, 1869. The crash resulted from the greed of two ruthless Wall Street financiers who thought they could buy as much of the nation's gold as they could in an attempt to sell it for an inflated price. Instead, they ended up bankrupting everyone from their colleagues to simple farmers.
Black Friday Retail Reinvention
The retail world took hold of the term 'Black Friday' in the 1980s. While many believe the term symbolizes how the sale event moves retail stores from 'the red' to the black', it originated on a day when Philadelphia police required additional manpower due to an annual Army vs. Navy football game.
Black Friday in Canada
In previous years, many Canadians would cross the border to save big on Black Friday deals, causing Canadian retailers to take notice. In 2001, Canadian retailers started hosting 'Black Friday' deals and have since expanded to host week-long sales ending with 'Cyber Monday', which features the best online shopping deals. For 2020, Black Friday falls on November 27th.
Where to Find the Best Black Friday Deals
Each year, retailers continually update their Black Friday deals in the lead up to the big day. If you're shopping in-store, big-box retailers such as Walmart, Toys R Us, and Best Buy will post their flyers online so you can preview the sale. Of course, most traditional retail stores offer online shopping. Here are just a few Canadian retailers who are already advertising for Black Friday:
Other Places to Shop Online for Black Friday Deals
In addition to the stores listed above, the following websites point you to the best deals at hundreds of stores. Unless you're looking for something specific, this can be a great place to start your Black Friday shopping.
Earn Cashback When Shopping for Black Friday Deals
Did you know? There are several cash back websites and apps that let you earn rewards when you shop on Black Friday. Some, like Rakuten, reward you with cash back when you link to your favourite stores directly from their website. Others, like Drop, use an app that syncs to your debit and credit cards. Whenever you shop, Drop picks up the transaction and rewards you accordingly. Here is a list of some of the top cash back websites in Canada:
How to Save More When You Spend
Black Friday is a great way to do your holiday shopping for less if done right. Buying unnecessary items, you don't need or overpaying on a product can happen if you don't do your due diligence.
Make a list of items you need to purchase and stick to it
Preview the Black Friday flyers and compare prices
Prioritize your shopping. Is there an item that is worth lining up for? What store is offering the best deals?
Compare in-store and online prices. You can save yourself a trip to the store by setting the alarm to hit the midnight sales.
Do you need it?
Just because a store has an item on sale does not mean that you need to buy it. Don't mistake a great price for a great buy. I recommend making a list of what you need, to finish your holiday shopping and stick to it. Trust me, your bank account will thank you,
Is that Black Friday deal too good to be true?
Ask yourself if the deal is too good to be true. Sometimes an electronic is being offered at a rock bottom price because it is not of good quality. Buying a quality product over one with a tempting price tag will save you money in the long run.
Will it be cheaper later?
When shopping for Black Friday deals, ask yourself; is this the lowest price? If you don't actually need the item to finish your holiday shopping, you'll save money by waiting for a lower price. Seasonal items, for example, often go on clearance after the holidays. Some items will be a better price on Boxing Day. Practicing a little patience could pay off big time.
Cross-Border Black Friday Shopping
The main reason Black Friday sales began in Canada was to discourage sale-seeking Canadians from crossing the border, but is it still worth the trip? Before making the drive to Buffalo, Detroit, Grand Forks, or Seattle to take advantage of big sales, here are some things you should con
Do you want to deal with the crowds?
Shopping on Black Friday can mean big crowds. Are you planning to camp out for one big-ticket item? Each year the news is flooded with images showing crowds of shoppers (sometimes turning violent) trying to snag the best deals. Is this situation worth the savings?
The Cost of Travelling on Black Friday
In order to make the trip worth the cost, you may need to do all your holiday shopping over the border. In order to qualify for $800 in duty-free merchandise, you need to stay in the US for 48 hours. Consider the cost of gas, hotels, and food for 48 hours to decide whether it is worth the trip.
Final Thoughts on Black Friday Shopping
Due to the COVID-19 pandemic, Canadians won't have the option of crossing the border to do their Black Friday shopping in 2020. Fortunately, you can similar deals by shopping online, either through Amazon or many of your favourite stores. Make sure you check out sites like Rakuten to see if you can earn cashback, and browse through the Black Friday flyers on the various deal websites listed above.
In the end, Black Friday sales can be a great way to save some money on your holiday shopping. Just remember to follow my tips to avoid overspending and check back often for more money-saving tips!