Costco Canada Return Policy: A Friendly Guide for Shoppers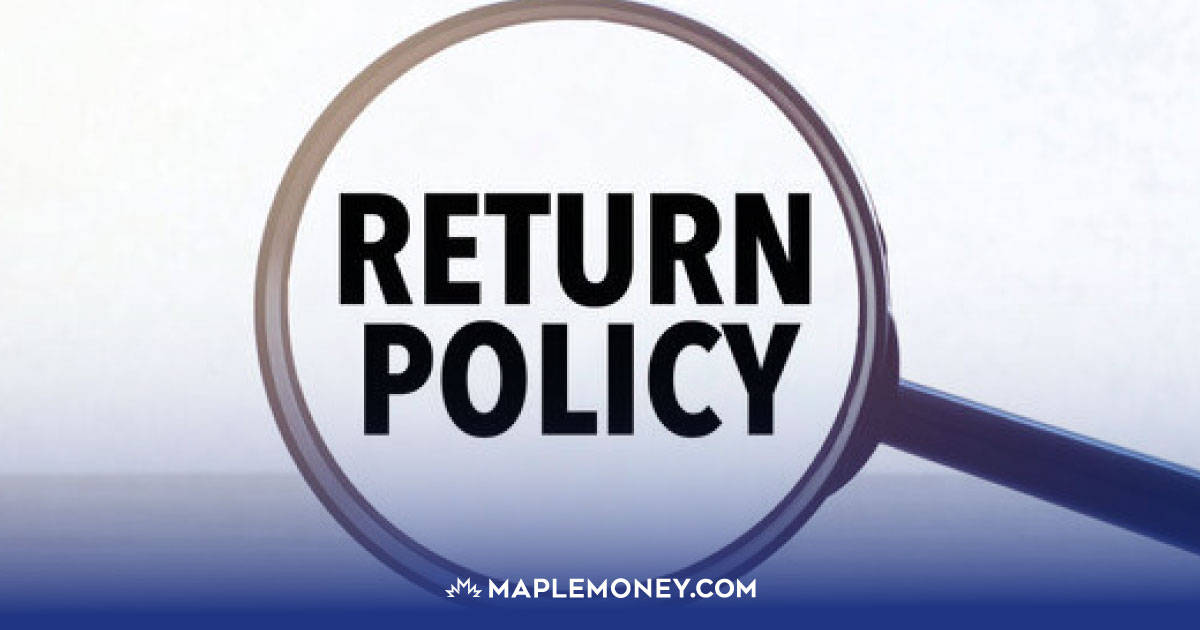 Costco is known for its wide range of bulk-size products and exceptional prices. However, one aspect that truly sets the company apart from its competitors is its return policy, which is one of the most flexible in the retail industry.
But how does Costco's return policy work, and are there any restrictions?
In this article, we'll take a closer look at Costco Canada's return policy, how it works for online purchases, and your options for membership refunds.
What Is Costco Canada's Return Policy?
Costco is known to have one of the most flexible return policies of any retailer. On the Customer Service page of Costco's website, they refer to their risk-free 100% satisfaction guarantee.
Costco employees will cancel and refund your membership fee at any time if you are dissatisfied. And regarding merchandise, they also guarantee your satisfaction and agree to refund your purchase price when you return an item, with some exceptions.
Costco Canada will also accommodate you even if you don't have your receipt, and you can still return most items. However, remember that having your original receipt might make the process smoother.
Costco doesn't publish any deadline for returns (aside from certain exceptions), which is a testament to the company's flexibility. Costco will watch out for members who may try to abuse the privilege.
Now, let's take a closer look at some of the exceptions to Costco Canada's return policy.
Costco Return Policy For Electronics
For electronics, you have 90 days from the day you receive them to return them to a Costco location for a full refund. Remember to keep your receipt and any original packaging for a hassle-free return. Return details for Cellular phones will vary depending on the carrier service contract. Here is a list of some of the electronic items that are included in this policy:
Computers
Tablets
Smart Watches
Televisions
Cameras
Drones
Camcorders
Mp3 players
Costco's Return Policy For Major Appliances
Costco's return policy for major appliances is also 90 days. However, if you're dissatisfied with a major appliance, such as a refrigerator or washing machine, Costco will attempt to resolve any issues. Costco has a Concierge Service available to help members with technical support and manufacturer's warranty details for most of their electronics products, including major appliances.
If you're having issues, your best bet is to contact Costco as soon as possible after receiving the item to address any concerns.
Costco's Return Policy for Laptops
Like other electronics, you can return laptops within 90 days from the date of purchase. Keep all original packaging, accessories, and proof of purchase for a smooth return process.
Costco Food Returns
When it comes to food items, Costco is quite accommodating. They typically accept returns on food products if you're unsatisfied with the quality. Remember to bring any remaining food items and packaging back to the warehouse.
Costco Return Policy For Jewelry
At Costco, you can rest assured that returning jewelry is hassle-free. If you are unsatisfied with your purchase, return it within the standard return period. However, for diamonds over 1.00 ct, you must submit all of the original paperwork you received along with the item. This ensures that your return will be processed smoothly. Note that a Costco Gemologist will inspect the jewelry to verify authenticity.
Costco's Mattress Return Policy
If you are unsatisfied with a mattress you purchased from Costco, you can return it. However, they might not accept it if the mattress is in poor condition or is stained. I recommend contacting the store before you load up your mattress into your vehicle and attempt to return it to the warehouse.
Costco's Price Adjustment Policy
In addition to its return policy, Costco Canada also has a price adjustment policy. If a product changes price within 30 days of your purchase, they will refund the price difference. So, if you spot a better deal on your laptop or a major appliance after buying it, reach out to Costco to request a price adjustment.
Remember to factor in shipping and handling fees when requesting price adjustments, as these fees might affect the purchase price.
Return Policy For Online Purchases
Online purchases are included in Costco Canada's return policy. You can return items bought online by following the same return policy guidelines as in-store purchases.
For purchases made at Costco.ca, you can either return items to any Costco warehouse location or initiate an online return.
To start an online return, sign in to your account, click "Support," and then select "Return items." From there, generate a shipping label. If you're returning a large item, Costco will give you the option to schedule a pickup.
How To Return An Item To Costco
Returning items to Costco is a straightforward process. To ensure a smooth experience, follow these guidelines:
1. Locate your nearest Costco warehouse. You can find your local Costco warehouse by searching for it on their website or by checking your membership card for the address.
2. Once you arrive at your local Costco, head to the return counter. A Costco employee will be ready to assist you with your return. Make sure you bring your items in their original packaging (if possible) and any accessories that came with the product.
3. Remember to bring your membership card and proof of purchase. If you no longer have the receipt or packing slip, don't worry – the membership counter can often look up your purchase history using your membership number.
Costco Return Tips
When speaking with the Costco employee at the customer service desk, kindly explain the reason for your return. It's helpful to provide specific information about any defects, limited useful life expectancy, or any other relevant details about your item.
If you're requesting a return for an item with a specific return policy, such as electronics or diamonds over 1.00 ct, be sure to familiarize yourself with the policy before visiting your local Costco warehouse. For example, electronics have a 90-day return window from the date of purchase.
In most cases, Costco will readily accept your return and issue a refund in the original form of payment. If the team is unable to locate your purchase history or if you lost your proof of purchase, they might offer you a store credit instead.
Following these steps should make returning stuff to your local Costco warehouse a breeze.
How Costco Membership Refunds Work
Costco allows you to cancel your membership anytime. To request a refund of your membership fee, visit the membership counter at your local Costco warehouse. A Costco employee will assist you in cancelling your membership and processing your fee refund. Be sure to bring your membership card, as they will need it to access your account information.
If you have a Costco Executive Membership, be aware that your membership benefits, such as Costco Travel and cashback rewards, may also be affected when you request a refund on your membership fee. Be sure to review the terms and conditions of your Executive membership and any related policies to understand how they could impact your benefits.
The Bottom Line on Costco Canada Returns
Overall, Costco Canada's return policy is designed to give you peace of mind when shopping. There's no specific time limit for returning most items, and Costco offers a 100% satisfaction guarantee on most of their products, including Costco Memberships. Just remember that some product categories have restrictions.
Regardless of the item you're purchasing, it's always a good idea to keep your receipts and original packaging, if possible.
FAQs
What is the time limit for returning items at Costco Canada?
Costco Canada's return policy is very generous, allowing returns on most items without a specific time limit. However, there are exceptions for certain products like electronics, which you must return within 90 days of receiving them.
Can I return clothes purchased at Costco Canada?
Yes, you can. As long as the clothes are in good condition and you have proof of purchase, you should be able to return them without any issues.
How does Costco handle gift returns?
If you receive a gift from Costco and wish to return it, you can do so. You can return gifts but may need a gift receipt or the original purchaser's information. If obtaining a gift receipt isn't feasible, contact the returns counter at your local warehouse, and they will do their best to assist you.
Are online purchases included in Costco's return policy?
Yes, online purchases are included in Costco Canada's return policy. You can return items bought online by following the same return policy guidelines as in-store purchases.
Do I need the original packaging to return an item to Costco?
While it's better to have the original box, it's not a strict requirement for returns at Costco Canada. Costco Canada should accept the return as long as the item is in good condition and you have proof of purchase.
Can I return items at Costco Canada without a receipt?
While a receipt is preferred, Costco Canada may still accept returns without a receipt in some cases. Having your Costco membership card handy can help, as they can track your purchase history through your membership account. However, it's always best to keep your receipts to avoid any potential issues when returning items.