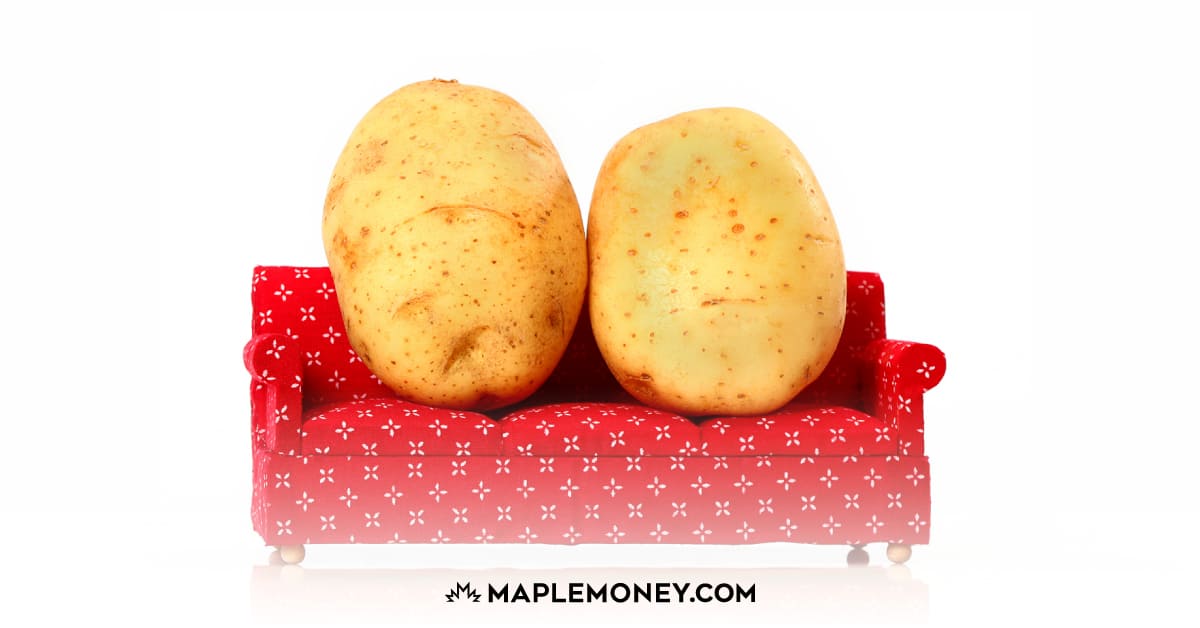 Never accept the proposition that just because a solution satisfies a problem, that it must be the only solution.

~Raymond E. Feist
A recent article in Money Sense magazine offered some data on investment returns for the publication's preferred investment indexing method: the Global Couch Potato portfolio. It's a simple, low-cost way to invest in a set allocation of stocks and bonds with limited effort on the part of investors. The rise of ETFs over the past decade has turned this strategy from a questionable alternative to mutual funds to a near standard in the DIY investment space. Many personal finance and investing sites promote it as the best way for individual investors to manage their portfolios.
The strategy grew out of a desire to circumvent the high fees built into mutual funds – the investment fad of the previous decade. It was also a great way to address the reams of data that showed that active managers rarely beat the returns of their benchmark indices. These are very rational goals, and to some extent, the Couch Potato approach accomplishes both of them.
Potato Performance Anxiety
"Don't think you're on the right road just because it's a well-beaten path."
~Author Unknown
It seems the data shows that this Couch Potato strategy returned 4% per year over the last 10 years. That's better than nothing, and it's better than some of the indices. But it's not much better what you could have achieved with a CDIC-backed 5-year GIC ladder. The fact that many active managers performed worse would be little consolation for many investors. 4% just isn't as impressive as it was supposed to be.
The explanation for the less-than-average market returns goes like this:
"During the last 85 years, portfolios with a mix of 60% stocks and 40% bonds have averaged well over 8% a year before costs. But during the period I looked at, from 2001 through 2010, market returns were nowhere near that. Canadian equities and bonds did reasonably well, with both delivering more than 6%. But U.S. and international stocks were a train wreck: both had negative returns during that period (as measured in Canadian dollars)."
This type of reliance on broad-based historical data ignores the fact that markets experience both cyclical and secular trends over the long term. It's fine to allow the averages to smooth out shorter-term cyclical periods, but secular cycles that last 15-20 years can have a meaningful impact on your portfolio. That 15-20 year period could fall within your prime saving/investing years. While the market may average 8% per year over an 85-year time frame, it can and does have long periods of time where returns are nowhere near that level. Those are called secular bear markets.
I have written over and over again that we are in a secular bear market that began in 2000. If you took that into account, you wouldn't be at all surprised to see below-average returns for the Couch Potato portfolio over the last decade. The 20-year period before 2000 was a secular bull market. The Couch Potato approach would have worked beautifully during that time period, but it won't be effective in a secular bear market.
Dressing for the Wrong Type of Weather
"The only man I know who behaves sensibly is my tailor; he takes my measurements anew each time he sees me. The rest go on with their old measurements and expect me to fit them."
~George Bernard Shaw
I have no problem with using historical data to help formulate an investment strategy. But you have to use the right context. Using an 85-year context for a 25-year investment time frame probably won't be very effective. Not too many of us invest for 85 years of our lives. It's sort of like stepping outside in a bathing suit. It may work in July, but it probably won't feel great in January – unless you live in Australia.
The same goes for economic expectations. Many economists have been telling investors that the economy has recovered just like it has in every other cyclical downturn over the past 100 years. Again, they are using the wrong context for comparison. There's more than one type of recession and each requires a different investing mindset.
David Rosenberg has been arguing for years that we are recovering from a balance sheet recession and not a recession triggered by the normal business cycle. If you're investing for the wrong type of environment, it's more likely you'll get hurt. Barry Ritholtz spelled it out for us in a recent Washington Post article: Wall Street Analysts and Economists Have This Recession Recovery Wrong.
Ritholtz also mentions the Reinhart & Rogoff book This Time Is Different. I reviewed the book last year, with the follow observation:
"the economic trajectory after a crisis-induced recession is very different from the one we might see following a normal business cycle-induced recession. Therefore, "standard macroeconomic models calibrated to statistically "normal" growth periods may be of little use." In that sense, this time is different. It differs from normal cyclical economic activity, but not from what usually happens following a financial crisis."
So one reason for the lacklustre Couch Potato performance might be choosing the wrong context. Perhaps another is the fact that "Couch Potato investors accept market returns, minus only small costs." Within that premise is the expectation that markets will provide a pretty good return. I gather that 4% is less than expected, and I would personally like to see it higher relative to the risks inherent in stocks.
Perhaps it's because I learned about investing outside traditional channels, but I've never been able to swallow the idea that I should be aiming for "market returns" or even that I should try to beat the market. The market is not my benchmark. My benchmark is zero. The further from zero I can get on the plus side, the better I'm doing. If the market return is -6% and mine is -4%, I'm not going to celebrate.
And yes, I'm willing to accept more moderate rewards in return for lower risk. The goal of investing, at least for me, is not to meet or beat the market, but to find the right balance between risk and reward. I want to achieve the highest possible reward with the smallest possible risk. There's nothing easy about that.
Cheetos Aren't so Healthy
The Money Sense article described the Couch Potato strategy as "the investing equivalent of flopping in front of the TV with a bag of Cheetos." It's definitely easier than learning about the stock market and the macroeconomic environment in which we live. On the "easy" metric, the portfolio delivered. The investment returns it generated over the past 10 years, however, were somewhat lower than advertised.
So does this mean we should throw the Couch Potato strategy into the dust bin with all of the other investment fads? Not necessarily. It's just a reminder that there's no "easy button" for investing, and there's more than one way to save for retirement. It's like those commercials for sugary cereals: They're "part of a nutritious breakfast" but if they constitute your entire meal, that's not so healthy.
You can't be an ostrich. You still need to use your head. Sitting on the couch with a bag of Cheetos is fine – once in a while. But if that's your primary modus operandi, you're probably going to run into trouble at some point.
Couch Potato Rebuttals
While some fine points were made when this post was first published, I was fascinated by the number of people who commented and attributed a point of view to me that I didn't think I had put forth. I congratulate Dan Bortolotti (The Canadian Couch Potato) for keeping the discussion more or less "constructive" in his article. Whenever I get email questions from people wanting to learn more about passive investing, I usually tell them that an all-passive approach is not for me, and then I recommend Dan's site for more information on the details of the approach.
Two Rebuttals, One Day
Two Money Sense bloggers posted rebuttals to my article: Canadian Couch Potato and Canadian Capitalist wrote about it on the same day. You can read both articles and decide for yourself where you stand on the debate and to what extent they addressed the issues I raised.
The Canadian Capitalist article quoted the crux of my argument on how secular cycles could account for the lower than expected Potato returns over the past ten years. Then he described how not all Potato investors are 100% invested in stocks, which is not a claim I made in my article. He went on (in the comments section) to suggest I was "smoking" something in reference to my follow up post in response to a reader question.
For the record: 1) I don't smoke – anything. 2) It was not my intention to "beat up on" anyone, nor do I think that characterization captures the true tenor of my article. 3) The options I outlined in the follow-up article were not meant to be blanket recommendations, but ideas to consider once valuations come in – and they came in pretty nicely on Wednesday. The point of that second article was to control your risk by controlling your exposure to various asset classes – not to instruct readers on where to put their money at this moment. I'm sorry if that wasn't clear.
I saw nothing in the CC article to address the data on secular cycles. Rather, Mr. Capitalist cautioned that Potatoes should expect some years of modest returns and suggested that those who outperform the market are just lucky.
The Couch Potato article, which I thought was quite well done, hinted that I thought CP investors were lazy. That's not true. The intent of my article was to show that Couch Potato investing can be a good strategy, but that it's wise to fully understand its limitations before employing it.
On Secular Cycles
For those who are interested in learning the facts about secular cycles, please take some time and check out the information on the Crestmont Research site. There are charts, data, and detailed explanations on what a secular cycle is and how valuations affect subsequent investment returns. While there is ample historical data to support the type of ultra-long term returns Potatoes hope to garner, there is also plenty of data to show that taking valuations into consideration can help boost those returns further. Standing aside (even if only partially) when markets are overvalued is another approach that makes sense.
You can also take a look at some of Robert Shiller's work, which Rob Bennett recently summarized very nicely in a post at Out of Your Rut. It runs along the same lines and is backed by Shiller's empirical evidence. These are not fortune tellers. These are people using the same rationale (historical data) as Potatoes to invest – with a different twist. For the record, I am somewhat more skeptical of the reliance on historical data than either the Potatoes or the valuation-informed investing contingent for reasons that I can hopefully outline in a future post, but which are at least partially articulated in the quote contained in the next section.
Where We Agree
I agree with Potato arguments that we can't predict future market direction accurately and that we need a probability-based approach as a result of that. I guess the difference is in which data we look at to arrive at our probabilities, and perhaps in the probabilities we arrive at after we examine the data.
I don't think all Potatoes are lazy, dim-witted or Pollyana-ish. In fact, I admire the discipline that goes hand in hand with the strategy. I do think that some of them can be very dogmatic. Trying to make something that is essentially an art into a science seems unproductive, and dismissing every other approach as ridiculous is somewhere between inaccurate and arrogant.
It's easy for novice investors to stumble on the Couch Potato approach and swallow it whole without fully digesting its limitations. One comment summed up some of the challenges and critiques pretty well:
"I think that it is ironic that CCP says: "we cannot predict the future", but then goes ahead and predicts it by saying that the future is rosier with passive index investing then anything else based on empirical evidence from the past! I think that CCP correctly indicates that one's investment strategy must be based on determination of personal risk. I think that the risk of expecting the future to unfold like it has in the past is the major weakness of the couch potato passive investment strategy and requires incredible faith! When you are young this type of faith is easier but when you are older you will have found that evidence based research is only valid for today and may not hold for tomorrow which may unfold differently. Many of us believe that the market has changed significantly and that older studies looking at passive index investing may now no longer be valid going forward necessitating a valuation investing strategy."
I am one of those who believe that the market has changed. Clearly, some agree with me on that, and some don't. That's what makes a market.
What's the Alternative?
A lot of the critiques of my article went along the lines of the following: "Do you think you can do any better?" "What's the alternative strategy?" If you've read this blog for very long, you know that I don't like to advocate one particular approach over another. There are lots of ways to make money in (and out!) of the market. Not all styles fit for all people.
My aim here is to showcase investment and macroeconomic information that I find compelling and let readers make informed choices for themselves. If your choice is the Potato philosophy, I hope you find it satisfactory. If it's not, I wish you well with that too.
I think the incorporation of other tools like technical analysis and macroeconomic information can be helpful as part of your overall strategy – if you have the time/inclination to stay informed. In terms of the active vs. passive debate, I still don't understand why it has to be one or the other. It's perfectly valid to choose both if that suits your age, risk tolerance and knowledge level.
As for the question Dan put back to me regarding "What if you're wrong?" I can see that he's not a regular MapleMoney reader. I ask that question all the time here and I'm never ever sure I'm right. That's why I like to look at lots of options and let people make their own choices.
For those who are only interested in one side of the story, there are plenty of blogs out there that deliver just that on a daily basis. I try to make this blog a place for discussion rather than instruction. As I've said before, I don't have all the answers, but I try to ask the important questions.
Were you surprised by the Couch Potato results? Do you think it's a good investment strategy?