Signs that you might be a Canadian couch potato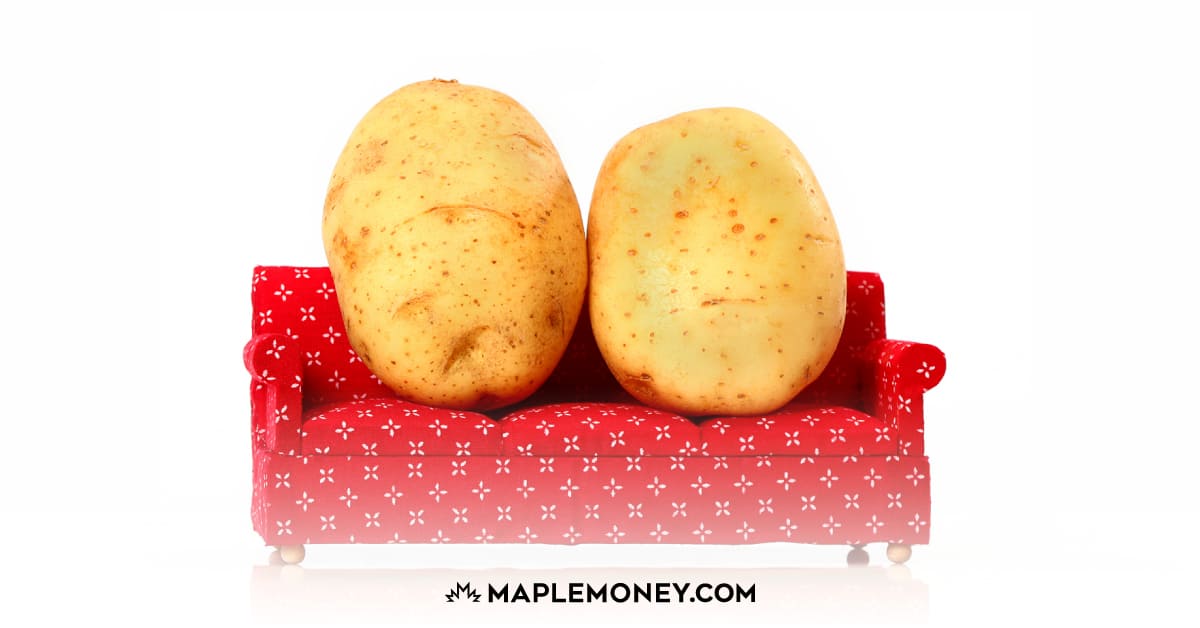 Although the term has been used since the early 1990s, Couch Potato investing remains incredibly popular. The good news is that it's never been cheaper, or easier, to become a Couch Potato Investor. In this article, I'll show you 3 ways that you can create a winning portfolio the Couch Potato way, but first, I'll explain exactly what this passive investment strategy is all about.
What is couch potato investing?
Couch Potato investing represents a move away from an active investment management strategy, which adheres to the belief that it's possible to consistently outperform the markets by identifying the companies that will outperform, something that also requires frequent buying and selling of those companies. Couch Potato investors, on the other hand, recognize that very few active managers have been able to even match the overall performance of the market. Rather, what ends up happening is that they tend to charge investors an arm and a leg for the opportunity to try, further eating into returns. That's not a winning strategy, in my books.
The premise of a passive investment strategy, aka the Couch Potato model, is to generate returns that will match the market, by using low-cost index funds, or ETFs, whose holdings mirror those of a broad market benchmark index, such as the S&P/TSX. The passive approach to investing comes with 3 distinct advantages: Lower investment fees, a more hands-off approach, and more consistent, if not better returns, in the long run.
The origins of couch potato investing
The concept of Couch Potato investing was popularized in the early 1990s by Scott Burns, a personal finance writer for the Dallas Morning News, and co-founder of AssetBuilder.com. According to Burns, all an investor needed was a portfolio comprised of two low fee index funds, one for stocks, and the other for bonds.
By holding two funds, with say, a 50/50 mix, Burns believed that investors could achieve a balanced portfolio that would match the returns of their underlying market indexes. The only real work involved would be to rebalance the portfolio at least once per year, ensuring that the asset allocation remained at 50/50, or at whichever mix you were striving to achieve ie. 60/40, 80/20, etc.
About 10 years after Scott Burns introduced Couch Potato investing in the US, MoneySense Magazine made the term popular north of the border, along with some small changes that made sense for Canadian investors. Personal finance writer Dan Bortolotti has kept the spotlight on Couch Potato investing through his aptly titled blog, Canadian Couch Potato.
A couch potato strategy for Canadians
As a Canadian, there are a couple of considerations you should make when building their Couch Potato portfolio. For starters, you'll need to decide whether to invest in a taxable, or non-taxable account ie. RRSP or TFSA. If you're aiming to build your RRSP or TFSA, then you won't need to worry so much about tax efficiency, or the types of income earned by the underlying investments you hold.
To diversify your Couch Potato portfolio, you'll want to make sure that you're not only choosing Canadian equities, but the US, and international as well. While the Canadian market has provided solid historical returns, it represents only about 2-3% of global markets, and failing to diversify beyond our border will result in missed opportunities and potentially more risk. Recently, Noah Solomon made a powerful case for investing beyond Canadian borders on The MapleMoney Show podcast.
The good news is that there is no shortage of low cost, passive investment options for Canadians. Not only that, but there are more choices than ever when it comes to investing on your own, either through a Robo advisor, or a discount brokerage. Without further ado, here are my top 3 ways to invest like a couch potato, in Canada.
3 ways to invest like a couch potato
Traditionally, Canadian Couch Potato investors have used one of the following 3 investment products to build their portfolio. Each one follows a passive investment strategy, with a focus on low fees. They're also very easy to purchase and rebalance, some more so than others. As we take a closer look at what's available, I'll let you know why you may want to consider each option.
Tangerine investment funds
Tangerine is one of Canada's leading online banks, so it only makes sense that they would know a thing or two about simple, affordable investing. After all, low fees and convenience is part of their DNA. Tangerine Investment Funds include a family of 5 index mutual funds, with each one representing a different asset allocation. The funds are well diversified and provide exposure to Canadian, US, and global markets. The MER for all Tangerine funds is a respectable 1.07%, much lower than what you'd pay for an actively traded Canadian equity mutual fund.
What makes them great?
Tangerine Funds offer simplicity at a very low cost. There are no account fees or minimum investment amounts. You can arrange for regular contributions from your bank account, and your holdings are automatically rebalanced. In other words, once the plan is set up, it's pretty much hands-off.
What Are the Drawbacks?
While Tangerine MERs are a very respectable 1.07%, there are cheaper couch potato options out there, as you'll see below. As well, you won't have that much control over the investments you choose, compared to if you were buying individual ETFs. So, what you gain in hands-off simplicity, you lose when it comes to getting the lowest possible fees, and the ability to customize your portfolio.
Who are they best suited for?
Tangerine Investment Funds are ideal for someone who is new to index investing, or who doesn't want the hassle of having to open a discount brokerage account, do their own trading, or manually rebalance their portfolio on an annual basis. For more information, you can check out my full review of Tangerine Investment Funds, which I've recently updated.
TD e-Series funds
TD e-Series Funds have long been a staple for Canadian Couch Potato investors. In fact, they once made up the lion's share of my portfolio for many years, before I made the shift to ETF investing. Like the Tangerine Funds, TD e-Series funds are index mutual funds, with a few notable differences. For starters, TD e-Series MERs are much lower, ranging between .33% and .50%. Unlike Tangerine, the individual funds are not aligned to specific asset allocation, giving the investor more control over how they wish to invest.
Recent changes to the TD e-Series are making this fund more readily available. Previously, you had to either buy them through a TD Direct Investing discount brokerage account, or visit a TD branch in person, open a mutual fund account, and then convert the account to e-Series after the fact. While DIY investors will still need to purchase TD e-Series via an online broker, they are now available for sale through any number of Canadian discount brokers.
Other recent changes include TD switching the underlying market indexes of the funds to match those of the TDs family of ETFs. For investors, the end result is even lower MERs, as they will be dropping a further .05% across the board. Feel free to check out my full review of TD e-Series, which I recently updated to include the upcoming changes.
What makes TD e-Series great?
In my opinion, TD e-Series remains the best option for index mutual fund investors. The ultra-low MERs approach ETF territory and the funds have performed very well, historically speaking. You can choose from various funds to build your ideal asset allocation, and, like most mutual funds, there is no cost to place trades, which makes it easy to buy in small amounts.
What are the drawbacks?
If your focus is solely on fees, then there are cheaper options, with ETFs. Buying TD e-Series funds through an online brokerage is still very much a DIY endeavor, and there is some work involved with purchasing the funds, and manually rebalancing your portfolio. TD e-Series trade like mutual funds, unlike ETFs, which can be bought and sold in real-time, like stocks.
Who is TD e-Series best suited for?
I would recommend TD e-Series to someone who is getting into index investing, but wants more control over their investment choices, and doesn't mind doing a little legwork. They are also suitable for folks with smaller portfolios, and for more frequent trades since there are no commission fees. Like me, you may find yourself buying TD e-Series before eventually graduating to ETF investing.
ETF investing
Couch potato strategy number three involves investing in exchange-traded funds, or ETFs. ETFs didn't even exist when the original Couch Potato investors were doing their thing. But, as it turns out, these ultra-low-cost broad market investments are perfectly suited to the Couch Potato approach. Like index mutual funds, ETFs track an underlying stock market index in an attempt to closely match the returns of the market. But it does so at an even lower cost. MERs on individual ETFs can run as low as .07%-.10%. They also trade like stocks, so they can be traded in real-time, on the market.
Where can I invest in ETFs?
Individual ETFs can be purchased through any online brokerage, or through a Robo-advisor. While there are lots of great discount brokers out there, I recommend Questrade for ETF investors. That's because they're the only online broker in Canada that offers unlimited, no-commissions on ETF purchases. That's right. Because ETF trade like stocks, there is normally a trading fee, which can be as high as $9.95 per trade. But with Questrade, you avoid that altogether. It's where I hold all of my ETFs.
If you prefer the hands-off approach of a Robo-advisor, Wealthsimple is a great choice. You can open an account online, and start investing almost immediately. They'll create a customized portfolio for you, for a very low annual fee (.50% up to $99,999, .40% over $100,000). There are no fees to purchase funds, and Wealthsimple ETFs have the same low MERs you'll find anywhere else. You're paying a small premium with the annual fee, to have everything done for you.
What makes ETFs great?
Low MERs are the biggest draw for ETF investors. But with respect to building a Couch Potato portfolio, they also offer strong potential for return and access to a wide range of investment funds. While Tangerine and TD e-Series are limited to a few funds, there are literally thousands of ETFs to choose from, making for endless ways to customize your portfolio. Also, the ability to diversify makes ETFs ideal for large portfolios.
What are the drawbacks?
If there's a drawback to buying individual ETFs, it might be having to choose from so many different options, making them less suitable for new investors. Also, there's a bit of work involved, in that you need to trade through an online broker, and you're responsible for your own rebalancing, in most cases. If you're making frequent trades, fees can add up, so you need to be careful. That's why I'm partial to Questrade, as the free ETF purchases make life so much easier.
Who are ETFs most suitable for?
Anyone can buy ETFs, but if there's a suitable investor, it's someone who has a medium to a large portfolio, and is more of a buy and hold investor, as frequent trading of ETFs can result in high fees. If you're building a Couch Potato portfolio inside a discount brokerage account using individual ETFs, it means that you're willing to put in some time doing your research, and don't mind handling your own rebalancing from time to time. If you prefer a more hands-off approach, you can still purchase ETFs through a Robo-advisor, like Wealthsimple, or ModernAdvisor. But, there is even one more way to add ETFs to a Canadian Couch Potato portfolio, through something called asset-allocation ETFs.
Asset allocation ETFs
These days, asset allocation ETFs are becoming more and more popular, because they combine the beauty of low fees, with the ease of a fully diversified portfolio and automatic rebalancing. Inside each of these ETFs, you'll find a mix of Canadian, US, and international stocks, as well as a mix of government and corporate bonds, aligned to specific asset allocation. For example, the Vanguard Balanced ETF Portfolio (VBAL), has a weighting of 40% bonds, and 60% stocks, with an MER of .25%. The MER is a bit higher than what you'd find with an individual ETF, but if you'd rather not handpick your own Couch Potato portfolio, or have to manually rebalance, it's a fair tradeoff.
Signs that a Canadian couch potato portfolio may be for you
If investing is something that seems complicated, or feels completely overwhelming, it's a sign that Canadian Couch Potato investing may be right for you. No longer will you have to worry about doing endless research to find undervalued stocks, or be subject to the high costs of actively traded mutual funds. And with options from Tangerine investing, TD e-Series funds, as well as a bevy of ETFs at your disposal through brokers like Questrade and Wealthsimple, it's never been easier to build a Couch Potato portfolio.
You'll benefit from knowing that your holdings are going to deliver market returns, all with minimal fees. You just need to decide which style you prefer; are you ok with having a bit less control, with handpicked funds and automatic rebalancing? Or would you like to do some of the work yourself, and benefit from the lowest possible fees. A Canadian Couch Potato portfolio has you covered either way.