The Complete Guide to Club Sobeys Rewards
Club Sobeys Guide.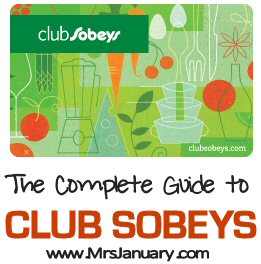 There are many rewards programs out there, but only a few that I think are worth your time, including Shoppers Optimum, Air Miles and Club Sobeys. Today I am going to be talking about Club Sobeys and will fill you in on all the details regarding how the program works, and how get the best bang for your buck.
Club Sobeys is a rewards program that is free to join for Canadian and US residents (you must be the age of majority in the jurisdiction in which you reside or have parental consent). Like most other rewards programs, you earn points for a certain amount of money spent, and can redeem those points for prizes.
How it Works:
You earn 1 point for every dollar spent. You can also earn bonus points on selected products – watch sale flyers and look in store for these offers.
Here is an approximate guide about how much your Sobeys points are worth:
25 Club Sobeys Points = $0.20
50 Club Sobeys Points = $0.40
75 Club Sobeys Points = $0.60
100 Club Sobeys Points = $0.80
150 Club Sobeys Points = $1.20
200 Club Sobeys Points = $1.60
300 Club Sobeys Points = $2.40
500 Club Sobeys Points = $4
725 Club Sobeys Points = $5
Rewards
You can redeem your points for dollars off your in store purchases or for prizes such as gift cards and merchandise online.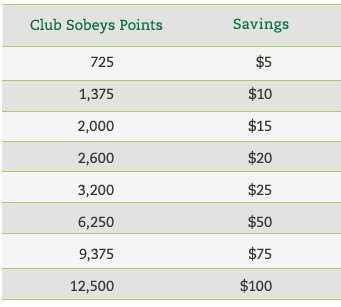 Alternatively, you can join Esso Extra and choose to have all of your Esso Extra points automatically converted into Club Sobeys points.
Or, you can convert your Club Sobeys points into Esso Extra points or Aeroplan miles.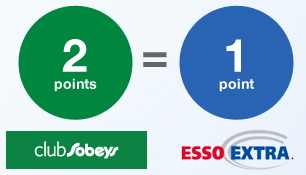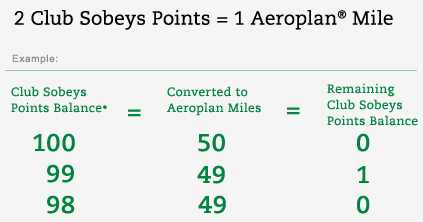 Tip: Only redeem at the $50 mark (in instant savings) because this is the best value for your points.
My Offers
Now you can add exclusive offers directly to your Club Sobeys card, instead of having to remember to bring your paper coupons to the store.
Offers will be automatically redeemed when you load the offer, shop, and swipe your card when checking out. Your Club Sobeys bonus points will be added to your account in just 2-4 days.
Look on the Club Sobeys website for these special offers (under "My Offers"), or you can join their mailing list to be informed of new offers.
Club Sobeys MasterCard
If you sign up for the Club Sobeys MasterCard, you will earn points everywhere you shop (1 point per dollar spent), but the best part is that you will receive double the points if you shop at Sobeys stores with your Club Sobeys MasterCard.
Exclusions
Points will not be issued on purchases of the following goods or services: gift cards, prepaid cards, Canada Post products, Western Union products or services, tobacco products, alcohol, lottery, bus passes, deposits and any other goods or services specified by Sobeys from time to time or as excluded by law.
Points may be awarded for prescription drug purchases and pharmacy services as permitted by law and in accordance with any third party policies or insurance requirements.
If you are already shopping at Sobeys on a regular basis, this is the perfect rewards program for you. It's easy, there are a wide variety of fantastic prizes, and there are always plenty of ways to earn points while you shop.
If you are not a regular Sobeys customer, I don't believe that the Club Sobeys rewards program is worth your time because the prices in store are often quite high, and the value of the points is not as great as it is with a rewards program such as Shoppers Optimum.
Are you a fan of the Club Sobeys rewards program?