9 Inexpensive Ways to Display Your Photos: Part 2
Recently, I realized I had procrastinated framing my pictures. An empty frame sat on my dining room hutch {ahem-for two months}. It simply said 4×6, in bold font. My son thought I had framed my favourite math times table. Must do better…
This month we are tackling a huge job by organizing our pictures. We looked at easy ways to display photos that included digital frames, iMovies, mini-albums and many more.
Let's look at how to display our photos using DIY projects. All you need is borrowed inspiration, a few simple supplies and a bit of time.
Jar Worthy
What could be more simple than tucking a favourite picture into an empty mason jar? And how easy would it be to switch it out regularly? Now that is budget friendly!

Rustic Clipboard
This blogger made 4 clipboard frames for $3.07 cents each. The no-glass option allows you to easily change the prints and they look stunning!

Polaroid Coasters
Love this idea to display a grouping of pictures – maybe favourites from summertime? They are easy to make using 4×4 tiles, felt pads and Mod Podge.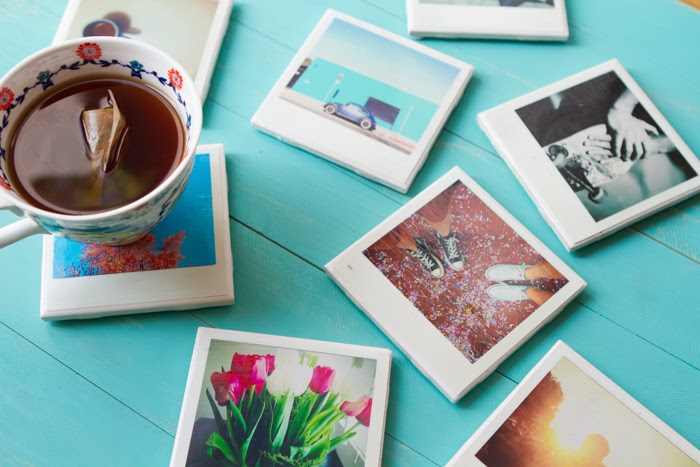 Casual Wall Display
Elsie from A Beautiful Mess used tape to attach a collage of square photos in a non-permanent way. I adore square prints, but it is difficult to find square frames. This is a perfect solution.

Wooden Frames with Clips
This blogger built these wooden frames for $15 each. The clips make it so easy to switch out the pictures on a regular basis. Which got me thinking….why not buy similar frames on sale, and replace the glass with clips?

Funky Popsicle Sticks
Great frames to create with the kids. The Washi tape (which comes in almost every colour or pattern) takes this craft to a whole new level.

Book Frame
There are so many uses for vintage books – why not turn one into a frame? The book stays intact, and a page protector shields the photo from smudges.

Simple Wooden Hoops
This might be the first one I try. I love the homemade feel and quirkiness of it. It would look great in my boys' bedroom suspended from the ceiling with black and white pics. Clothespins also make it easy to switch out.

Magnetic Rope
This company sells magnetic rope for a whimsical way to display pictures. Simply print a few favourites and affix them with a small magnet. Comes in different colours and they ship worldwide. At $28 for 3 ropes this is the most expensive option here (maybe a birthday wishlist?).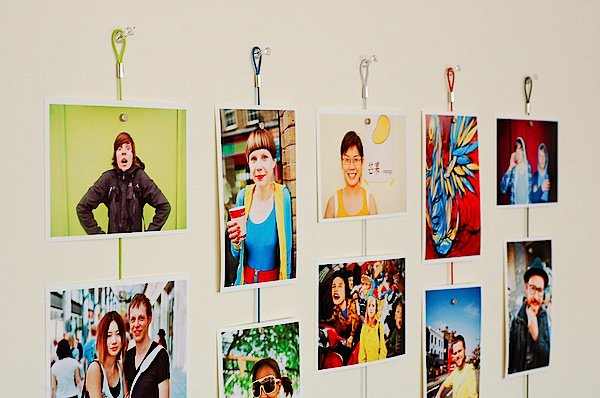 Let's do justice to our jpgs this month and let them see the world. Choose one or two ways to frame a few favourites and watch how inspired you will be to display even more.
What are your favourite ways to display photos?