Overspending on sale items – how to avoid the traps
Unfortunately, overspending on sale items is very common. That beautiful SALE sign is just so intriguing – you never know what sale items you can find!
Do you dread seeing a sale sign? Or do you get excited when you see those bright 50% off stickers? It seems that everywhere you look, whether in the mall or the grocery store, sales are everywhere. Overspending happens a lot because most people just can't resist a sale.
Here are some ways to avoid overspending when you see a sale sign:
Overspending on sale items – how to avoid the traps
Avoid shopping
I know this is easier said than done, but if you're not shopping, you won't get sucked in by a sale and you'll save money. Try to keep shopping to a minimum – for example, by only shopping for groceries once a week instead of making multiple trips.
If you need to go to a store in a mall then try to get in and out without stopping anywhere else on the way.
Plan your trip
How often do you go to the store to buy just one thing and leave with a full bag of items? It's practically impossible to go into a store without something catching your eye and ending up in your basket.
When you're buying groceries, make a list and stick to it! Yes, there will be times when you see a sale you just can't pass up (and that's fine), but if you stick to your list, the majority of the time it will keep you from overspending.
If you're going shopping for a particular item, such as a gift, pick out what you are looking for in advance and do some research so you're not driving around to multiple stores looking for that item. It will not only save you from being tempted by sales, but it will save you time.
Determine if the sale item is a need or a want
Do you need those shoes or do you want them because they're on sale? The line between needs vs wants is one that can get pretty blurry sometimes, so you need to know the difference.
When you see those shoes on sale take a minute to think "Do I need them or do I want them?".
It can be a little harder when it comes to groceries, because we are likely to always justify them as needs. However, when you have a dozen boxes of pasta in your stockpile and you see a Buy 1, Get 1 Free sale and you have a coupon, do you really need to buy more?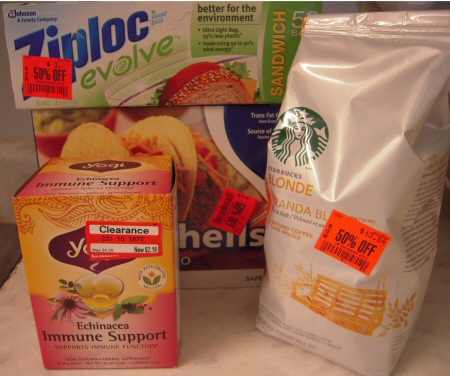 Determining how much to stockpile will help you to figure out if you truly need more of an item, or if just want to buy it because it's on sale.
Shop with cash
If you only bring cash shopping, it's impossible to overspend because once it's gone, it's gone. Only bringing the amount you want to spend on a particular trip will keep your budget in balance and hopefully keep you from buying items that are not on your list.
Know your prices
Just because you see a "sale" sign does not mean that it's a great deal. Pay attention to the yearly sale cycles (when prices are typically the lowest), and for groceries, try and stock up when items are on sale (but not more than you need!).
For big-ticket items such as furniture or appliances, compare prices online and in stores so that when you see a sale, you'll know if the price is really a good one.
Just because you see a sale sign doesn't mean it's something you need to buy. Knowing your prices and knowing what you're able to spend will help keep you from overspending when you see those sale signs.
Are you good at resisting a sale sign? Please share in the comments!